Gracious and Cozy Living Room
San Francisco designer Heather Hilliard redesigns a living room into a stylish and tailored space to accommodate large family gatherings.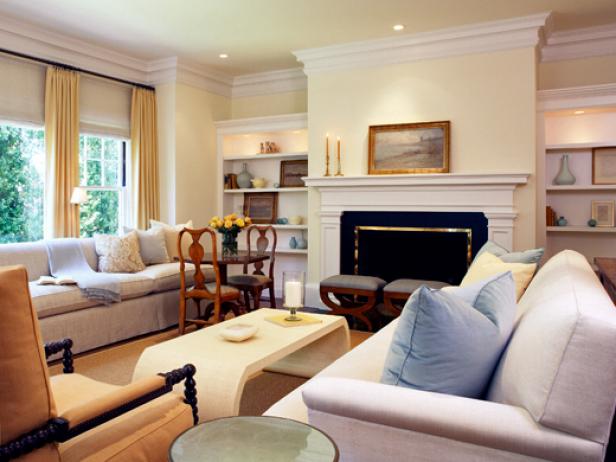 Traditional Living Room With Custom Sofa
To focus the room design on the fireplace in this long living room, designer Heather Hilliard custom designed a sofa to fit into the window niche. A modern coffee table tones down the traditional nature of the space, and recessed lighting highlights the architectural features of the space.
Designer Heather Hilliard creates a living room that is suitable for large family celebrations as well as providing the family a welcome retreat to sit and work puzzles.
Additional seating is added to this small space and creates a room that is welcoming and functional.
Hilliard shares how she uses smart space planning and multipurpose elements to create a family-friendly retreat.
What were the main items on the homeowners' wish list?
To create a gracious and very comfortable living room space that could accommodate ten family members on holidays.
How did you address design obstacles?
The client wanted the focus to be on the fireplace and the living room was not very large in addition to being long and narrow. In order to integrate a lot of seating within the plan while keeping the fireplace as the main focal point, we designed a very long (13 foot long) custom sofa to fit in the long window niche. We placed another custom sofa opposite the long sofa and added lots of occasional chairs and benches that could be moved around the room when extra seating was required.
What are the "hidden gems" that made a big difference?
We added wall mounted sconces to illuminate the space and also designed the leather ottoman to be used as an extra table or seating. The family likes to work on puzzles so we found the small tea table and antique chairs and placed them in front of the sofa to give them a special place to do this.