Treehouse Designers Guide: Nelson Treehouse and Supply
Pete Nelson creates a spiritual bond with nature every time he builds a treehouse.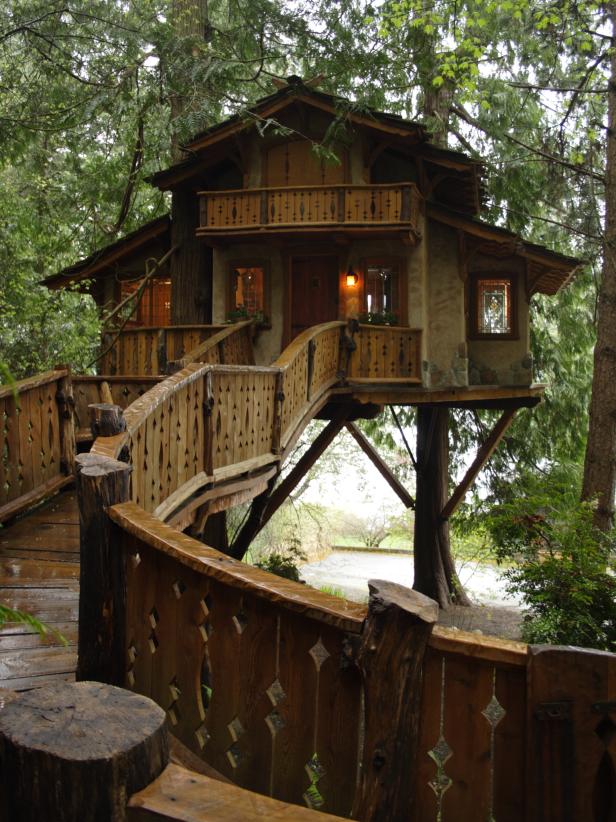 Image courtesy of Nelson Treehouse and Supply
Owned and operated by Pete Nelson, one of the pioneers of the treehouse revolution, Nelson Treehouse and Supply is a full-service shop that designs and builds custom treehouses. Nelson also co-owns Treehouse Workshop, a company that teaches DIY treehouse builders the craft. "Pete's mission is to get more people into and connected to the trees, both literally and physically," says Jen Alderson, who's in charge of project and business management for the company. "Beyond designing and building he wants to spread the word about responsibly attaching buildings to trees."
For a 200-square-foot treehouse with rustic to modest finish work, the average starting price is often around $60,000. And the sky's literally the limit from there.
Before he sits down to draw a design, Nelson "communes" with the trees. "He walks among them, talks to them and gets a feel for which is most willing to host a treehouse," Alderson says. Nelson also hosts a bark-breaking ceremony before he begins a build, during which he asks permission, thanks the tree and buries garlic at the base of the tree as a symbol of long life.
The craftsmen at Nelson Treehouse Supply go out of their way to weave pieces of nature into every aspect of the treehouse. "They'll use branches as ladder rungs and balusters, or take a slab of wood and leave the bark on it and make it into a shelf," Alderson says. "They leave things as close as possible to the way they were found instead of cutting off all evidence of nature."
More than 20 states in the United States and eight other countries.