Maximum Value Landscaping Projects: Plants
A simple landscape design goes a long way towards making your garden shine. Here, ideas to inspire you.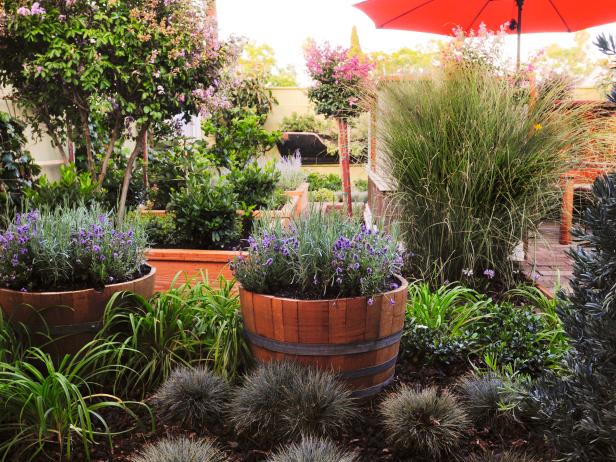 A Beautiful Backyard Oasis
This dramatic garden of grasses and greenery features a pathway for strolling within the fragrant and beautiful vegetation in raised beds.
Adding attractive flowers and plants to your front yard is an easy way to add value to your home. But don't just pick up the prettiest flowers you see and start planting. Effective landscaping should give your home a polished, pulled-together look. Whether you hire a professional or do your own research, come up with a cohesive landscaping plan and properly place plants and trees that achieve your vision.
Plants with purpose. Choose perennials strategically so that as one fades, another will bloom. This gives your lawn color and variety at various times throughout the spring and summer. Meanwhile, planting annuals in pots allows you to enjoy them when in bloom and remove them when not. Lastly, choose plants with interesting colors and shapes to add a nice contrast to your landscape.
Pockets of color. Add bright-colored flowers in designated areas or in pots to make an average front yard pop.
Privacy. Use shrubs and evergreens to frame the outside of your home, serve as a natural privacy fence and outline walkways and plant groupings.
Mature trees. If you don't already have trees on your property, consider planting them. They take a few years to grow, but once mature, they give a home an elegant look and add tremendous value.
Before you raid your local garden center, do your research. One of the biggest mistakes homeowners make is buying expensive plants and then planting them in the wrong places, says appraisal expert Leslie Sellers. "The plant will not last or look the way you want it to look unless it's in the proper place," he says. "For example, if a plant needs sunshine and you put in the shade, it won't last."
On a Budget: You don't need a green thumb to add plants to your front yard. Think strategically. Look for inexpensive, easy-to-maintain potted plants. "You can get the same look from an inexpensive plant that you would from an expensive one," Sellers says. Turn each weekend into a landscaping project, such as weeding, trimming and remulching.
Mid-Range: Depending on your budget and lawn, consider working with a professional to develop a landscaping plan. Dig up dead bushes and install fresh shrubs and trees in appropriate areas. Clean and install any needed mulch. Look into attractive perennials and evergreens that thrive in your region. If you have a 20x14 patio in the yard, install mulch and bushes around it at a distance of three feet to create a secluded area.
High-End: Hire a professional landscape architect to develop a comprehensive plan for your property that is appropriate for your neighborhood and region and meets your specific needs. Add an eye-catching feature that reflects your personality or an outdoor space that seamlessly connects to the indoors.
Water adds another dimension to your landscaping. Install a reliable irrigation system to maintain a healthy lawn or water features to add beauty.