Figuring Out Landscaping Priorities
Consider these factors when planning a landscape that meets your needs and fulfills your dreams.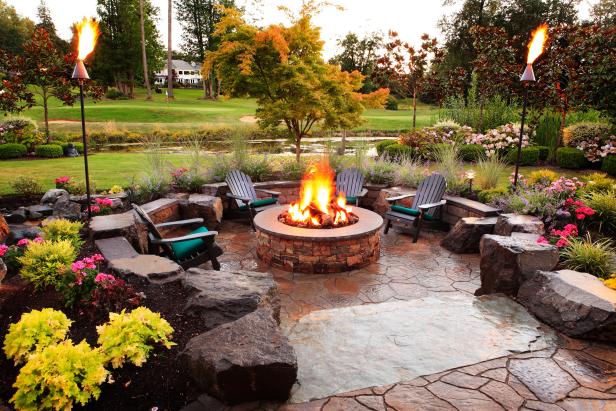 Beautiful Landscaping Outlines Fire Pit Patio Area
Gorgeous and carefully designed landscaping surrounds this fire pit patio area, creating an outdoor retreat for entertaining and relaxing. Classic Adirondack chairs provide ample seating for guests.
Brian Neel Parks
Gorgeous and carefully designed landscaping surrounds this fire pit patio area, creating an outdoor retreat for entertaining and relaxing. Classic Adirondack chairs provide ample seating for guests.
When narrowing down your list of needs and wants, do a realistic assessment of what you can do with the property and budget you have.
Your spouse insists that life is not worth living without a state-of-the-art outdoor kitchen and entertainment area. But there's that little matter of the collapsed retaining wall. Not to mention the giant tree whose dead limbs wreak havoc during big weather events. Reality can be brutal. It hurts to see your fire pit fund get smoked by big-ticket yet mundane upkeep, but sometimes safety, practical concerns and property values must trump pleasure.
A solid, long-term landscaping plan is a smart step toward realizing your current needs and future desires. To set your priorities, start by visualizing your dream yard (this is only a dream, so don't hold back). Then inspect for critical maintenance or improvements (drainage, grading, infrastructure, etc.) that need to be addressed, and inventory existing features that can be used or reworked into a new plan.
Finally, find a landscape designer capable of addressing both goals, perhaps in phases. You might be surprised by how much overlap there is between dreams and practicalities. With creative planning and realistic budgeting, you just might get what you need—and want.
Here are some top needs and wants to consider:
Curb Appeal. You don't have to wait until you're ready to sell a house to put on its "game face." The public areas of the front yard and entry influence not only first impressions but, more importantly, a homeowner's sense of satisfaction and well-being. Even if you spend all your free time in the back yard and choose to invest most of your landscaping bucks there, don't neglect a front yard that's unwelcoming, sparse, overgrown or out of sync with the rest of the neighborhood.
Entertaining. If you entertain often or spend considerable time outdoors, investing in a nice outdoor area for cooking, eating and hanging out is a "room addition" that can make a lot of sense.
For these kinds of areas, the hardscape requires thought. The terrace or deck must complement the architecture of the house and transition smoothly to the rest of the yard. If you want such built-ins as seat walls and sinks, integrate them from the beginning. Most importantly, the space must be large enough to accommodate your crowd and all the trappings you deem important.
Water Features. The most popular recreation amenities among homeowners are decorative water elements such as ornamental pools and splash pools, according to a recent survey by the American Society of Landscape Architects. Spas and swimming pools followed close behind.
Play. Play structures such as swing sets and tree houses are often high priorities for families with young children. For safety, these should be placed in shade or with soft surfacing and where toddlers can be kept in sight at all times.
Privacy. If one of your goals is more privacy, there are many options that combine practical and aesthetic considerations. These range from fencing and treillage (latticework for vines) to dense plantings and green screens.
Storm Water Management and Erosion Control. Where does the water go in your yard when it rains? Does your basement feel damp or flood? Does water pool in certain areas of the yard or wash away mulch? To improve storm water runoff and direct water away from your house, you might need to regrade the area around the house and install a dry well, tiering and water-harvesting equipment. This might be done in conjunction with a patio or hardscaping project.
Efficiency and Sustainability. "When it comes to landscape elements, efficiency and sustainability reign supreme," according to a report by the American Society of Landscape Architects. That means a yard that is low-maintenance, conserves natural resources and is environmentally friendly. Maybe it's time to think about alternatives to a conventional turf lawn, a notorious guzzler of water, gas and chemicals.
Energy Conservation. The kinds of trees you plant and where you put them can reduce your energy costs all year long. Shade trees can reduce surrounding air temperatures as much as 9 degrees Fahrenheit—and as much as 25 degrees Fahrenheit directly under a tree—and reduce solar heat gain on a house. Strategically located deciduous trees cool the yard and house in the summer and allow daylight into the house in the winter. While homes in cool regions might not need shading, they might benefit by having a windbreak of dense evergreens as homes exposed to direct winds use more energy to keep the inside warm.
Xeriscaping. Xeriscaping—landscaping to reduce water use—is not just for arid climates, but should be incorporated into every landscaping project, no matter the scope or scale. Using native plants that require little or no supplemental irrigation might mean skipping some thirsty exotics but there are plenty of smart plant picks to choose from. Ask your local cooperative extension office for a list.
Reducing Fire Risk. If your house is located in an area prone to wildfires, firescaping should be at the top of our priority list. This means designing the landscape to reduce house and property vulnerability to wildfire by creating a minimum of 30 feet defensible space around structures, surrounding the house with things that are less likely to burn—like pools and higher-moisture content plants—and leaving space between plants and groups of plants. According to the University of Nevada Cooperative Extension office: "In firescaping, the open spaces are more important than the plants."
Try these tips for transforming your front yard from drab to fabulous.