Defining and designing landscape zones on your property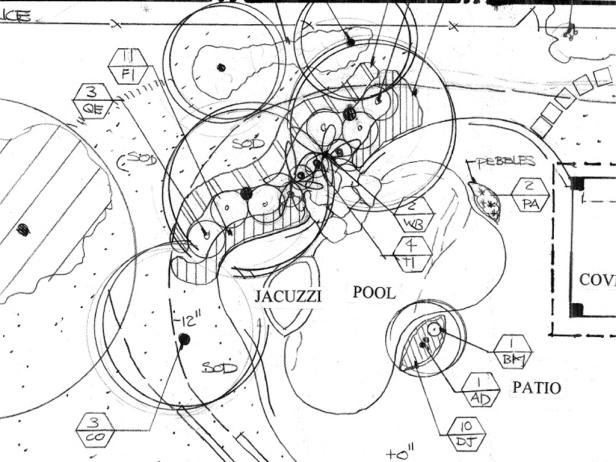 Detailed Landscaping Plan
Once you have chosen a focal point, make a landscape plan using drafting software or paper. Draw the hardscape features first, then think about the style — do you want jungle-like landscaping, formal gardens or a minimalist look with pebbles and a few specimen plants? As you draw your layout, note the specific plants you intend to use. Consider how much sun each area gets and research which species thrive in your hardiness zone. Drive around your neighborhood for ideas. A shrub that is thriving in a sunny spot in your neighbor's yard will likely do well in a sunny spot in your yard. If you are unsure of which plants to use, consider hiring a professional landscape architect to draw up your plan. You can still do the actual landscaping yourself.
Landscape design is simplified when you use landscape zones to create and define the style of your landscape design plan.

When it comes to planning and planting, there are two types of zones to consider.
Landscape zones should not be confused with hardiness zones. The USDA Hardiness Zone map depicts different climate zones that determine which plants can thrive at which temperatures. It's important to consider your hardiness zone number when choosing plants for your landscape design project. Simply go to the USDA map and enter your zip code to determine which zone you live in. This site will also tell you the average annual extreme and minimum temperatures for your area. Hardiness zone information can be found in printed on the packaging or plastic stakes that come inside potted plants you purchase at your local garden center.
Landscape zones are more specific. They refer to different areas in your yard or on your property that will be designed as separate entities and which may require different levels of maintenance or care.
Drawings by professional landscape designers explain in detail the various zones and topography of your property, as well identifying borders and transitions between those zones. Online landscape design tools such as the D.I.Y. templates make it easy for you to visualize your yard as a giant puzzle with interchangeable pieces.
For example, what percentage of your yard should be comprised of lawn? How much should be beds, borders, and transitions? What about zones for pathways, driveways, patios, garage pads, and hardscapes such as arbors or pergolas? Each of these areas requires thought when determining a landscape design plan.
Once you create – or have a professional create – a drawing of your landscape design plan and with various zones, you can tackle each zone as an individual project or hire an outside company to do part or all of the work for you.
Think about the purpose of the zones. Are there traffic areas such as pathways? How about recreation areas such as a sitting area or dining set? Will there be zones for seasonal plants and annuals and other zones for mature plants and perennials?
When designing your zones, consider their maintenance needs. High water areas such as beds or vegetables gardens should be separated from areas that require care less often. Also be sure to think about which edging products may be used and whether or not neighboring zones can share plant life.