Low-Voltage Landscape Lighting
Low-voltage lighting saves energy and provides a steady glow.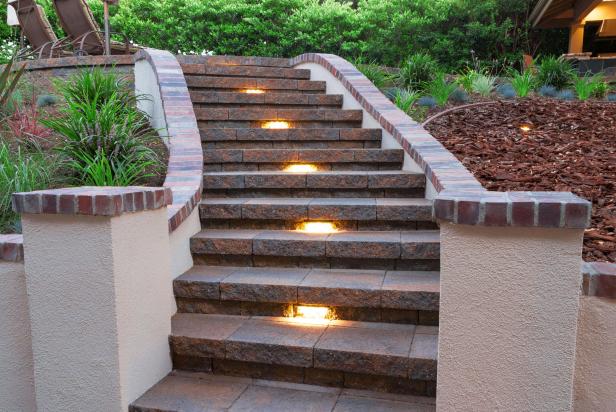 Stairs with Landscape Lighting
This outdoor space features a staircase embedded with landscape lighting that leads up to a raised patio.
There are so many choices in landscape lighting, sometimes it's hard to keep them all straight. One option is low-voltage landscape lighting – this type of lighting can be installed electrically but uses less energy than traditional wired lighting.
Low-voltage lighting comes equipped with a special transformer, which fits into any house plug and converts the typical 120 volts into just 12 volts. The size of the transformer you choose is key: they range from about 44 to 900 watts. To determine how much power your transformer needs, tally all the lights you're planning to use and go with that number. For example, a dozen 18-watt lights would require a minimum of around a 250-watt capability from the transformer.

Different transformers require different strengths of cable, according to gauge. Don't forget to check with your retailer about finding the appropriate size and length of cable. It's good to remember that you'll lay your cable first, then install the transformer and, finally, connect the lights.

When in doubt, consult a professional and investigate the costs and timing of having the low-voltage landscape lighting installed rather than tackling the job yourself.

Here are a few suggestions about getting started with your low-voltage landscape lighting installation:

Whether you're looking for an accent piece such as a globe, or sets of reliable path lights, spotlights, task lights and even strips of twinkling holiday lights for your garden, low-voltage lighting selections are now abundant at most big-box retailers, garden centers and online shops.

Take photos of your house and garden to determine where old lighting can be replaced and where new lighting is needed.

Draw a map or diagram of the areas where you desire low-voltage lighting to be installed.
• Are there garden walkways that should be visible at night?
• Will the lighting be used for aesthetic or working purposes or both?

Create a shopping list. You can adjust the quantity of lights or decide upon a combination of low-voltage, solar or traditional wired lighting to fit your budget.

Browse lighting online to determine what will work for you and what can be purchased at a store or shipped to your home.

Ask your local retailers about installation options. You maybe able to have the lights installed for a nominal fee; if you opt to install them yourself, make sure complete instructions are in the box before you leave the store.