Count on winter annuals to add color to the garden's frosty—or even snowy—season. Learn which annuals survive winter cold.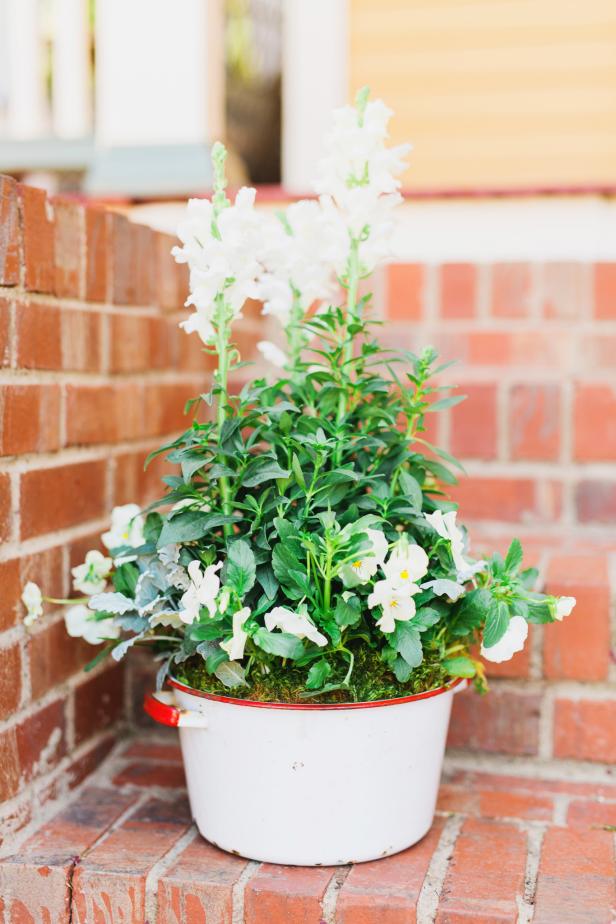 Snap Dragons, Dusty Miller and Pansies
Add a mix of short and tall to low-sitting vessels with snap dragons, dusty miller and pansies. Use the snapdragons for height; place dusty miller around the base of the snap dragons; then bridge the gap between the two with white pansies.
Flynnside Out Productions
Make plans to add winter annuals to your containers and planting beds to keep the color coming strong all year long. Winter annuals go by many different names, including cool-season annuals, hardy annuals and frost-tolerant annuals. No matter what you call these blooming beauties, the result is the same: an extended growing season that infuses winter scenery with pops of eye-catching color.
The arrival of frost typically signals the end of the growing season in many regions. By stocking your garden with half-hardy and frost-tolerant winter annuals, you can prolong the garden season by a few weeks or even months, depending on the severity of your area's winter. Reliable winter annuals may be half-hardy plants, which withstand a light frost (29 to 33 degrees F), or hardy plants, which withstand moderate (25 to 28 degrees F) to severe freezes (24 degrees F and colder).

Half-hardy winter annuals that thrive and sparkle in even the coldest regions (Zones 3 and 4) include China aster (Callistephus chinensis), godetia (Clarkia amoena), lobelia (Lobelia erinus), French marigold (Tagetes patula) and petunia. Hardy plants include calendula (C. officinalis), bachelor's button (Centaurea cyanus), flowering stock (Mathiola incana), sweet pea (Lathyrus odoratus), swan river daisy (Brachyscome iberidifolia) and salvias of all types.

Choose hardy winter annuals to grace containers in the coldest zones during late fall's early cold snaps. In mild winter regions, hardy winter annuals march steadily through winter's coldest days with colorful style. Hardy winter annuals include snapdragon (Antirrhinum majus), pansy (Viola x wittrockiana), viola (Viola cornuta), sweet alyssum (Lobularia maritima), painted tongue (Salpiglossis sinuata), pinks (Dianthus chinensis) and nemesia.

For foliage color that even shrugs off early snows, plant dusty miller (Senecio cineraria) and flowering cabbage or kale (Brassica). Many herbs also stand as green sentries through winter cold and snow. These winter herbs include lavender (Lavandula angustifolia), thyme (Thymus officinalis), feverfew (Chrysanthemum parthenium), oregano (Origanum vulgare) and rosemary (Rosmarinus officinalis).
It's important to note, though, that even winter annuals survive coldest temperatures best when they're established and have already experienced the gradual cool-down of fall's transition to winter. If you purchase winter annuals from a greenhouse where they have been protected from fall's chilly nights, you'll need to harden off these beauties before planting them outdoors where they'll encounter the nippy experience of frosty nights. A gradual exposure to colder temps is the secret to survival.

Always buy the largest winter annuals you can, especially in coldest regions, because plants won't grow much once coldest temperatures settle in. When Jack Frost arrives and you wake to frost-covered annuals, don't worry if plants look wilted or even fried. As the sun rises and air temperatures start to rise, winter annual plants recover. Winter pansies, for instance, can freeze solid for a few hours and recover as warm weather returns.

In coldest zones, once true winter arrives and temperatures hover in the teens and below, even most winter annuals won't rise and shine. At that point, consider replacing plants in containers with arrangements of evergreen boughs, berried branches, ornamental grass stems, grain seedheads and pine cones. Add a few architecturally-interesting bare branches and white lights, and your winter containers will dazzle through the year's darkest days.