Zucchini 101: Growing and Harvesting This Super Squash
Get tips for growing, harvesting and cooking your bumper crop of zucchini.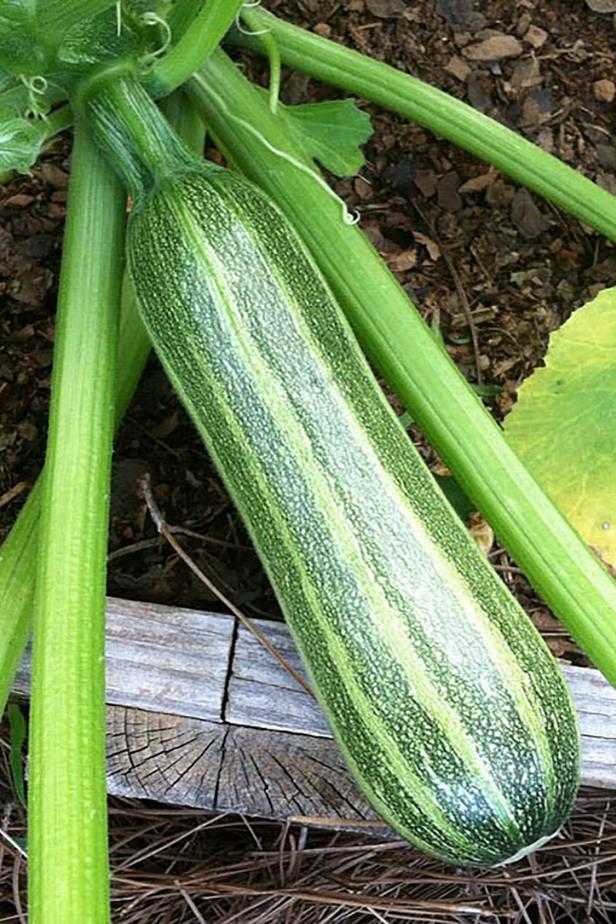 Zucchini Squash
Squash, both summer and winter types, are best grown in the heat. Where squash bugs or squash vine borers are a problem, start seeds indoors and transplant into the garden in late June or early July. Protect with row covers until the plants begin to bloom. Covering the stems with soil as they mature will help protect against squash vine borer damage
There's a reason zucchini, a summer squash, is such a popular crop in the home garden: it's easy to start, can be grown in containers, and once zucchini plants start producing, they can be amazingly prolific.

Since zucchini seeds will come to maturity quickly – about 45-55 days – even August is plenty of time to plant for an early fall harvest. In fact, many experts recommend waiting until mid-July to plant so that you can avoid infestation of a specific type of squash bug.

Feeling inspired? Here's everything you need to know about planting, growing, harvesting and using zucchini:

Plant It: Choose soil that drains well in a sunny area of your yard. Plant seeds one inch deep, 4-5 seeds per hill, or if you're planting in rows, 2-3 seeds per hole, 36 inches apart. If you're planting in hills, thin to 2-3 plants per hill once seedlings emerge.
Care for It: Mulching around your zucchini plants after they have emerged can help the soil retain water (especially important if you're having a dry summer like so many regions!) Make sure your zucchini plants get at least two inches of water per week. A soaker hose is best, as watering from a can may lead to mildew on the plant's leaves.
Pick It: About 45-55 days after you plant, you should notice your plants starting to bloom. Make sure to look under the big leaves as it's easy for zucchini to "hide!" The early, small squash (about 6 inches) are the most tender and flavorful, and picking frequently can lead to a larger crop. Zucchini squash can also get quite large, and you might be amazed at how quickly they grow! Cut your squash from the vine with a sharp knife, and store unwashed in the refrigerator until you're ready to use them.
Eat It: Zucchini is full of nutrients and can be eaten lots of different ways. Here are just a few ideas for how to use your harvest:
Chances are good you'll wind up with more harvest than you can possibly eat yourself. If that's the case, AmpleHarvest is a cool registry that can help you connect with local food pantries who could really use it. Or host a zucchini party and invite the whole block!