Growing Double Knock Out Roses
These stunning, low-maintenance roses practically grow themselves.
Roses seem to have everything a gardener could want: beauty, fragrance and a variety of colors, shapes and forms. But roses also have a reputation for being difficult to grow, and in many cases, they've earned it. Hybrid teas need regular spraying or dusting to combat diseases and pests. Climbers need training and tying up. And most roses demand regular fertilizing, watering and mulching, along with careful pruning and grooming. Roses can be the stars of the garden—but they can be fussy and frail, too.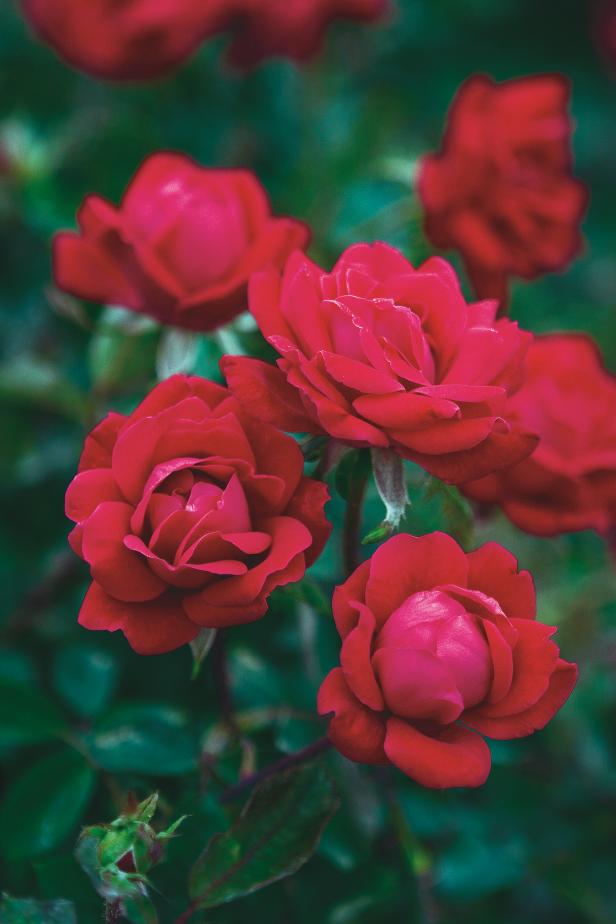 The Double Knock Out Rose
The original Double Knock Out Rose was introduced in 2000 and was named an All American Rose Selection (AARS) winner that same year. The award is the highest honor a rose can receive. It's given after a rose undergoes 2 years of trial testing in a variety of climates and growing conditions around the country.
Image courtesy of Star Roses and Plants/Conard-Pyle
Plant breeders had been working to produce easier-to-grow roses for years when Wisconsin rose breeder William Radler introduced his new Knock Out Rose in 2000. Rosarians were thrilled to discover a new rose that had the best qualities of a classic rose, but that demanded much less care. The rose was named an All America Rose Selections winner the same year it debuted, and Knock Outs have been snapped up by consumers ever since.
Knock Out roses were bred to be extremely resistant to diseases and drought, and if that wasn't enough, they're also repeat bloomers, bearing a new flush of flowers every five to six weeks from spring until the first hard frost. They're heat-tolerant across most of the U.S. and cold tolerant to zone 5.
Knock Out Rose Guide
Roses are garden divas, but easy-to-grow Knock Out roses put roses within the skill set of most gardeners.
Learn How
Since the original cherry-red Knock Out was introduced, the rose family has grown to include Double Knock Out roses (a variety with doubled blooms), also available in cherry red and in pink.
Double Knock Out roses are very easy to grow. Give the plants full sun in a garden spot with fertile, well-drained soil and space them about four feet apart to allow good air circulation.
To keep the blooms coming, fertilize your Double Knock Outs after every bloom cycle with any good rose fertilizer. You don't need to snip off the spent flowers, because these vigorous shrubs are self-cleaning. They mature at three to four feet wide and tall, but you can prune them while they're dormant—in late winter or early spring—if you want to control the size.
Otherwise, Double Knock Outs only need light, annual pruning to shape them or remove crossed or interior branches. Every two to three years, prune the old canes back by a third to help reinvigorate the bush. It's even okay to shape them up with hedge shears, and you may want to do that if you grow your plants in a hedge.
Roses in the Knock Out family are planted in much the same way as other roses. Dig a hole twice as wide and as deep as the pot the plants are growing in, and use your shovel to chop up and loosen the soil at the bottom of the planting hole.
Turn the pot upside down and gently shake or tap it to remove the rose. Then use your fingers to loosen its roots. Put the rose in the hole, keeping its base level with the soil line, and back fill the hole. It's a good idea to add manure or other amendments to help aerate the soil and keep it from compacting.
Finally, water your rose thoroughly and deeply. Give it another one or two inches of water each week if rainfall is insufficient, and add mulch to help hold moisture in the soil and control weeds that may pop up and compete for water and nutrients.
Double Knock Out Roses are great to grow with daylilies, coneflowers and many other annuals and perennials. Many gardeners like to use low-growing plants around them, such as dianthus (also called pinks), verbena or calibrachoas. These shorter flowers help hide the lower rose branches, which can start to look a little leggy or bare as the bushes continue to grow. Try these suggestions for other companion plants:
Lavender
Mexican sage
Herbs such as catmint, thyme or oregano
Marigolds
Larkspurs
Petunias
Salvias
Lambs' Ear (Stachys byzantina)
Double Knock Out Roses in a formal garden look elegant when planted alongside boxwood shrubs, but they're equally at home in a cottage garden with bellflowers, delphiniums, heliotropes and herbs like oregano, parsley and thyme. These roses won't demand as much time and attention as traditional roses, but they'll reward you with as many—or more—beautiful blooms.