Poinsettia Care Through Winter (and Beyond)
This iconic holiday plant has tropical roots. Get tips on keeping your poinsettia looking its best all year.
Perhaps no flower represents the winter holidays like the poinsettia. But these festive plants, which range from the traditional red to pale yellow, can be mysterious when it comes to care and maintenance. Here are some tips on poinsettia care that can help extend those blooms as long as possible – and maybe even encourage your poinsettia to bloom again next year:
Warm and Bright: It may seem strange due to their holiday connotations, but poinsettias are tropical plants. Provide lots of sunlight — a sunny window with east, west, or southern exposure is best. Also try to keep the temperature between 65 and 70 degrees F during the day, keeping in mind that the area around a drafty window can be quite a bit cooler than the rest of the room. If your plant's leaves are touching a cold window, they may drop off. At night, poinsettias like a slightly lower temperature (55 – 60 degrees F), but avoid drastic drops in temperatures.
Hydrated and Humid: Make sure to water the poinsettia whenever the surface of the soil feels dry. Give the plant a good watering, but don't flood or soak it – gravel in the bottom of the pot will help keep the roots dry. If your home is dry during the winter months, a humidifier or plant mister can help your plant stay hydrated.
Prevent Leaf Loss: If your plant starts to lose leaves, there are a few likely culprits: is the plant resting against a cold window or near a draft? Is it too warm or dry in the room? Is the plant thirsty?
With correct care, poinsettias can be encouraged to re-bloom next holiday, but it's a touchy and time-consuming process that not all poinsettia fans are prepared for. Choosing the right poinsettia for a long-term commitment and carefully maintaining it after Christmas is over can help: this HGTV article demonstrates what you'll need to do to bring yours back for an encore performance.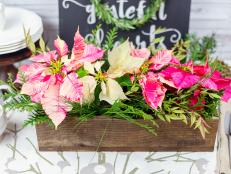 Create an eye-catching arrangement for your holiday table using our favorite seasonal blooms.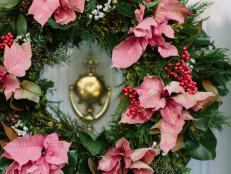 There's still plenty of time to add Christmas' classic flowering plant to your decor.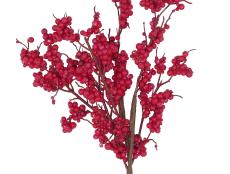 A nursery owner shares her ideas for not-so-common holiday plants arranged in interesting containers.