Resort Real Estate: Finding the Right Fit
Evaluate your lifestyle and needs before buying in a resort community.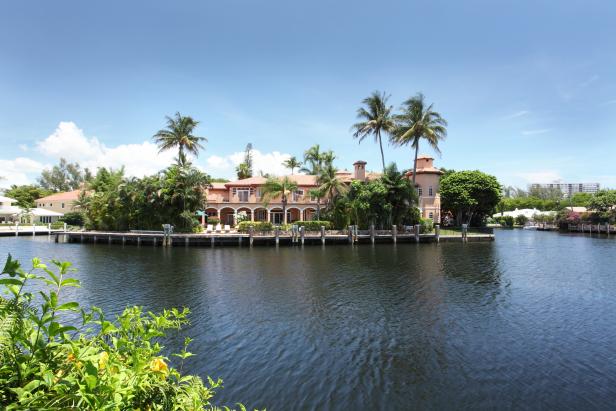 Waterfront Mediterranean Home in Fort Lauderdale
Surrounded by more than 465 feet of waterfront sprawling over half of a private isle, this spectacular Mediterranean-style estate creates the ultimate resort-at-home paradise. Located in one of the premier waterfront communities of Fort Lauderdale, Bay Colony is a prestigious guard-gated enclave of estate homes lining tranquil waterways that embody Fort Lauderdale's acclaim as the "Venice of America."
Premier Estate Properties, Inc., a member of Luxury Portfolio International
These days, resort developers are courting prospective buyers with services and amenities that rival five-star resorts: championship golf courses, world-class skiing facilities, luxury boutiques, even private airstrips. The options are dizzying.
As alluring as resort living can be, purchasing real estate in a resort development should be more than just love at first sight. It should be the right fit for your lifestyle -- what you can afford, certainly, but also what the resort affords you. The first question to ask yourself is:
What's Your Main Reason for Buying a Resort Community Property?
If it's for your primary residence, make sure it satisfies your needs and wants as a full-time home, rather than a place to play for a few weeks. Ask the locals about what it's like to live there and research crime rates and local amenities. If you have kids, check out the schools. Are you looking for social opportunities? Appreciation potential? That 24/7 vacation sensibility?


If you're looking for an investment opportunity with rental income potential, check the bylaws to make sure rentals are permitted and, if so, how the process works. Some resorts may require additional insurance or homeowners association approval. Better still if the resort has an on-site property management office that can handle the rental process for you.


If a weekend retreat is what you're after, consider how much time you're comfortable spending on the road to your destination. Barry Dougherty bought a two-bedroom vacation home in Newtown, Conn., less than 90 minutes from his Manhattan apartment. He says he loves that his "head-clearing weekend in the country never starts out with a frustratingly long commute."


If you're scouting a vacation home you're hoping will transition into a retirement home some day, make sure its accessibility and layout will allow you to age in place.
Once you isolate the dominant reason for your home purchase, these tips will help you hone in on the right one:
Choose a community that fits your lifestyle. There are resort communities designed for any lifestyle, including high-end luxury, waterfront, age 55 and older, active/fitness or golf. These neighborhoods offer access to amenities and activities that cater to specific interests.


Seek financial advice. A financial planner can help you determine how much home you can afford. The cost of a vacation home goes beyond selling price. You'll need to factor in taxes, utilities, homeowners association fees, club membership fees, not to mention transportation expenses to get you there.


Create a must-have list. Some people want to be in the heart of the action and close to cultural activities. Others would rather be in the middle of the great outdoors. Jot down a wish list and make sure there's something on it for friends, family and members of your visiting circle.


Take your time. The biggest mistake people make is "jumping in too quickly," says Craig Venezia, author of Buying a Second Home: Income, Getaway or Retirement (NOLO 2007). "They spend a week on vacation and say, 'I love it. I want to buy here. ' " Take off your vacation blinders. Make several trips, rent over a period of time and venture off into the outlying areas. "Don't feel pressured to buy," Venezia advises. "You've got the luxury of time."


Single family versus condo. Identify the type of home that fits your needs. Both condominiums and townhomes offer turn-key living. No lawn mowing, no repair worries, no exterior maintenance. But if you're planning to use your home for entertaining friends and family, the roominess and privacy of a freestanding house might be a smarter choice.


Do your due diligence. Since real estate is one of the biggest investments you'll ever make, do your homework. Look into the developer's history to see what other properties the company has built. What's the track record? How long has the developer been in business? Strike up some informal chats with other resort owners to find out what insiders really think.


Side-by-side comparisons. When you've narrowed down your resort contenders, run a side-by-side comparison. Compare square footage, amenities, fees and travel distances. Aesthetics count too, of course. Take some shots with a digital camera so that candidates are fresh in your mind.


Think long term. No one has a crystal ball so it's safer to make a purchase decision based on lifestyle and personal benefits than the prospect of a quick turnover. "Take a buy-and-hold strategy," Venezia says. "Look at resort properties that are going to show you the promise of appreciation."