Buying a Second Vacation Home in the Tropics
A practical guide to running off to an island.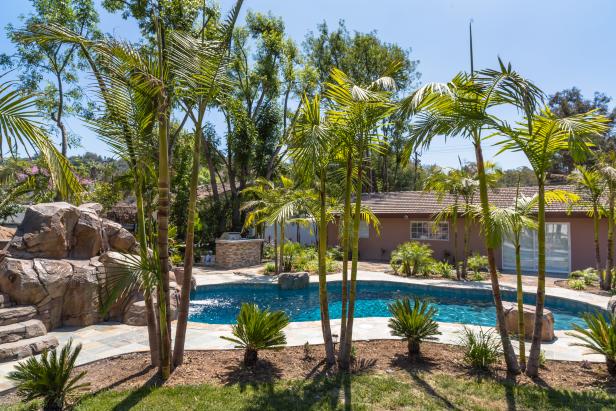 Backyard: Larry Hernandez's California Home
Larry's property is a former horse ranch turned tropical desert oasis. The backyard area is perfect for hosting friends and family, complete with a swimming pool and outdoor grill area. The palm trees add to the tropical feel. "The last party was a hit: One hundred guests joined us for Kenia's baby shower, and we got to enjoy authentic Mexican tacos and even sat around and sang my lady and our guests a couple of their favorite Larry Hernandez tunes," Larry says. "Our backyard is also a big part of our reality series, Larrymania. I'm planning a birthday party for Kenia, which we'll make a pool party at our home."
We've always dreamed of having an island home, someday." Does that sound like a familiar sentiment?
Eileen and Kevin Conlin - vacationing in Belize - decided to make their dream a reality. Like many of us on idyllic breaks, they studied storefront real estate ads, imagining the pleasures of having their own tropical hideaway. Unlike most of us, though, the Conlins decided to act on their vacation-inspired musings, and in January 2000, they purchased a condominium on the Belizean island of Ambergris Caye. (They recently sold that unit and traded up to a larger condo in a new development nearby, now nearing completion.)
Though few of us get past the dream stage, the Conlins are hardly alone in their continued enthusiasm for their Central American getaway. Large numbers of US citizens are looking -- and buying -- in Mexico, Costa Rica, Panama and other countries in the region, lured by warm climates, lower living costs and affordable real estate.
Mexico remains the most popular destination for Americans seeking property beyond the borders, with more than 500,000 Americans living in the country, according to US State Dept. figures. US developers recently have stepped up their activity in the country. Sales of condominiums in Donald Trump's planned Trump Ocean Resort on Mexico's Baja coast are proceeding briskly, despite the fact that construction isn't planned to begin until March 2007.
Costa Rica was the darling of the Central American set several years ago. However, prices there have risen and the infrastructure has not kept pace with growth, according to Lief Simon, real estate editor for International Living, a Paris-based magazine that also provides referral services and organizes tours for potential overseas buyers. Panama, however, is quickly becoming a favored locale for Americans seeking vacation or retirement real estate, with the US State Dept. estimating some 25,000 Americans now calling the country home.
"Panama is probably our biggest destination," Simon says. "And second-home buyers probably make up about 50 percent of that number."
That country has certainly proven its charms to Harry Hunt, a Massachusetts-realtor-turned-Panamanian-developer (www.ownboquete.com), who says he only spent three weeks in the US in 2006.
"You can really live there," he says. "It's got community resources, good health care and very reasonable prices."
Although many Americans might be concerned about investing in a country whose former president, Manuel Noriega, was overthrown by US troops, Hunt says the Panamanian government and the country's people welcome Americans. The country offers a range of living opportunities, from the historic and cosmopolitan capital, Panama City, to more rural mountainous and coastal retreats.
Making things even easier, the local currency - the balboa - is fixed at a one-to-one exchange rate with the US dollar, and US currency is accepted in all transactions.
Panama's economy is booming, and Panama City is experiencing a bumper crop of new construction, with more than 167 high-rises (defined as higher than 12 stories) now being built, according to emporis.com, an online construction database. Plans for another 63 such structures have been approved, the highest of which could reach 104 stories. For the more historically inclined, the city's oldest neighborhood, Casco Viejo, is notable enough to have been proclaimed a UNESCO World Heritage Site.
Many Americans, however, have chosen the Panamanian countryside for their retreats. Hunt, for example, has settled in a region called Boquete, an area Fortune magazine has called out as an ideal retirement haven. It's located about 340 miles from Panama City, at an altitude ranging from 2,600 to 9,800 feet above sea level. Despite the altitude, temperatures remain throughout the year.
"The beauty is, it's 75 degrees year round," Hunt says. "We don't have any thermostats."
Other locales on International Living's radar include Uruguay. Simon calls the country's capital, Montevideo, the best buy for foreign real estate investors, though renovation work on any purchase will likely be extensive there, he says. He's also bullish on Buenos Aires, for those seeking an urban retreat. For waterfront property, he suggests Nicaragua as well as the Caribbean side of mainland Honduras, along with that country's island of Roatan.
So just how should Americans begin investigating these foreign destinations? For some, the research begins with a vacation trip; but today, Internet search engines make it much easier to seek one's own slice of paradise - without ever boarding a plane. In addition, many foreign locations becoming more popular with U.S. citizens have American realtors, who can put you in email contact with others who've gone before you.
Once you've narrowed down your options, though, experts agree that it's time to get your passport in order and book some flights. Photos on a computer screen, no matter how high the resolution, rarely give you a full picture of a property's problems or potential. You'll also have a better chance of interacting with current residents to get their thoughts on the area's appeal.
"I think your best bet is to just walk around and talk to people who live there," Hunt says. "If they've had a bad experience, they'll be very open to talking about it."
If arranging such a journey seems overwhelming or intimidating, companies such as International Living offer group tours that are put together especially for those who want to investigate real estate opportunities. Keep in mind, though, that such groups often earn referral fees from developers who sell properties to the tour organizers customers. International Living is very open about its arrangements with other real estate pros.
Hunt says Panama is safe enough and is home to enough English speakers to make a tour unnecessary. A guide may be helpful, though, in other countries, he adds.
"I would definitely not go alone to Honduras," he says.
Understanding the process
As is to be expected, the process for buying a property may be a bit foreign to US homeowners. Here are some factors to consider before signing on any dotted lines:
Although mortgages are available in much of Panama, both Hunt and Simon say that financing may not be available in other countries.
Some countries have restrictions on foreign property ownership. Mexico, for one, doesn't allow foreigners to own land along its coastline or borders. In these cases, you may be purchasing a long-term (99 years or longer) leasehold.
Be sure to get references from the realtors and lawyers you're working with when investing abroad. Check credentials to make sure you're working with people you can trust. "You do want to work with licensed professionals," Hunt says. "Everybody from your cab driver to your busboy will try to sell you real estate."
Don't expect inspection contingencies to be a part of your negotiations, Hunt says, unless you're purchasing new construction. In that case you may be able to work with your developer on a punch-list of improvements.
Finally, if you're purchasing an existing home, there's a good chance the property will need extensive renovations to bring it up to American standards.
"Their houses all have to be rehabbed for us," Hunt says of the local residences he's seen in Boquete. Many of these homes lack basics, such as hot-water heaters or an adequate number of electrical outlets. In some cases, wall slits, rather than actual windows, are used for fresh-air ventilation, he says.
"Right now, we're bringing them forward 50 years," he says.