Am I Really Ready to Buy a Home?
Overwhelmed by the idea of a monthly mortgage, taxes and other costs of owning a home? Do a little real estate therapy with expert Tara-Nicholle Nelson.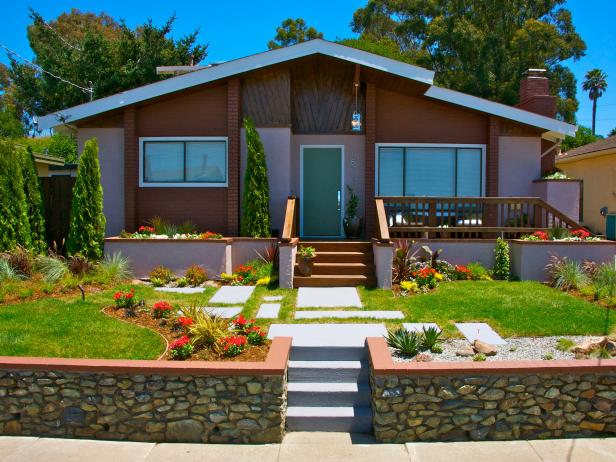 Mid-Century Modern Cottage With Lovely Landscape
To keep your home's front landscape from overpowering your home, look for slow-growing shrubs and trees that won't obstruct or damage the home. "Foundation" plants like boxwood and varieties of evergreen yew bushes are ideal for planting along the base of a home, since they provide color but won't block windows or doors. "The biggest mistake homeowners make is not knowing the size the tree or shrub will be at maturity," says Greg Seaman, founder of Eartheasy.com, a website that offers information and products for sustainable living. Homeowners who don't investigate the growth pattern of the plants they install may find themselves digging them up and replacing them a few years later, he adds.Add color with perennial flowers that don't have to replanted year after year, with flowers like Shasta daisies and lavender, and with lilies like the Stella De Oro -- known to rebloom from May to July and sometimes even through September.
My mother used to think it strange that someone with psychology and law degrees ended upselling real estate for a living. Lately, though, she's conceded that my background could not be more appropriate, as an ever-increasing amount of my time is devoted to what we've jokingly dubbed "r.e. (short for real estate) therapy." Even apart from the market drama, buying a home often brings up lots of issues that must be navigated to have a successful outcome -- issues as diverse as the buyer's relationships with their parents to the buyer's relationship with their money.
I recently had a client whose buying behaviors invoked my faux-shrink skills even more than normal. She was a nurse, earning a six-figure salary and looking to buy her first home -- at the tender age of 25 years old. Income taxes were eating her alive, she was tired of renting and she'd decided that she planned to stay put in the community for at least five years and would love to continue owning the home as an investment property over the very long term.
As bright as this gal was (I mean, look who she chose as her Realtor!), she kept doing things that were obviously self-defeating to her homeownership goals. First, she wanted to only see homes listed 50-grand above her price range -- even though I showed her the stats to prove that most homes in our area were selling at or around the list price. Once she got over that, she insisted on bringing her naysaying frenemy along on our buyer's tours -- you know, that one quasi-friend (we all have one!) who she could count on to turn her nose up at even the most perfect property. Then she kept changing her criteria -- massively. First she wanted a condo, then a single family. First one city, then another, 20 miles away.
Finally, I sat her down for some r.e. therapy and got her to confess: she was setting herself up for failure because she was overwhelmed by the prospect of committing to a home, a community, a mortgage payment and a property. Totally understandable, for someone that age.
Some of it was an issue of mindset. Buying a home is a very grown-up, long-term thing that a buyer shouldn't commit to unless they are certain that they are ready. As Warren Buffett once said, "If you don't feel comfortable owning something for 10 years, then you shouldn't own it for 10 minutes." If she could come to grips with this most fundamental commitment to homeownership within her own heart, I told my client, then I could help with the rest of her commitment concerns. She could, so I did!
For her valid concerns about the notorious adjusting mortgage payments she'd heard about in the news, we made sure she got a 30-year fixed rate mortgage, the payment on which would only go down, when she built up enough equity to drop the private mortgage insurance.
If you don't feel comfortable owning something for 10 years, then you shouldn't own it for 10 minutes.
Warren Buffett
To assuage her stress over future repairs, we found her a nearly new townhouse with an HOA responsible for the exterior maintenance of the building (walls and roof) and a long duration left on the builder warranty. We also put in place a home warranty (that she could renew year after year) to fix the vast majority of issues that would ever arise for a $50 service call fee.
To make sure nothing major was already wrong with the place and to empower her to know how to work everything in the house, we wrote an inspection contingency into the contract, then had a detailed property inspection, and the inspector gave a tutorial on all the mechanics of the place.
And to give her the time and mental space to make a reasoned, deliberate commitment, I encouraged her to use the 17-day contingency period to drive by the community at different times of day, to bring her supportive buddies and relatives by and, to spend some time just sitting in the home, coming to grips with whether she was ready to remove contingencies and make the place hers.
She ended up buying the place. And a year later, she still loves it, though I wouldn't be surprised to hear her say that she occasionally wakes up at night and is shocked and amazed (in a good way) to remember that she owns a home!