How to Make a Halloween-Approved Gingerbread House
Who says gingerbread houses are only for Christmas?
Sure, gingerbread houses have traditionally been a Christmas season activity, but we say it's about time some other holidays got in on the fun. Up first on the list: Halloween. Lucky for you, we've got the ghoulish guide to making the spookiest gingerbread house on the block.
We're sorry, there seems to be an issue playing this video. Please refresh the page or try again in a moment. If you continue to have issues, please contact us here.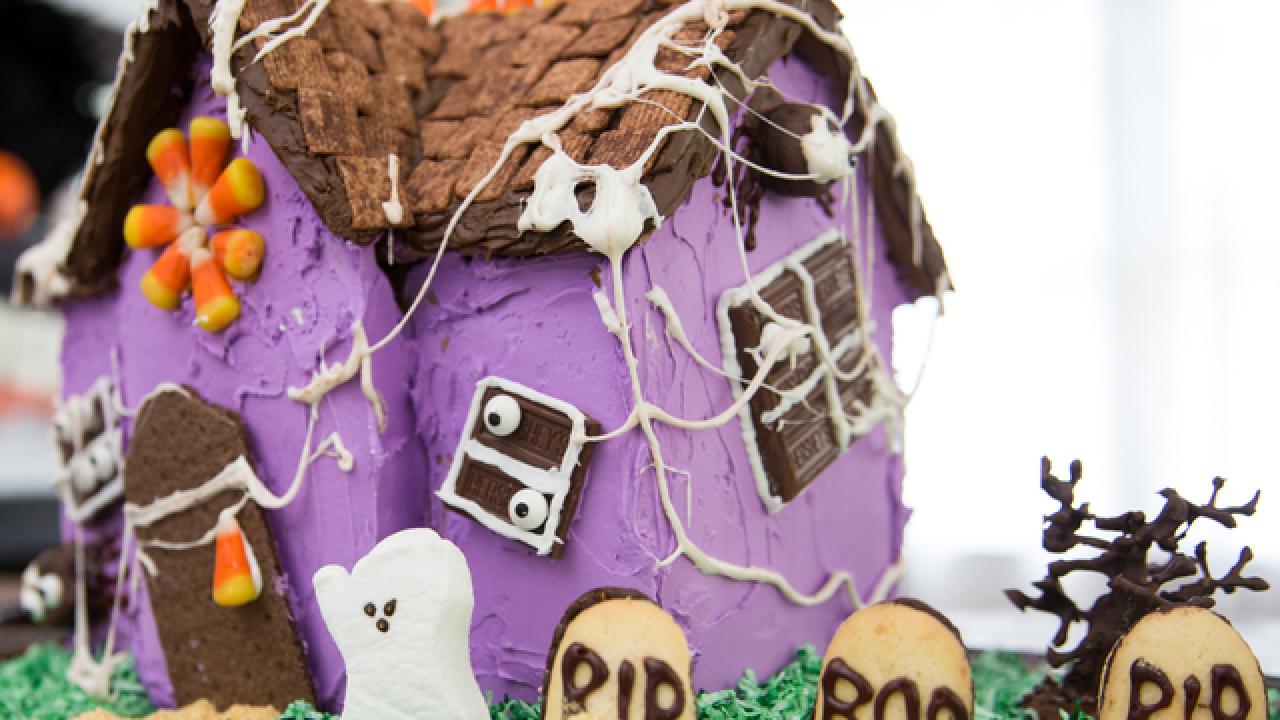 gingerbread house kit
purple frosting
brown frosting
chocolate cereal squares
candy corn
chocolate graham cracker
chocolate bar
candy eyeballs
royal icing
coconut flakes
green food coloring
chocolate-filled sandwich cookies
brown decorating icing
crushed graham cracker
mini sandwich cookies
chocolate chips (melted)
grapevine
marshmallow fluff
marshmallow ghost
Start by constructing your choice of gingerbread house according to the instructions on the box. Once you've finished assembly, it's time to toss those instructions to the side and get creative. The first step to spookifying your gingerbread house is to coat the sides of the house with purple frosting. Next, cover the roof with brown frosting and top it off with chocolate cereal square shingles (Images 1-2). Finish the roof off with candy corn finials across the top (Image 3).
Coat the back of a chocolate graham cracker with purple frosting and stick it in place as the front door. To up the haunted ante, cut your graham cracker to fit slightly tilted. In the same fashion, stick chocolate block windows to the house, lining the edges with white royal icing to help them stand out (Images 1-2). Finish off the windows by sticking candy eyeballs on them with royal icing. As a final architectural touch, make a circle of candy corn above the front door for the perfect stained-glass window (Image 3).
Time to decorate around the haunted house. For grass, fill the area around the home with coconut flakes colored green with food coloring (Image 1). To add a haunted effect, cut chocolate sandwich cookies in half, use brown decorating icing to write "RIP" and "BOO" on them, and stick them into the grass using brown frosting (Image 2). Make these headstones even more realistic by adding fresh dirt around them made out of crushed graham crackers (Image 3).
Add spooky spiders to the haunted house by coating mini sandwich cookies in melted chocolate, sticking candy eyeballs on them and sticking them into the purple frosting on the home (Image 1). Finish off the spider look by using decorative brown icing to draw legs around the cookies (Image 2). Add an old, dead tree to the yard by dipping a grapevine in melted chocolate and securing it to the yard using brown frosting (Images 3-4). As a final touch, drape strings of marshmallow fluff cobwebs around the house (Image 5).
Last but certainly not least, don't forget to place the house's ghoulish marshmallow resident in the front yard. Now all that's left is to enjoy your haunted masterpiece ... and maybe nibble a tombstone here and there.