Solutions for Holiday Dining
Check out these tips for preparing a dining room for the holidays.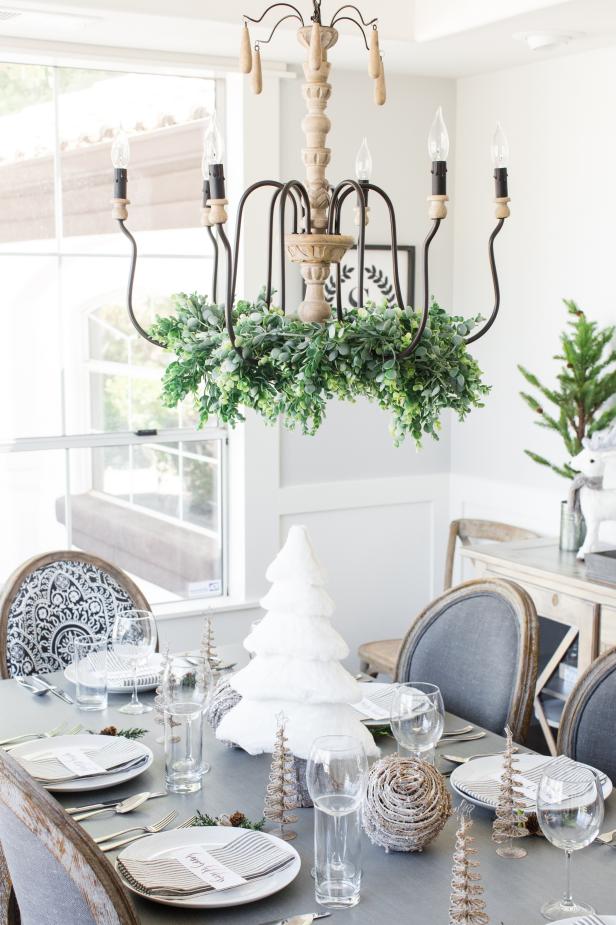 Holiday Dining Table and Greenery-Trimmed Chandelier
Greenery draped around this dining room's chandelier is a fresh, lush look. The winter wonderland continues on the table with rustic bottle brush ornaments and a sparkly white Christmas tree. Sprigs of evergreen and pinecones accent each place setting.
Holidays make me think of family. And having the entire family together for a meal is truly a cause for thanksgiving. But what if you don't have formal dining room furniture and your current budget doesn't allow for its purchase? Not to worry! While a beautiful dining room is a dream of many, the cost can be prohibitive, especially if the room is used infrequently. My decorating partner, Matt Fox, and I have found that there are some inexpensive remedies for this decorating dilemma.
Creating a dining room on a budget just requires some creative thinking. First, there's the need for a fairly large table. Remember, Thanksgiving and Christmas are a time for sharing, so "borrowing" an oval table from the patio seems entirely appropriate for the season. It doesn't really matter if it is plastic or glass topped; it will be covered with a decorative floor length fabric covering. Window toppers made from the same fabric can provide an additional splash of color and help to unify the room.
The beautiful fabric-draped table becomes the focal point in your room. Surrounding your table with chairs might distract from the effect, so you really have no need for permanent dining room chairs. Instead, folding chairs brought out at mealtime will function well without becoming a distraction.
You probably will need some permanent seating in your new dining room, however. Once again, you might borrow an armchair from a bedroom or den. Although it might seem odd to have an armchair in a dining room, it provides softness to the room and extends the function as well. What a great place to relax while planning those special holiday meals.
Additional seating might include an inexpensive bench. We chose one with decorative wrought iron, but almost any design could work. Add softness to the hard surfaces of the bench with a cushion and pillow in a complementary color.
What about storage? Every dining room needs a storage area to hold food and decorative accessories. As always, Matt came up with a great idea for a dining room buffet. The project was fairly easy because it was made from precut pieces of pine as well as pre-turned posts meant for an interior staircase railing. The finished product is so lovely that no one would ever guess how inexpensive it is to make. It adds both beauty and a much needed storage area to the dining room.
Is your dining room still looking a little blah? Well, I have another way to add some pizzazz. How about a stamped wall technique? First, choose a color for the base coat. If you are happy with the color the walls are already painted, don't bother to repaint. As long as the surface is free of dirt and grease, it will be fine. If you decide to repaint the walls, be sure to allow them to completely dry before starting on the stamping technique.
We choose a medium-sized pear as our stamp. We liked the size and we felt the curved shape would add some interest to the walls. Pears also seemed to fit the dining theme. To make the pears even more interesting, we decided to stamp them in gold.
Set your furniture in place and add the "stuff": artwork, greenery and decorative accessories. You have created far more than a budget dining room; you've crafted a place where holiday memories are made.