How to Make Potted Sunflower Cupcakes for Fall
Fall and sunflowers go hand-in-hand, so whip up a batch of these blooming beauties for your next autumn-themed party. Sunflower petals are easily created using a leaf decorator piping tip, while mini flowerpots serve as playful containers for the delicious cupcakes.
1 stick unsalted butter, softened
3/4 cup light brown sugar, packed
1 egg, room temperature
3 tablespoons unsweetened dark cocoa powder
3/4 teaspoon baking soda
1 teaspoon vanilla extract
1/4 teaspoon salt
3/4 cup all-purpose flour
1/3 cup sour cream, room temperature
1/2 cup + 2 tablespoons hot coffee
2 sticks unsalted butter, softened
5 cups powdered sugar
1 teaspoon vanilla extract
milk or heavy cream (if needed)
yellow gel food color
orange gel food color
12 plastic mini flowerpot dessert cups
3/4 cup mini chocolate chips
Preheat the oven to 350°F. Line a cupcake pan with liners. In the bowl of an electric stand mixer, beat the butter until creamy. Add the sugar and eggs; beat until lightened in color. Add cocoa, baking soda, vanilla extract and salt; mix well. Beat in the flour in three additions, alternating with adding the sour cream, beginning and ending with flour. Add the hot coffee at the end and mix until a smooth batter forms.
Divide evenly between 12 liners using a trigger ice cream scoop, filling each 2/3 full (Image 1). Bake for 20-22 min, or until a toothpick tester comes out clean. Let cupcakes rest in the pan for 10 minutes (Image 2), then transfer to a wire rack to cool to room temperature before frosting.
In the bowl of an electric mixer fitted with a whisk attachment, mix together the butter and powdered sugar on low speed until the mixture is crumbly. Increase the speed to high and beat for 3 minutes. Add the vanilla extract and beat another minute until the icing is light and fluffy. If the buttercream is too stiff, add milk or heavy cream one tablespoon at a time until the mixture is of spreading or piping consistency. Divide the frosting into two bowls and tint one with the yellow gel food color and the other with the orange gel food color.
Place each cupcake in a flowerpot holder (Image 1). Cover half the cupcake tops with a thin layer of yellow buttercream and smooth with a spatula (Image 2). Cover the other half with orange buttercream and smooth with a spatula. Transfer each color of frosting to a piping bag with a 1/2-inch hole snipped in the end. Pipe a ring along the outer edge of each cupcake with corresponding colors (Image 3). Transfer remaining frosting colors to piping bags fitted with small leaf tips (such as Wilton #352). Beginning at the outer edge of a yellow cupcake, pipe small leaves along the circumference (Image 4). Pipe another row just above the first row. Continue traveling inward, leaving an empty 1 1/2-inch circle in the center. Repeat this process for all cupcakes. Spoon chocolate chips into the centers of each (Image 5). Serve cupcakes immediately, or store in an airtight container until ready to enjoy.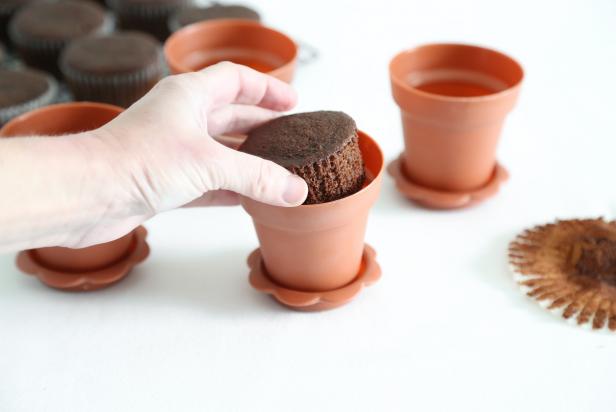 Heather Baird, SprinkleBakes.com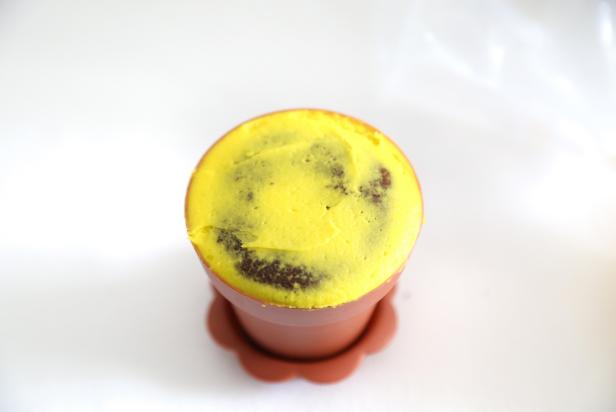 Heather Baird, SprinkleBakes.com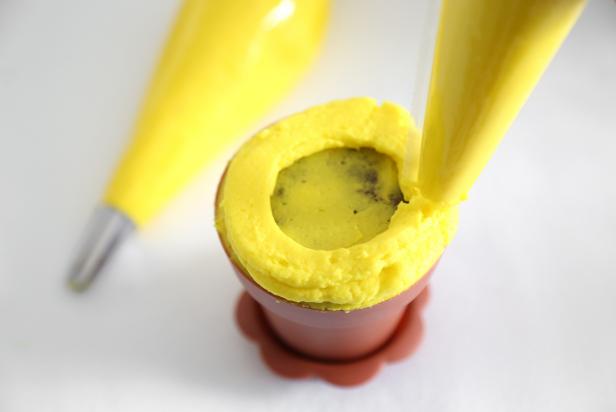 Heather Baird, SprinkleBakes.com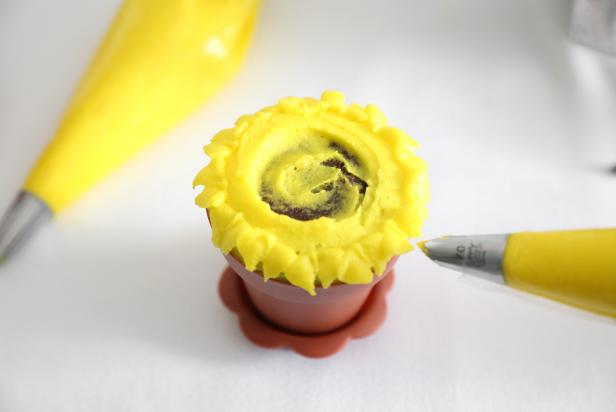 Heather Baird, SprinkleBakes.com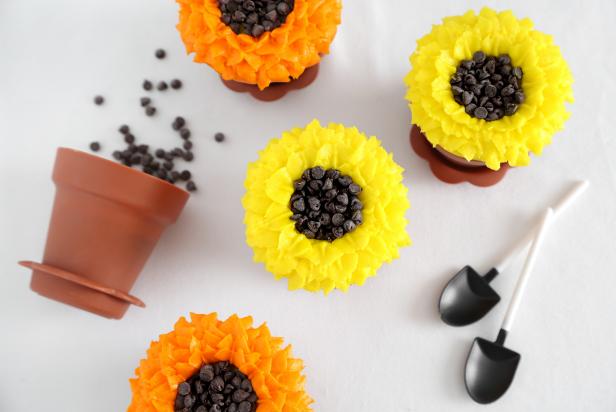 Heather Baird, SprinkleBakes.com
More Fall Desserts to Try
Finish your Thanksgiving feast on a sweet note with one of our delicious desserts. From decadent, chocolatey brownies to scones, cookies and pies that bring together everyone's favorite fall flavors.