These moist blondies have a brownie-like texture and rich butterscotch flavor that make them a sweet finish to your Thanksgiving meal.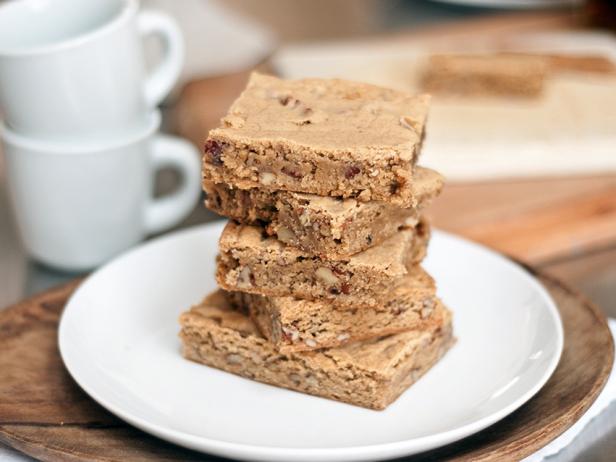 Buttered Scotch Blondies
Swapping store-bought butterscotch chips for sugar, butter and good-quality Scotch whiskey make these easy-to-make blondies worthy of a holiday cookie plate. Get the recipe.
Courtesy Davin Prince, The Perfect 3, 2012 CookingChannelTV.com
1 cup unsalted butter, at room temperature, plus more for pan
1 3/4 cups all-purpose flour, plus more for pan
1 cup packed dark brown sugar
1 cup packed light brown sugar
1/2 cup good quality Scotch whisky
1 1/2 teaspoons pure vanilla extract
fine salt
2 large eggs
1 1/2 cups pecan halves
Preheat the oven to 375 degrees F. Butter and flour a 9-inch by 13-inch baking dish.
Cream the butter, dark brown sugar and light brown sugar together with an electric mixer on medium speed until creamy and fluffy, about 2 minutes.
Beat in the whisky, vanilla and 1 teaspoon salt. Cook's Note: The mixture may look curdled at this point, but don't worry, it will come back together.
Then beat in the eggs, one at a time until combined, scraping down the bowl with a rubber spatula, if necessary.
Lightly break up the pecan halves by crushing them in your hands or coarsely chopping them and stir into the batter. Stir in the remaining 1 3/4 cups flour until just mixed.
Bake until a toothpick inserted in the center comes out clean, 35 to 40 minutes. Cool completely in the pan on a wire rack. Cut into 12 large bars.
Cook's Note: This brownie pays homage to the original drink that inspired the term butterscotch, that is, before it was replaced with artificial flavoring during prohibition. The ingredients make these brownies extra special. The addition of real Scotch whisky, a healthy dose of real butter and the omission of leavening agents creates a great textured blondie with balanced sweetness, without the harshness of artificially flavored butterscotch chips.
Total time:
1 hour 22 minutes