How to Make More Money at Your Yard Sale
These super simple changes could help you make some serious cash.
We're sorry, there seems to be an issue playing this video. Please refresh the page or try again in a moment. If you continue to have issues, please contact us here.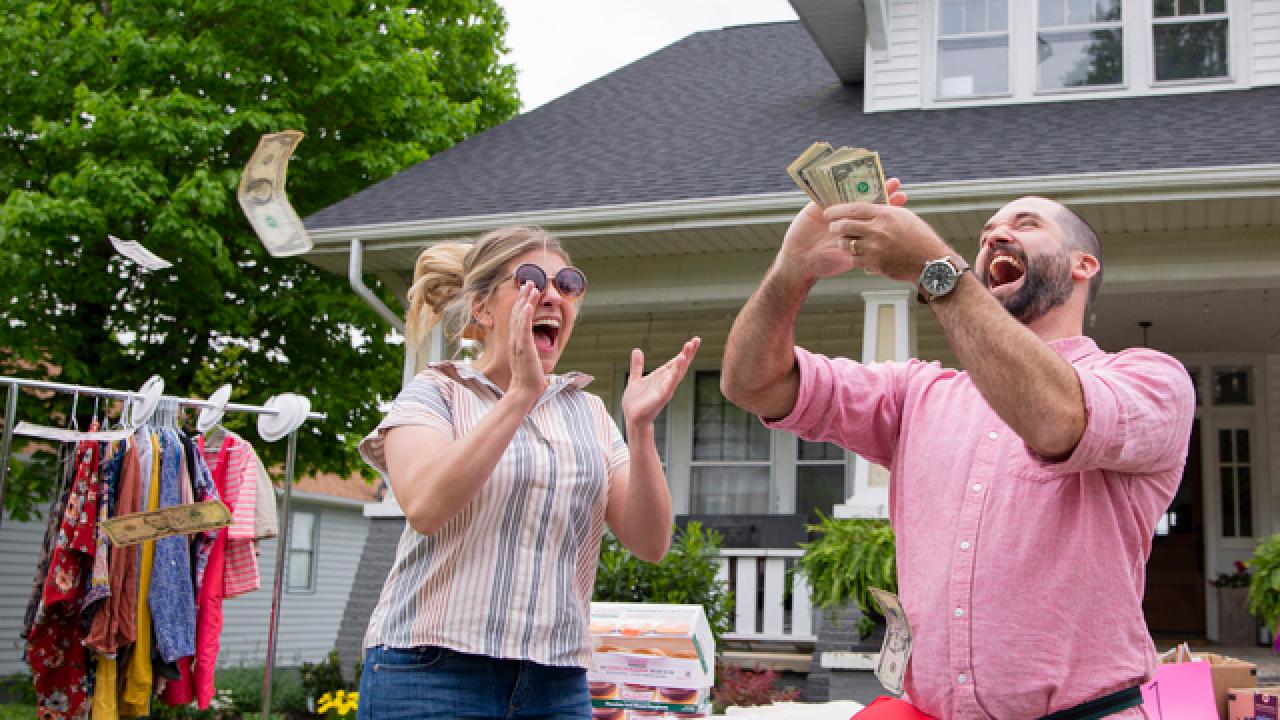 For some, having a yard sale is more about getting rid of your stuff and less about making money. But we're here to tell you that it can do both! All it takes is a little planning and smart organization. Follow along as we offer our favorite tips for tossing your junk and raking in the green stuff.
You need to start posting online about your yard sale at least one week in advance. Be detailed, but keep it concise. Once the week has gone by, be sure to refresh your post the day before the sale for the best chance of reaching people. Post pictures of any items you think may bring in customers. Furniture, electronics and baby items are usually hot commodities.
Odds are, people have a lot of tempting options when it comes to choosing how to spend their Saturday, so your yard sale needs to grab their attention. Use bright, eye-catching tablecloths, easy-to-see balloons and, of course, lots of bold, beautiful signage. The punnier, the better in our opinion. Just make sure details are legible and clear.
Yes, cleaning your clothes beforehand is non-negotiable. A clean, fresh scent can only help. Try separating clothes out by size and using colorful paper plates as dividers on the rack. Just cut a hole in the center, write the size on the plate and slide onto the rack for a clean, professional shopping experience.
Maximize your selling capabilities by using multiple tables and grouping like items. Some people may like combing through messes for treasures, but for those who have items or at least categories in mind, this will make a major difference. And if you think a sheet on the ground is good enough, think again. People are much more likely to browse and buy if what they are looking at is convenient to touch and peruse. Avoid placing small items on the ground at all costs.
Dealing in change is for the yard sale novice. No one wants to be weighed down in coins, and if someone isn't willing to break out a dollar for that blouse, they didn't want it to begin with. For items that are definitely not worth $1, toss them in a grab bin labeled "2 for $1" or "4 for $1." That way, you don't have to worry about change, and you'll get rid of more items. More money + less junk = successful yard sale.
Ditch the clunky, heavy cash box that can be easily stolen, and just wear a fanny pack. If you're only dealing in bills, your fanny pack is guaranteed to be light, and not watching a cash box frees you up to assist any potential customers. Pro tip: Keep your bills organized going from smallest to largest so you can easily and quickly give appropriate change when needed.
People will stay and browse longer if they are offered refreshments; plus, it helps with little ones who are bugging mom and dad to go home. Place ice-cold beverages, hot coffee and donuts out on a table so shoppers can stop for a recharge. The extra profit doesn't hurt either.
Be sure to have these items on hand to make selling your items feel totally professional and effortless on the day of your yard sale.
Newspaper for wrapping customer's fragile items.
Shopping bags to help shoppers get their goodies home.
A power source for testing out electrical items.
Batteries for trying out toys and other battery-powered items.
At least $50 in change.