Maximum Value Energy Efficiency Projects: Appliances
Make cooking, cleaning and entertaining in your home easier and more functional with energy efficiency appliances.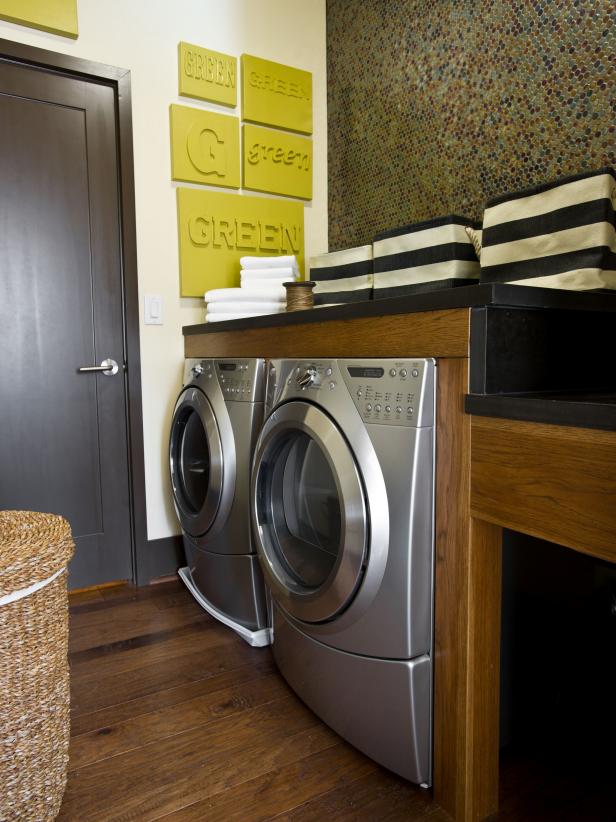 Laundry Room With Playful Green Signs
Conveniently located near the kids' bedroom and the craft area, this laundry room from HGTV Green Home 2012, offers both a front-loading Energy Star-rated steam washer and a dryer. Playful word signs grace the walls of the space, reinforcing the home's green theme.
By changing the way your appliances consume energy, you can increase the livability and sustainability of your home for many years to come. With large increases in the number of electronics and appliances in the average home over the past 10 years, there is no better time than the present to start making small changes that can help decrease the amount of energy used in each home nationwide.
Consider the appliances you use most, such as the refrigerator, dishwasher, stove and washer and dryer. By taking advantage of federal tax credits, these items can be purchased with a monetary break on the front end while your utility bills will show a savings of around $400 a year. In fact, the American Council for an Energy Efficient Economy has estimated that if each household increases the energy efficiency in its appliances by 10 to 30 percent, we can release the demand for electricity by the equivalent of 25 large power plants!
Energy Star leads the pack. The Energy Star program was created by the U.S. Environmental Protection Agency and the U.S. Department of Energy to help consumers save money and minimize air pollution. Appliances stamped with this "seal of approval" have skyrocketed in sales over the last two years, with no signs of slowing down. And with the government's initiative of federal tax credits, now is the time to buy and begin saving big money on monthly utility bills.
According to appraisal expert, Leslie Sellers, president of the Appraisal Institute, spending more up front to get a quality product, such as Energy Star appliances, will pay you back in the long run. "Cheaper products are cheaper for a reason," says Sellers, "and will not give you the maximum energy savings you want." He says that significantly higher operating costs will hurt your chances at saving money in the long run.
If you want to take advantage of federal tax credits and rebates, it's important to take a look at state regulations before diving into a large appliance purchase. According to Energy Star, each state and territory has selected its own set of qualified products for rebates, based on the Department of Energy list of recommended appliances. Before getting caught in a bind, find out what appliances and other home improvement materials are on your state's list and then make your list accordingly.
On a Budget: The refrigerator is the single biggest power consumer in most households. For homes on a budget, this is the best place to start in changing over to an energy efficient model. Also remember that one large refrigerator takes less energy to run than two smaller ones, so it's worth it to find a model that works for your family's size and needs. By just making this change, replacing a refrigerator made before 1993 with a new Energy Star model can save up to $65 per year.
Mid-Range: The major appliances in your home -- refrigerators, clothes washers and dishwashers -- account for a big chunk of your monthly utility bill. Make changes on a mid-range budget to swap out older major appliances with newer Energy Star models and see your utility costs immediately begin to go down. If your appliances are more than 10 years old, purchasing energy efficient models will literally cut energy usage in half.
High-End: For those with a no-holds budget, consider looking into larger appliance projects that are supported by the Department of Energy and Energy Star appliances. Some of these projects are: clothes washers, dishwashers, refrigerators, freezers, room air conditioners, water heaters and HVAC systems. By incorporating energy efficient appliances throughout the entire home, you not only lower your utility costs, but you also help the environment by reducing air pollution and conserving natural resources.
With many lighting styles to choose from including: ambient, task, aesthetic and accent lighting, there is an abundance of ways to brighten up a room with the best light for a particular space.