Gender-Neutral Design Tips
Don't want to decorate your child's room in the typical pink or blue? Discover designer tips for creating a space that works for both boys and girls.
Creating a gender-neutral room can be tricky, but also full of possibilities. Whether planning a nursery before you know the gender or wanting to create a shared space that works for both boys and girls, we have you covered. Check out our designer tips for creating a stunning gender-neutral kid's room.
Begin by looking at the color schemes throughout the rest of your house. Designer Holly Mathis of Holly Mathis Interiors says it's important to use colors you love and that flow with the rest of your home. For a gender-neutral space, look for a color that will work as a great background no matter the style or gender.
Another approach is to start with a favorite item. Designer Liz Carroll of Liz Carroll Interiors suggests starting with a piece of art or furniture that will be incorporated in the room. Use the piece as a jumping-off point for selecting the room's color scheme.
New mom Kelle created a peaceful nursery for son Xavier using a gray-and-white color scheme. Photo courtesy of Kelle Howard-Dean
A great reason to go neutral is because it'll work with any colored accessories you want to bring into the space. In addition, neutral walls have longevity to them; they'll grow easily with the kid throughout any color or theme trend. Designers Jennifer O'Dowd and Joanna Gick of J&J Design Group love neutral shades of navy, gray and green, but most importantly, they suggest mixing in textures to keep the room interesting.
When designing a gender-neutral nursery, designer Laura McCroskey of McCroskey Interiors likes to use neutrals that give nurseries a dreamy quality like creams, ivory, oatmeal or whites. "You can still have fun and create a child's environment with round shapes or stripes, as well as introduce beautiful textures with draperies, plush toys and lighting," says McCroskey. When the baby is born, gender-specific colors can be added.
But Don't Be Afraid of Color
While whites, creams and grays are perfect choices for a gender-neutral room, it doesn't mean you have to shy away from color completely. "When designing gender-neutral rooms, I like to mix in fun colors and interesting patterns to create a statement, while steering clear of distinctly masculine or feminine themes. Unlike decorating in the rest of the home, there are no rules or conventions when decorating for children, and parents should feel free to put a lot of personality into it and have fun," says designer Susie Fougerousse of Rosenberry Rooms. She particularly loves lemon yellow or lime green.
Designers Julie Frank and Alessia Corpino of My Tiny Nest love orange for gender-neutral rooms. "It's a strong and bold color that resonates energy and happiness," says the team.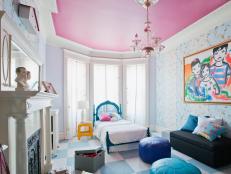 From whimsical willow trees to modern stripes, get tips for enhancing your kids' room design.