Celebrity designer Vern Yip answers your decorating questions.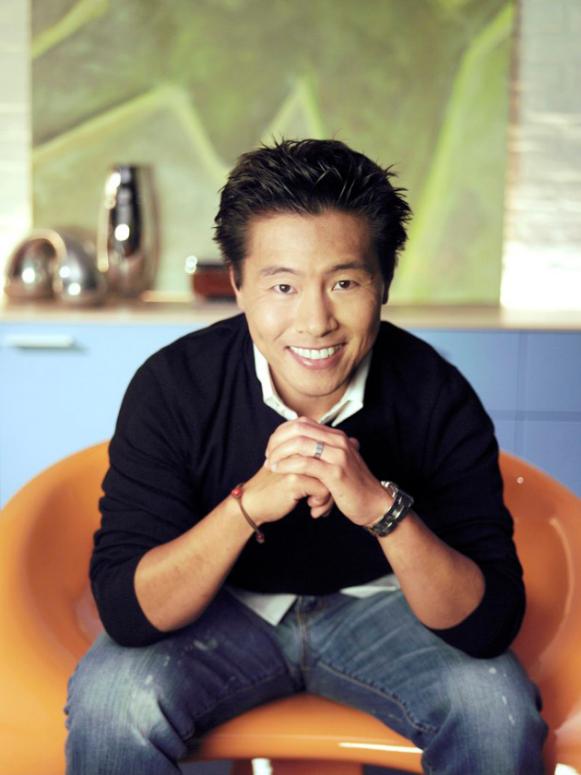 Vern Yip, Host of Deserving Design and Judge for HGTV Design Star
Hundreds of viewers wrote in with design dilemmas for Vern Yip, Design Star judge and the host of HGTV's Deserving Design. Get his top 10 answers for everything from sprucing up windows to picking the right paint colors.
Q: I have louvered shutters on all the windows of my new home. We often open them to let in light and enjoy the view. How do I add softness and color to the window treatments without blocking the light or the view?
— Barb, Jasper, Ala.
A: Louvered shutters are very much in style these days and can be a great way to lend character and interest to a window. If injecting color and softness is your goal, try adding drapery panels that will flank your windows and stay open full time. Since you already have shutters on your windows, there is no need for these panels to close. They can remain more or less decorative for both color and textural purposes. Whenever possible, try to hang your drapes all the way up to the ceiling line for the cleanest and most dramatic presentation.
For a master bedroom that feels inviting without being dark, select paint and bedding colors that have warm undertones in medium and light tones. Designer: Vern Yip
Q: I have a 19' x 19' master bedroom that has vaulted ceilings. What can I do to make the room feel warm and inviting without making it too dark?
— Kelly, Waukee, Iowa
A: Everyone likes different things from different rooms, and determining your personal style and how you want your room to feel is a key step toward creating a game plan. If you want a master bedroom to feel warm and inviting without being dark, select paint and bedding colors that have warm undertones to them in medium and light tones. Try painting your ceiling a slightly lighter version of your wall color. You can achieve this by taking your wall paint and cutting it with some white to give you a lighter version. Textured drapes that reach all the way up to your ceiling are another way to create warmth, as are throws and throw pillows. Additionally, overhead lights and lamps on dimmers can contribute to creating a warmer glow from your illumination sources.
Q: I live in a house with an open floor plan in the dining room, kitchen and living area. How do you choose paint colors that keep the rooms separate without looking like a color palette?
— Dawn, Bluffton, S.C.
A: Newer homes often are characterized by a more open floor plan, which is more conducive to the way many modern families like to live their lives. Painting the walls in these rooms, however, has become trickier since rooms are now visible from many vantage points. One approach is to select a neutral paint color to run through all of these rooms. Each room can then be individualized and given identity through curtains, throw pillows, rugs, artwork and decorative accessories. Another approach is to select varying shades of the same color for all of the rooms so that you have rooms that relate to each other but are still unique in their tone. If a big color variation is more to your liking, try making one of the rooms a distinct and bold departure while painting the other rooms similar tones of the same color.
Q: My family just moved into an 80-year-old house. The kitchen has an island and pantry that were added later and are different styles from the other cabinets. We're not planning on redesigning the kitchen for at least six months. In the meantime, would it be worth it to reface the doors so all the cabinets match?
— Alissa, Needham, Mass.
A: Quality is a big issue when making interim decisions on design matters, and this is especially true when you are talking about a costly item like kitchen cabinets. If the existing base cabinets are of exceptional quality (solid hardwood construction, dovetail joinery, etc.) then it may be worthwhile to preserve the cabinets themselves as part of both the interim and final kitchen game plan. Usually, if you think that you will be redesigning the kitchen in six months? time, you are better off leaving things alone and pouring your time and financial resources into your ultimate kitchen vision. Painting the walls a brighter or bolder color will draw the eye to the color choice and can often help to temporarily distract from the cabinet discrepancy. Additionally, investing in knobs or pulls that can unify your varying cabinet styles can also be a quick and effective solution, especially if you can then re-use that hardware in your new kitchen.
The best and cheapest way to instantly add light to a room is to hang a large mirror on the wall opposite a natural light source. Designer: Vern Yip
Q: Our kitchen has no windows, and receives minimal lighting from the bedroom and living room. We hate to have to switch lights on every time we are in the kitchen. Is there a way to get sunlight reflected into the kitchen so that it looks more natural?
— Valerie and Freddy, Boston, Mass.
A: The best and cheapest way to instantly add light to a room is to hang a large mirror on the wall opposite a natural light source. If you have windows in your living room and bedroom that add light to your kitchen, put a mirror on your kitchen wall that receives most of this light. By doing this, you bounce all of the light coming into the room back into the dark space. Additionally, stick with a polished metal color for knobs and light fixtures. Polished surfaces also do a great job of reflecting both natural and artificial light. Semi-gloss or high-gloss paint on your walls will also help add a little more light into the space.
Q: My home was completely destroyed by Hurricane Katrina. I will finally be moving into a new home. I have a decorating budget of $45,000. Could you give me some tips on getting the most for my budget while making my home stylish and comfortable for a multi-generational household?
— Sherrie, Slidell, La.
A: The best tip for making limited resources go a long way is to create space plans for the rooms in your home that you are going to furnish before you ever make a single purchase. It's critical that you utilize your financial resources smartly, and the best way to do that is to ensure that your purchases are right for the rooms' dimensions and fulfill the function that you need them to. After doing that, create budgets for each room and begin investigating where you can access quality items at good prices. Remember that just because something is inexpensive doesn't mean that it is a good deal — you want to make quality purchases that will last to get the most for your money. Many national showrooms change out their floor samples twice a year, so go in to the stores, make friends with the sales associates and managers and ask when the floors will be changing out. This can be an excellent way of getting well-crafted furniture at a fraction of the normal price. Closeout and outlet stores can also be an excellent source if you're on a budget, but be sure you know the quality of items you are purchasing at all times.
Q: I am updating my 1973 home and will be installing new kitchen countertops. There is a pre-made, molded laminate that resembles stone and is really inexpensive (10 percent the cost of laminate or solid surface — $500 vs. $5000 is a huge difference). Will I be hurting myself when I go to sell by opting for the "quick fix" now?
— Janie, Longwood, Fla.
A: Countertops are often considered the "work horse" of the kitchen and many homebuyers look for quality countertops when they are shopping for a home. While granite and other solid-surface countertops have been considered the gold standard for quite some time now, other materials like laminate can offer a good look for a lower price. It is important to remember that consumers in the housing market are more educated now than ever before and will likely be informed on what your house is worth material-wise — which does not necessarily mean that a pre-made, molded laminate is a bad choice. It's always important to know what homes in your area, and specifically on your street, would sell for and to access comparables. If the norm for your area is granite countertops, it may not be a smart idea to put in laminate. If the norm is laminate, putting in granite countertops may end up being an investment that you wouldn't necessarily recuperate. The key is to understand your area and to make a decision that will make you competitive in what is turning out to be a difficult housing market.
Q: I am a working mother of four children under the age of five. How can we create a separation between our living room and dining room? We need something that is toddler-friendly but stylish.
— Melissa, Indiana, Pa.
A: Separating the living area from the dining area can often be achieved through space planning. By floating a piece of mid-height furniture like a sofa and/or a sofa table, you can effectively create separation without visually obstructing the flow of the room. If you believe furniture floating in the middle of a room is a danger for your toddlers, a separation can be made with the upholstered sofa alone or with drapes hung from a rod suspended from the ceiling. Drapes can be a soft, easily moveable and inexpensive solution for creating two rooms from one. Toddlers inevitably touch things with soiled hands, so washable or treated fabrics make the best choices whichever direction you go.
Q: We have many six-panel doors in our house. They are all primed, but my wife wants them painted white. She says they should be a high-gloss paint to match the surrounding high-gloss white trim. I say they should be an eggshell base of white to distinguish the door from the trim. What do you think?
— Mark, Highland Park, Ill.
A: There are no hardcore rules that homeowners have to follow when it comes to designing their homes. Normally, I would advise a client that the doors and their surrounding trim should be the same finish and color. Since both trim and doors are usually susceptible to fingerprints and dirt, semi-gloss or gloss is a good choice for practical reasons. Additionally, the higher the paint gloss, the more noticeable an element is. If your doors and trim are something you consider a real asset, I would suggest going with at least a semi-gloss so as not to call attention to the differentiation in sheen from the surrounding trim.
Q: My husband and I are decorating our new home and we'd like to use hardwood for our floors. What do I need to consider when choosing a wood color?
— Julie, Barboursville, W. Va.
A: The most important thing to consider when choosing a hardwood floor color is to pick a color that will work easily with your furniture and other belongings. Generally speaking, darker floors have the ability to visually expand a space since darker tones on horizontal surfaces will spatially depress that surface. A darker color on the ceiling condenses the volume in a space since it creates the illusion of being on top of you, while a darker color on the floor expands the volume of a space since it pushes away from you. Allow yourself the most flexibility with the furnishings you love by noticing any kind of consistency in color tone and consider making a floor color choice that will work the best with your treasured belongings.