10 Must-Know Font + Lettering Design Trends
Don't hold your breath for a Comic Sans MS comeback anytime soon. These gorgeous fonts are our top picks for home decor, wedding signage, snail mail and more.
Fast fact: fonts and lettering designs filter in and out of style just as often as prints, patterns and paint colors. Some people (read: me) will argue that nothing will date your space, business or overall brand aesthetic more than an overused, outdated alphabet. (Yeah, I'm looking you dead in the eyes, Comic Sans.)
So, how might one stay current with the latest-and-greatest lettering styles? Well, our list of top trends is a great place to start.
The proverbial they always say, "where there's smoke, there's fire", right? Well, sound the alarm because the smoky, swirly watercolor look pictured here is hot, hot, hot right now. Use it for ultra-romantic invites or stick a set of sultry prints in frames and display them on your bedside tables.
This youthful look just feels fun, right? In the last few months the blogger-verse has exploded with memo-boards of every shape, size and color and we still can't get over it. Use it to display milestones, like "first day of school" or leave a birthday wish for your spouse before heading off to work in the morning. Make a DIY letter board here >>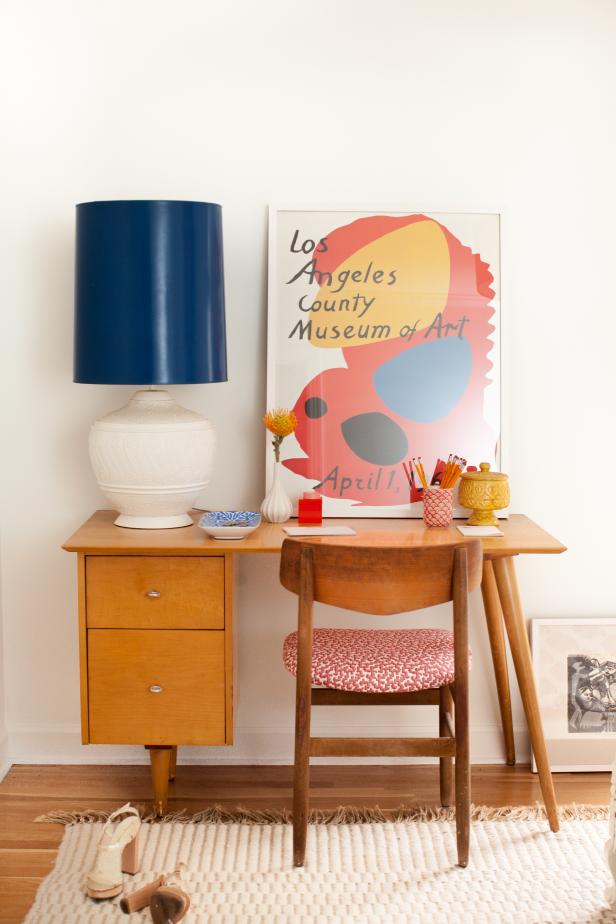 Graphic Art Adds Color to Bedroom Desk
Designers chose a piece of graphic art to give the desk in the bedroom a pop of color.
Whether you've attended calligraphy workshops galore or you have glorified chicken scratch – this trend is truly one for the masses. Soft, barely-there scripts add a gentle, romantic touch to wedding accents like place settings or even a menu. Weddings aside, don't be afraid to experiment with DIY artwork at home, either! The key? Just be sure not to think about it too much and have fun. (A glass of pinot or two might help, too. Hey, three might even improve your artwork.)
Forget what you heard – school is cool. Not convinced? This font trend is here to prove it. Classic prep-school colors and vintage "letterman jacket" letters are popping up on all the coolest products for fall and we're so here for it. Is it just me or does this pillow scream Friday night lights?
This lettering look is not so much a trend, as it is a classic in lettering community. The use of fine, formal calligraphy is here to stay and we're just as smitten with the way these lovely letters look as we were 5, 10, 15 and 25 years ago. Let's face it, traditions are timeless.
Double Negative = Positive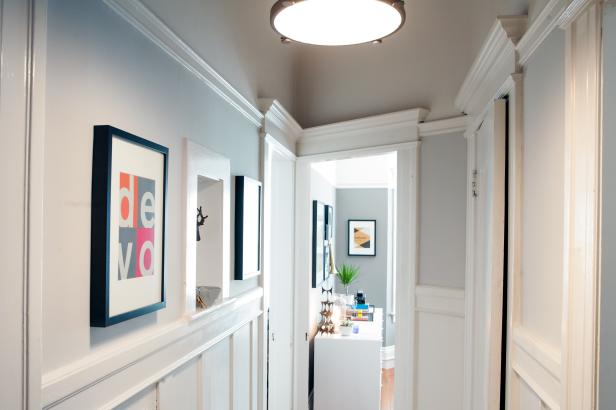 Neutral Transitional Hallway With White Wainscoting
This neutral hallway is transformed with bold wall art and crisp white wainscoting. The bright, graphic art and a wall cutout make this transitional hallway a standout room in its own right.
Or something like that, right? I'm no math wiz. Speaking of negative, though, this negative-space trend is on the up-and-up and it's receiving all kinds of positive attention. The look is bold, unfussy and clean – making it perfect for brand logos and modern wedding suites alike.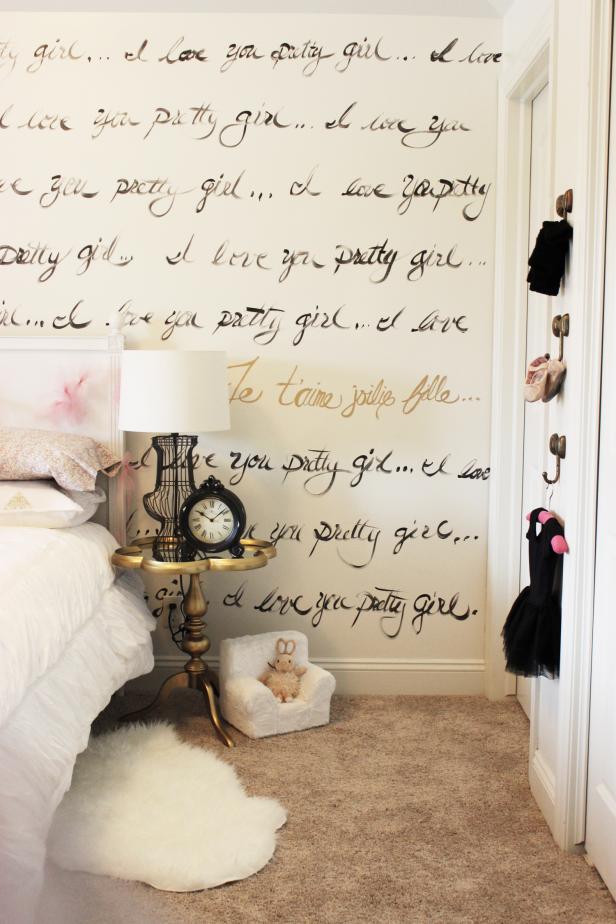 Graphic Wall Decal in Little Girl's Room
To create a statement piece in this elegant little girl's room, designers installed a graphic art wall to serve as everyday inspiration for the occupant of this sweet space.
Prepare to fall head-over-heels with the love-letter trend. Sw-ooooon, friends. The look is accomplished by displaying a large body of text, comprised of heavy-handed, inky cursive that appears totally organic. How gorgeous are the cursive-clad walls in this little girls' bedroom? XOXO
Heavy strokes and high contrast play nicely together to create this it-trend, don't you think? We are enamored with this moody, graphic twist on the classic B+W. Showcase this on-trend design via an edgy desk-side print or snag a B,W+B-clad coffee cup off Etsy. You won't have trouble finding this look – promise.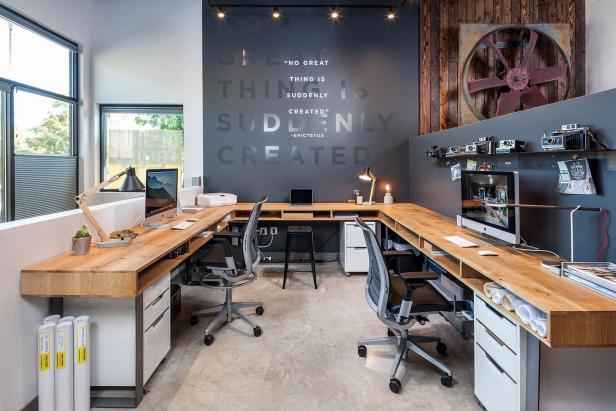 Built-In Desk With Storage and Rolling Chairs
Just past the entry to the design office, this nook includes an elongated, built-in desk with room for three to design and create. Built-in shelves and cabinets help keep the space neat and organized. An inspirational quote on the wall reminds one that great design work takes time and effort to create.
We've cracked the code for contemporary cool with this inky, high-gloss font on top of a matte black background. This commercial office instantly appears current, with its overall aesthetic feeling cohesive and so-very-sleek.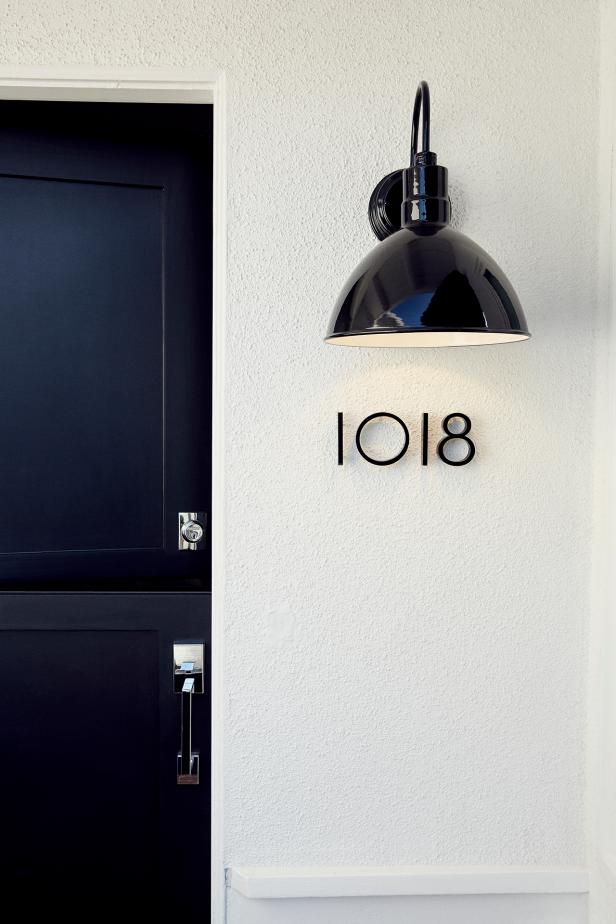 Contemporary Entryway for California Bungalow
Located in Santa Monica, Calif., this 1940s bungalow features a clean black Dutch door with chrome hardware. A glossy black sconce highlights the house number.
Think: posh and pencil-thin lines and neutral colors. The design world is embracing the effortlessly cool energy exuded from this modern letter-look. Incorporate it via artwork, a personal blog or send a sleek statement before guests enter your home with a set of magical, minimalist-inspired house numbers.
Welcome out-of-town guests to your wedding festivities with a thoughtful bag brimming with everything they need for the weekend ahead.
To have and to hold... to arrange and to pose.
Let your guests know what delicious treats you have in store for them with this charming hand-lettered chalkboard menu.