HGTV Urban Oasis 2020 Winner Announcement
Meet the lucky winner of HGTV Urban Oasis 2020 in Portland, Maine.
Congratulations to frontline health-care worker Elise Kaiser of Seattle; she is the winner of the HGTV Urban Oasis® 2020 sweepstakes, a grand prize package valued at $650,000 dollars.
"I feel very lucky," Elise said. "Before this, I only won local bingo at our church festivals. I feel like I'm a fortunate person, but luck is completely different and now I feel super lucky!"
Elise, a physician assistant in outpatient neurosurgery at a major Seattle hospital, began entering HGTV home giveaways when she and her fiancé Matt, a mechanical engineer, and their dog Lola moved from Pittsburgh to Seattle in 2018. "We thought it would be cool to win a house where we were moving," she said, referring to HGTV Dream Home 2018 in Gig Harbor, Washington (less than an hour's drive from Seattle).
They continued to try their luck in subsequent HGTV sweepstakes, entering twice a day every day for HGTV Urban Oasis 2020. And it worked — Elise's name was drawn randomly from more than 74 million entries.
Elise's sister teamed up with designer Brian Patrick Flynn and together they hatched a plan to deliver the big news. "I had been told for a few weeks that we were having a Zoom happy hour for my sister (who's getting married next month) because she can't have a bachelorette party."
When the call began, however, it wasn't her sister's face that popped up, but Brian's. "I was definitely shocked. I recognized [Brian] but didn't put two and two together until he said there was no happy hour." Elise and Matt (both self-proclaimed HGTV fans) were happily stunned by the news.
Watch the Virtual Surprise
Elise, who describes her personal design style as minimalistic, says she loves the mix of old and new design elements of the home — particularly the antique card catalog repurposed as closet storage — and was immediately attracted to the way the cozy kitchen flows effortlessly into the backyard. She has visited Portland in the past, and loves the "cute, coastal vibe of the town."
As a frontline health-care worker, Elise has been greatly affected by the COVID-19 pandemic. "Patient load has been high, fear and anticipation have been high. Telemedicine has been a shift," she says. She and Matt, who got engaged in 2019, also had to postpone their August 2020 wedding. They now plan to elope sometime this year and throw a big party when it's safe to do so.
Congratulations, Elise! We are thrilled for your next big adventure and wish you, Matt and Lola a happy and healthy 2021.
HGTV Urban Oasis 2020 is a charming, 1900s New England cottage located close to downtown Portland, Maine — a cozy city that features beautiful waterfront views, a vibrant art scene, fresh seafood and quaint shopping. The approximately 2,000-square-foot, three-bedroom, two-and-a-half-bath home was designed by local architect Briburn and constructed by local builder Big Country Built LLC with interior design by Brian Patrick Flynn. Tour every room of this bold, nautical escape, including the breathtaking kitchen and incredible outdoor space, at the link below.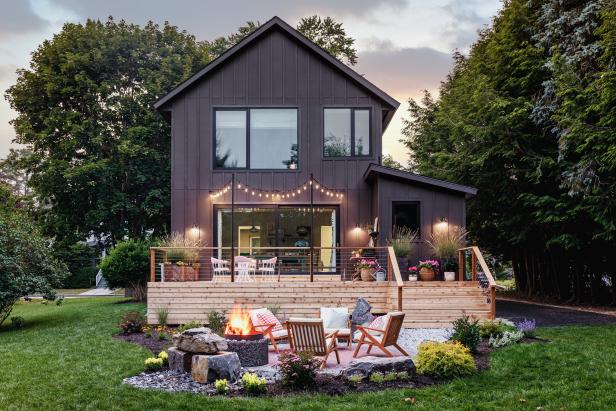 Effortless Alfresco
With a lush, green lawn and plenty of room to relax by the fire or enjoy dinner alfresco, outdoor living is effortless in the backyard of HGTV Urban Oasis 2020.
The next lucky winner could be you! Sign up to receive email reminders for an upcoming HGTV Urban Oasis® Giveaway.
By submitting this submission form, you acknowledge having read and agreed to our Privacy Policy and Visitor Agreement. You will have the option to unsubscribe from any messages you receive.
Thank You, You have successfully registered to receive email reminders to enter the giveaway.