HGTV Urban Oasis 2016 Winner Announcement
HGTV surprised the grand prize winner of HGTV Urban Oasis 2016. Read about his priceless reaction as he learns the good news.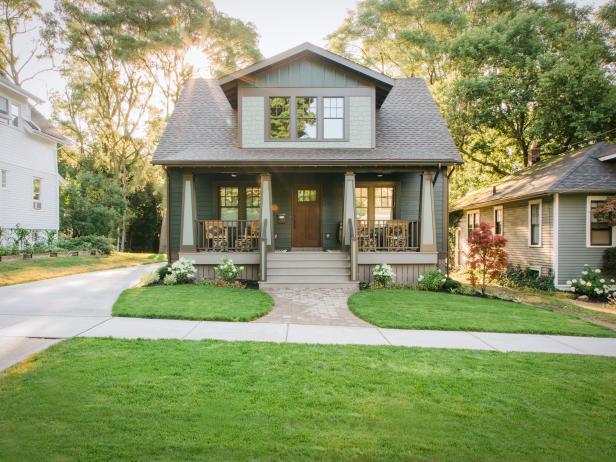 Strong Street Presence
Dark and lighter green paint colors, attractive siding and a roof with high-dimension shingles give the Craftsman home a strong street presence and major curb appeal.
For Brandon Hickson-Hamilton of Upper Marlboro, Maryland, Christmas came early this year, as he learned that he's the lucky winner of the HGTV Urban Oasis® Giveaway 2016 in Ann Arbor, Michigan.
Brandon, who works as a sales consultant for an auto dealership, was randomly drawn from nearly 52 million entries to win the grand-prize package valued at more than $700,000.
In addition to the approximately 1,500-square-foot residence and all its furnishings, Brandon will receive $50,000 cash provided by national mortgage lender Quicken Loans®.
When I got the call from HGTV, I really thought it had to be a joke. I just couldn't comprehend how I could be the winner out of all the people who entered.
Brandon Hickson-Hamilton
He heard about the sweepstakes through an on-air promo while watching HGTV. "I started entering every day online, but I never dreamed anything would actually come of it."
Brandon first called his husband Raymond to share the good news, but it took a while to convince him it was real. "He always plays pranks on me, so he thought I was trying to do the same to him," Brandon said.
Our lucky winner is still amazed by his stroke of good fortune, and is looking forward to enjoying his winnings. The two can't wait to visit Ann Arbor next month to see the home for the first time.
The next lucky winner could be you! Sign up to receive email reminders for an upcoming HGTV Urban Oasis® Giveaway.
By submitting this submission form, you acknowledge having read and agreed to our Privacy Policy and Visitor Agreement. You will have the option to unsubscribe from any messages you receive.
Thank You, You have successfully registered to receive email reminders to enter the giveaway.
Connected seamlessly to the dining room and with a high ceiling, the living space feels open and inviting upon entry.