Interview: 'Married to Real Estate' Stars Egypt Sherrod and Mike Jackson, Season 3 Winners of 'Rock the Block'
Egypt can sum up the competition in three words: "High blood pressure!"
With a home initially valued at $500,000, a renovation budget of $225,000 and six weeks that went by in a flash, Egypt and Mike created a historic, coastal home they named "Destiny." After touring the property, Drew Scott (Property Brothers) and reigning season two champions Brian and Mika Kleinschmidt (100 Day Dream Home) pronounced their one-two punch of functionality and style a knockout.
To find out what that moment felt like — and to get the inside story on what it took to get there — we caught up with Egypt and Mike.
HGTV: What was the first thought that went through each of your minds when those fireworks went off and you found out you'd won? Egypt, what moved you to tears about that moment?
Egypt: I didn't realize the fireworks were actually behind our house. All you see is light and noise and everything, so for like a millisecond I couldn't tell where it was coming from. When I realized it was our house, I think I was just overwhelmed by the emotion because we worked so hard. We barely had any sleep during all our time there. It was this emotional rollercoaster. We had so many things that happened to us throughout the competition, so truly it was anybody's game. It was just a shock. We kept our heads down and we just kept working, and working and working. You want to win, but there's always that possibility that you won't win. Each week that the judges come in and you don't win, it's like a little dagger. You pray for the best, but you prepare yourself just in case. I was kind of going through where I put a little extra muscle in my spine just in case we didn't win so I could be a good sport! [laughing] Then when we realized it was our house, everything just came tumbling out emotionally.
Mike: All I could think was wow — we actually did it! To be able to see your vision come to pass amongst such other great talents was surreal. We came, we saw, we conquered. We stuck to our plan by keeping functionality [and] adding value and elegance.
HGTV: What element of your project makes you the most proud? Is there a space in the home that's your favorite or that has special significance for you?
Egypt: The kitchen. We didn't want it to be just a white kitchen. We didn't want it to be just something that looks like what everyone can do. Our goal was to create a piece of art that also added significant value to the house. Kitchens can make or break a home, so when our stone backsplash showed up in the wrong color, it was crushing. We wanted to produce something that showed high design with functionality. But we turned it around and really took the lemon and made it into lemonade. Our owner's suite was definitely one for the books as well.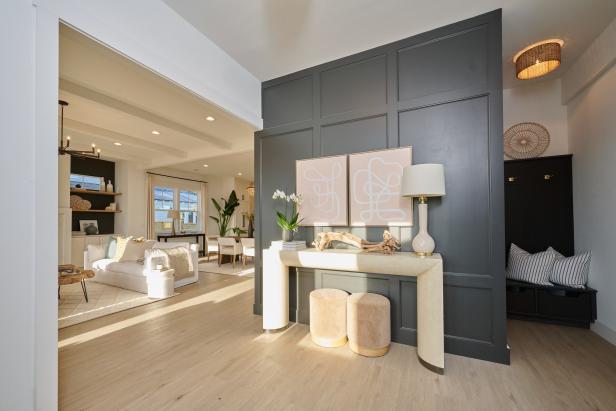 As seen on Rock the Block Season 3, Team Egypt and Mike's Living Room renovation.
Tom Griscom/Big Table Media
Mike: For me, it would be the living room and foyer area. I took pride in the fact that we were able to add square footage by bumping out into the patio area and connecting the garage to the house. These areas were also where I got to do a lot of the value adding myself in sweat equity.
HGTV: Speaking of sweat equity, how late was your latest night of burning the midnight oil on the block?
Egypt: I know [when] I left one day it was about 2:30 a.m. My eyelids were so heavy I couldn't hold them open anymore, so Mike told me just go back to the house and get some sleep. He stayed and came and picked me up in the morning, so I don't think he went to sleep at all that night!
Mike: Yes, what she said! [laughs] When I'm in creative mode it's easy for me to keep rolling. As long as I don't sit down, I can build for hours.
HGTV: What was the first thing you did when the competition was over and you went back home?
Egypt: We drove the rental back to the airport, we got on the plane, and slept the whole plane ride home. We had to literally be filming the very next day on Married to Real Estate. We hugged our babies, and we had a crab dinner.
Mike: We literally went straight back to filming our show. I had to jump right back into boss mode and get my crews up to date with projects.
HGTV: What creative inspiration or tricks of the trade from the other contestants' homes will you bookmark and take with you into future projects?
Mike: There were so many great features that stuck with me. I thought the slide Dave and Jenny had put in their house was so cool, creative and fun. Keith and Evan's rounded shower was captivating and the twins' sweet tea station was inviting.
HGTV: Do you have any words of advice for future competitors based on your Rock the Block experience?
Egypt: Wear comfortable shoes. Make sure you choose an outfit in a color that you like because you will literally be in it for six weeks. You're working so hard that you have to stay healthy and hydrated. Also, come in knowing that this will be the hardest you've ever worked in your life.
Mike: Yes! Plan properly. Make sure you bring all your tools and the right tools. It makes a world of a difference. Start taking meditation classes so you can tap into your zen on set. [laughs] It can get hectic.
HGTV: If you were challenged to come back to Rock the Block next season to defend your title, would you do it?
Egypt: I think it might be a little too soon to ask me.
Mike: Without a shadow of a doubt! [laughs] Any time I can get to dig in my bag of creative ideas … I'm here for it!