Catch Up With Mika and Brian Kleinschmidt, Hosts of '100 Day Dream Home'
We sat down with the couple to see what they've been up to. Spoiler alert: they talk about all their new-home details, plus open up about their emotional win on Rock the Block.
Welcome back! Brian and Mika Kleinschmidt return for season 3 of 100 Day Dream Home, excited to introduce us to 10 new families and inspire us with their famed fast-paced builds. Let's see what they've been up since we last saw them.
Mika and Brian's epic win against highly respected HGTV designers in season 2 of Rock the Block put them at the top of our leaderboard. "We're still kind of pinching ourselves," says Brian. "We've always got projects in the pipeline, but [Rock the Block] was one of the hardest things we've ever done. It was also one of the most rewarding experiences."
And while we've been over here celebrating their victory, the winning husband-and-wife duo took everything they learned from Rock the Block and continued to help homeowners and communities while filming for season 3 of their show.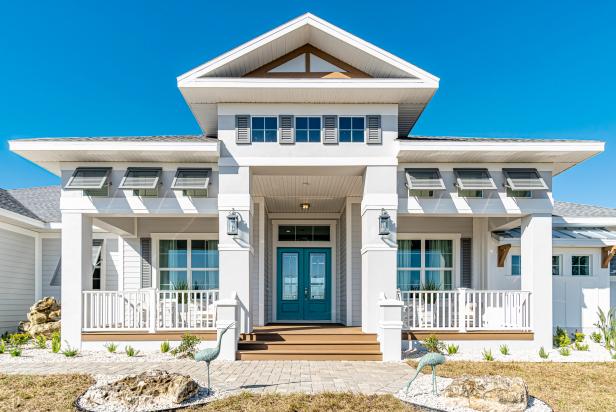 The front porch of Brian and Mika Kleinschmidt's dream home as seen on 100 Day Dream Home.
Tim (Chaz) Dykes, Tim (Chaz) Dykes, Tim (Chaz) Dykes
In the season 2 finale of 100 Day Dream Home, we got to tag along with Mika and Brian as they built (plot twist!) their own dream home. Now, a year later, they're happy to announce they're thrilled with the space — though the process wasn't always easy.
"We're our own worst clients, but we borrowed all of our greatest ideas and made them work. Our house is definitely functional for us," says Mika, who stressed how important it is to consider the exact needs of your family when building a home.
Mika's best tip of all for anyone looking to create the perfect home — FYI, she's talking from lots of experience — is even easier to execute: "The one thing you need, whether it's a small space or just a view outside of a window, is an area that feels like an oasis. You need to be able to get your mindset right when you're at home. We live and work at home, but because we built this oasis that works for our family, work doesn't really feel like work."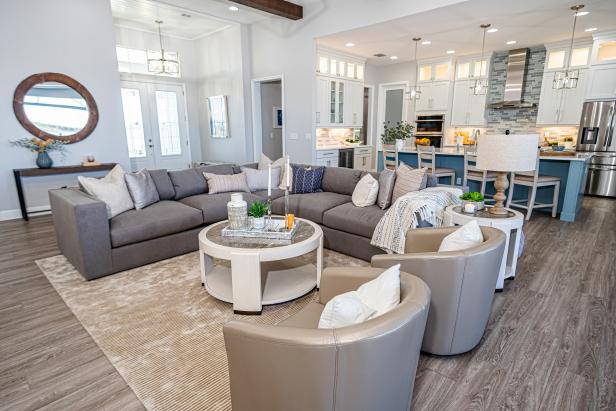 Hosts Brian and Mika Kleinschmidt's great room as seen on 100 Day Dream Home.
Tim (Chaz) Dykes, Tim (Chaz) Dykes, Tim (Chaz) Dykes
And as with any home project, there are certain things the couple might have done differently.
"I might not have done white grout in the bathroom," Mika says.
"And I might be re-grouting the bathroom this afternoon," laughs Brian.
100 Day Dream Home: Season Three
We can't wait to see the Kleinschmidts in action, but they can't wait for us to see the homeowners steal the show. "Every season we introduce you to incredible families," says Brian, "and every season we're able to dive deeper into their stories. Yes, the houses are beautiful, but their stories are even more beautiful." And (as if the show isn't heartwarming enough) we get to see Brian and Mika take on a uniquely special project for each of the season 3 families.
Season 3 is also making HGTV history with the 100 Day Dream Song campaign. Mika and Brian called for song creators across TikTok and Instagram to create a different theme song for each episode — and the response was awesome. The world premiere of each original theme song will play at the start of weekly episodes.
"To build a new home in 100 days takes a lot of coordination," says Brian, "like with Rock the Block, we have to have a game plan for every home we build. We have an incredible team, and the schedule has to be impeccable. We frequently have multiple teams working in the house at the same time, and that type of coordination makes it possible to get things done."
Season 3 of 100 Day Dream Home returns to HGTV on February 21st at 8 p.m. ET. Want even more Mika and Brian? Tune in at 7 p.m. ET to re-watch episodes from season 2 with commentary from Brian and Mika. They'll talk construction and design challenges, and reveal behind-the-scenes stuff that didn't make the final cut. You can also catch the couple judging season 3 of Rock the Block and revitalizing a community on the highly anticipated Home Town Kickstart presented by PEOPLE.