How to Make a Copper Paper Towel Holder
Add a touch of glam while saving counter space in your kitchen with a copper paper towel holder.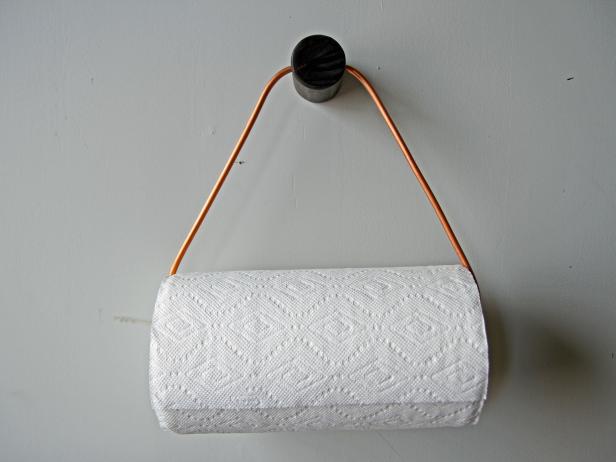 Copper Paper Towel Holder
Add a stylish touch to your kitchen by displaying a DIY copper paper towel holder.
2" round wooden dowel
wiping cloth
ebony wood stain
clear satin polyurethane
hack saw
miter box and saw
1/4" soft copper refrigeration coil
paintbrush
220-grit sanding block
long nose locking pliers
1/4" x 2" dowel screw
3/8" drill bit
3/16" drill bit
pencil
tape measure
drill
Measure and mark the 2-inch round dowel at 3" with a pencil. Cut the dowel on the mark using a miter box and saw.
Measure 1" from one end of the cut dowel, and make a mark with a pencil. Drill a hole through the dowel on the 1" mark with a 3/8" drill bit. On the opposite end, drill a hole in the center of the face of the dowel with a 3/16" drill bit. Insert a dowel screw into the pre-drilled hole, and tighten down 1" into the dowel using long nose locking pliers.
Lightly sand all edges of the dowel with a 220-grit sanding block. Apply ebony stain to the wood dowel, and allow to penetrate for three minutes. Wipe off excess with a dry cloth. Apply a coat of clear satin polyurethane to preserve the finish and protect the wood. Allow to dry according to the label instructions.
Uncoil the copper coil. Make a mark with a pencil at 30", and cut on the mark with a hack saw.
Slide the copper coil through the hole in the wood dowel. Measure to make sure the dowel is centered. Slowly bend each side of the copper pipe down away from the dowel, creating a triangular shape. Measure and mark 3" from each end of the copper pipe with a pencil. Slowly bend each end at the 3" mark, making sure not to kink the pipe.
Install the piece on the wall by twisting the dowel screw into a stud or a drywall anchor. Slide the paper towels onto the bent copper ends.