How to Make a Dual-Purpose Bulletin Board
Stylishly display memos and your favorite photos on this copper-accented bulletin that serves dual purpose as a mirror.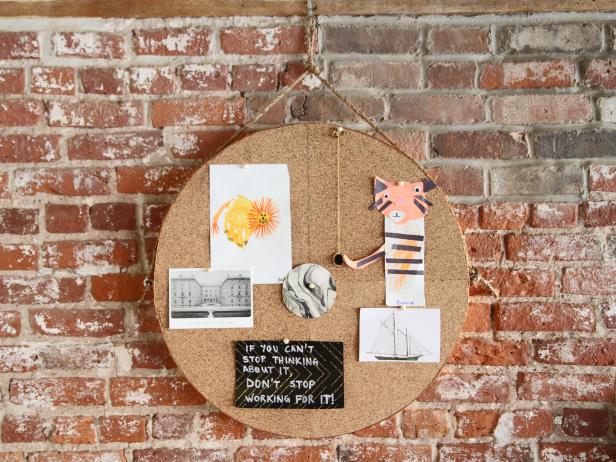 Hanging Round Bulletin
Hang a round bulletin board with copper edging detail to make a statement in any room.
2' x 4' x 3/4" plywood
24" round mirror
12" x 12" cork tiles
caulk gun
(2) 1/4" screw eyes
1" copper pin nails
hammer
copper flashing
drill
scissors
pencil
1/8" drill bit
clear silicone
1/4" sisal rope
jigsaw
Place the mirror on top of the plywood, and trace the outside onto the wood using a pencil. Cut along the pencil mark using a jigsaw to cut out the circle.
Apply a liberal amount of silicone to the back of the mirror. Place the round plywood cutout on top of the silicone, and press down lightly.
Apply silicone to the top side of the plywood, and place cork tiles on top. Allow the silicone to dry according to the directions until it is fully cured. Once cured, cut the excess cork around the edges of the circular piece using scissors.
Cut and Fold Copper Flashing
Measure and mark 8 feet of copper flashing with a pencil. Cut the flashing on the 8-foot mark. Fold the flashing over on one edge about a third of the width, then fold the flashing over on the other edge so the folded pieces overlap.
Nail flashing into the plywood with copper pin nails and a hammer, making sure the folded seam is hidden on the inside. Continue nailing to the plywood all the way around the piece, spacing the copper pin nails about two inches apart. Cut away excess with scissors, allowing the two ends to overlap about a 1/2 inch.
Flip the piece over, and drill a hole on each side on the horizontal seam of the cork board tiles using a 1/8" drill bit. Make sure to drill through the copper flashing and into the plywood. Secure a 1/4" screw eye through the drilled hole on each side.
Loop 1/4" sisal rope through one of the screw eyes, and tie a knot. Make a loop at the top of the piece, and tie a knot in the center. Cut off excess sisal rope. Loop the sisal through the other screw eye, and tie a knot.