Art-Inspired Girls' Bedroom
Designer Tawna Allred created a tranquil yellow room for her two daughters to share and grow in. The design scheme was based on one of the daughter's bee artwork, creating a sweet personal touch.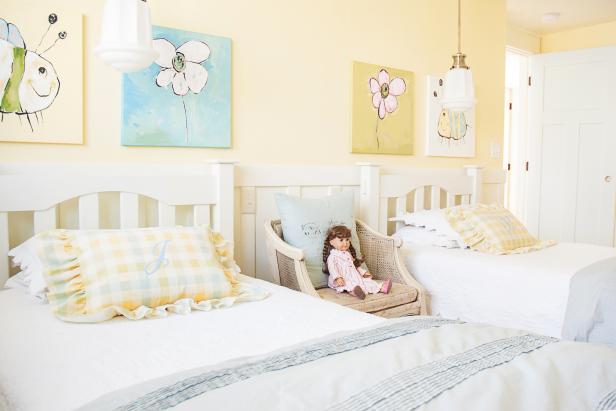 Girls' Pastel Yellow Room Features Country Charm
Pastel yellow pairs with crisp white to create a charming, feminine look in this girls' bedroom. Plaid throw pillows add a country feel, and artwork recreated to mimic the girls' drawings adds a playful touch.
What did your daughters want?
My daughters wanted a "happy" room and informed me that their color of choice was hot pink. I don't have anything against hot pink, but I knew my oldest would grow up in this room and I (being Mom and designer) needed something a little more timeless and versatile. We settled on a soft yellow.
What was your biggest obstacle?
My biggest issue was trying to create a room that could be enjoyed by both my daughters, who are six years apart. It couldn't feel too young or too old. On top of that, there was no architectural interest, and the ceilings are short and slanted. The closet, which they share, only had a single rod running the length of it, so organization was an issue as well.
Settling on the soft yellow color solved the age-difference issue. My husband, a contractor who specializes in trim carpentry, added a wainscot and built a custom closet to organize and store what they needed.
What makes a functional and stylish kids' room?
Washable bedding! You can't go to the dry cleaner in the middle of the night if someone gets sick. Maximizing storage and incorporating some whimsy are also part of the equation.
How did you make the room kid-friendly?
We deconstructed a bunk bed by separating it into two individual beds. A bunk configuration wouldn't fit under the low ceiling, and it allowed us to add the cute pendants. Other kid-friendly items are washable bedding and custom pillows and baskets lined with indoor/outdoor fabric.
What inspired this design?
Definitely my daughter's art. I had a bachelor's degree in oil painting before I studied interior design, and when my daughter drew the one-eyed bee, I knew I had to re-create it into a bigger piece. I painted the bees and flowers for their previous room, then repainted them in the new color scheme when we moved to this house.
What tied the design together?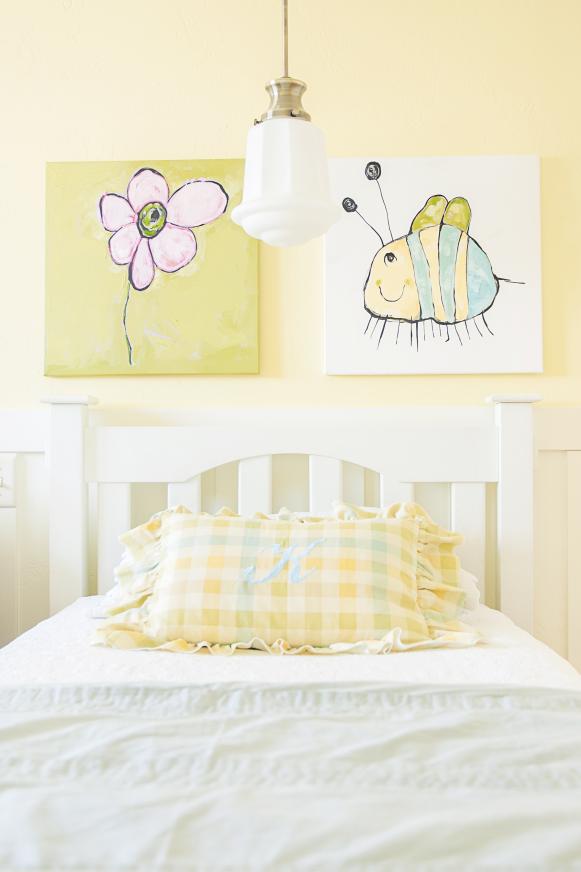 Kid Art Adds Personalized Touch to Delightful Girls' Room
Designer Tawna Allred created this delightful kids' bedroom for her two daughters. Allred used her extensive background as a professional oil painter to repaint her daughters' drawings onto canvases for a personalized touch.
I was excited to find the plaid indoor/outdoor fabric because it pulled the room together. Once it was found, I was able to repaint the bees and flowers and find the rest of the bedding.
What are you proudest of?
Five years later, my girls still love it. It hasn't aged or started to feel irrelevant. That means a lot in a world that seems to endlessly swing on trends. I felt every dollar was well spent.
My favorite element is, of course, my daughter's art. I don't know if I'll be able to part with the one-eyed bee, no matter how old it gets.
How did you choose the color scheme?
Yellow is versatile and timeless, and it falls into the happy category my girls wanted. You can't paint a room yellow and feel sad. Designer tip: Always pick a yellow that's two shades lighter than you think it should be. It will interact with natural light much more than you anticipate. Trust me on this one!
How did you choose the light fixtures?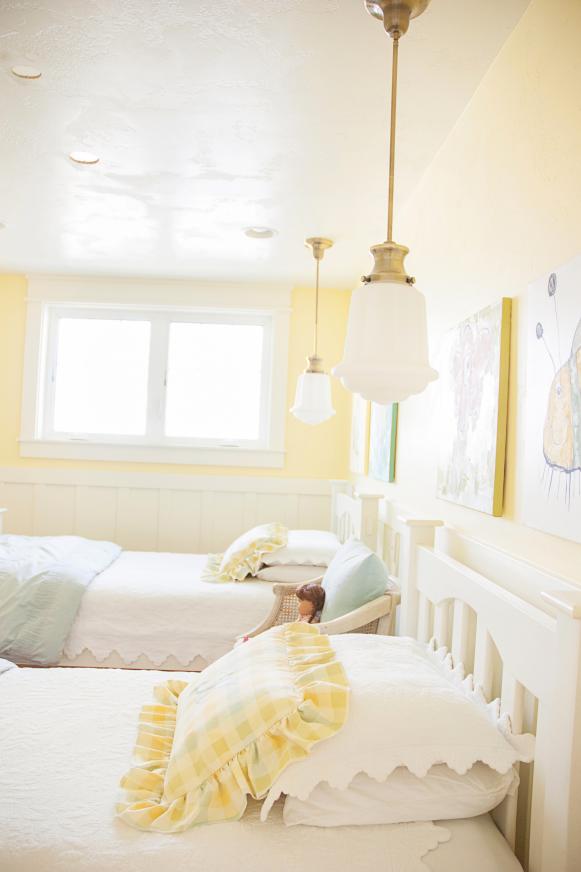 Girls' Bedroom With Soft Yet Cheery Yellow Walls
The beautiful color of yellow on the walls in this country-style bedroom is cheery enough for two young girls yet soft enough to grow with them. Pendant lights with individual switches hang above each bed, so the girls can choose to read at night.
Our home had been bank-owned for two years when we bought it. It was in terrible shape. Imagine the worst combination of a starter home combined with a rustic cabin. That was our home. Once we started taking off the dark pine wainscoting and painting some of the pine tongue-and-groove ceiling white, it turned into an adorable farmhouse. The "schoolhouse" pendants made sense as we transitioned to the new style.
They were also a matter of function. There wasn't room for nightstands and lamps when we separated the bunk beds, so we wired the pendants individually so that they could have reading light at night.
What "hidden gems" are in your design?
I found the antique chair at a thrift shop for $30. It has great lines, and the fabric matched the room perfectly. Although the beds have identical bedding, I monogrammed my daughters' pillows so they felt individually special. The "re-created" children's art in custom colors is something I've never seen. It's such a personal touch, and I'm grateful I was able to do that for my kids.