Contemporary Makeover for Studio Apartment
As if living in a rental wasn't constricting enough, this client also dealt with space issues in her tiny studio apartment. Luckily, LABLstudio knew just how to decorate her space to give her the cool, contemporary home of her dreams.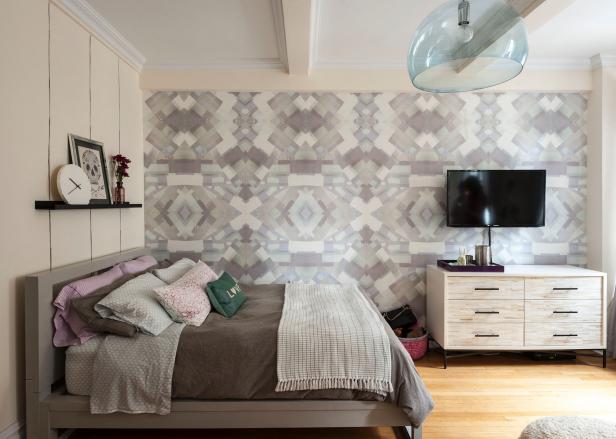 Contemporary Studio Apartment With Accent Wall
This Upper West Side studio began its life as a bland white box. Now, soft cream on the walls continues to the ceiling beams, adding depth and dimension to the space. The hand-painted pinstriped paint treatment is both easy to produce and easy to cover up, an ideal combo for a rental. Removable wallpaper by LABLstudio forms a focal point on one wall, and layered bedding exudes youthful, casual charm.
What were the main items on your client's wish list?
Because the apartment was a studio, it had to serve many functions all in one. Our client's biggest requests were that we make the space feel larger than it actually was and to give her a place to eat, work, entertain and relax. Additionally, she really wanted this apartment to feel like a home that reflected her personality, rather than just another beige rental "box."
What were your main objectives and goals?
When we first met with the client, she described her style as laid-back, with a mix of earthiness and glam. She wanted the apartment to feel feminine but not overly girly. The goal was to give her a really cool place to call home, a space that was relaxing and energizing at the same time, and a place that really reflected her personality. We tried to make the space feel as large as possible and used a lot of cool colors with some fun and unexpected pops of magenta and purple throughout. The overall concept was to make the small apartment feel like an oasis with some ethereal, global and glam touches. We wanted to make the space flexible so that she could entertain in it, while also having a really comfortable and usable space to call home.
What makes this space unique to your client?

When we first met with our client, the space was lacking in color and personality and was basically a white box with a bed in it. Our main goal was to make the studio livable without looking cluttered.​ To achieve this, we made sure that all of the​ main pieces served​ multiple purposes. For example, the console that we chose between the windows doubles as a place where two people can comfortably dine, a place where our client can sit with her laptop when she works from home, and a place where she can sit and put her makeup on in the morning. The side table and coffee table that we chose both double as stools for additional seating.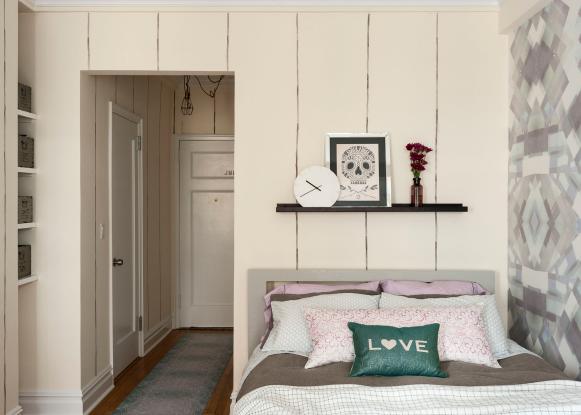 Studio Apartment With Smart Style Solutions
Because this space is a rental, LABLstudio used removable wallpaper as a wallcovering. Hand-painted, watercolor pinstripes adorn remaining walls, continuing the gray and cream color palette. To save money, the designer painted the client's existing bed a high-gloss gray and hung a shelf above to serve in place of a bedside table.
In studio apartments, it's really important to make sure that you carve out distinct areas for sleeping, living and entertaining – even if they're actually all in the same room. Whenever possible, we like to make sure there is a proper living area (i.e. a sofa, side table and coffee table), as well as a place where you can sit and eat or work. Sometimes this means sacrificing some of the bedroom space to make for a larger living/entertaining area. For example, in this apartment we opted to place the bed in the corner and mount a shelf on the wall rather than a bedside table, which allowed for a larger living/entertaining space. If you make the bed the priority, the apartment ends up feeling like it is just a bedroom rather than a real place where you can hang out with friends or family and entertain.
The mix of color, texture and pattern is what makes this space unique. What transformed the space from a white box that screamed rental apartment to a real home was the subtle addition of texture, pattern and color. We brought these things in through a removable wallpaper on one wall, accented by a subtle watercolor pinstripe on all other walls. While we kept the base color palette soft and subtle with light grays, blues and mauves, we brought in bolder pops of color in the accessories, like pillows and art, to give the space depth and that special je ne se quoi.

What was your biggest obstacle in the space?
Rental apartments are inherently challenging due to the restrictions on what you can actually change. Most people are under the impression that you can't change out light fixtures or paint, when these are possibly the two things that have the most impact on the overall feel of a space and are the simplest to change. If you're planning on staying in your rental for a while, we feel like it's worth the effort to change out things like lighting and paint, even if you have to return it to its original condition when you move out. Our biggest challenge was convincing our client that it was okay to change the lighting and paint and to put up a removable wallpaper. After the wallpaper went up (which was the easiest thing to change back), she saw what a huge difference it made in transforming the space and conceded to let us do a little bit of painting and swap out the light fixtures.
When decorating a rental space, we like to add dramatic touches that make the space feel more like a permanent home instead of a rental. One of our favorite ways to do this is with bold pattern. The one wall that is wallpapered is our Gemma print (in Sapphire) from our Femme and Gem collection. It's removable, and you can hang it yourself! For the other walls, we hand painted watercolor pinstripes to add some personality to those walls and to tie everything together. Above the sofa, we hung a magenta Juju, which is an African feather headdress. Do not be afraid to paint your walls or hang some wallpaper!
One thing we didn't talk much about was the budget for this job, which was pretty tight. Because we had a limited amount of money, we got creative with what was already there that we could work with. For example, we ended up repainting our client's old bedframe (which was originally a dark wood veneer and was badly chipped) rather than purchasing a new bed. Rather than spending the money to repaint all of the other walls, we decided to go with a gray watercolor pinstripe to tie together the gray and cream colors.
What was the design inspiration for this project?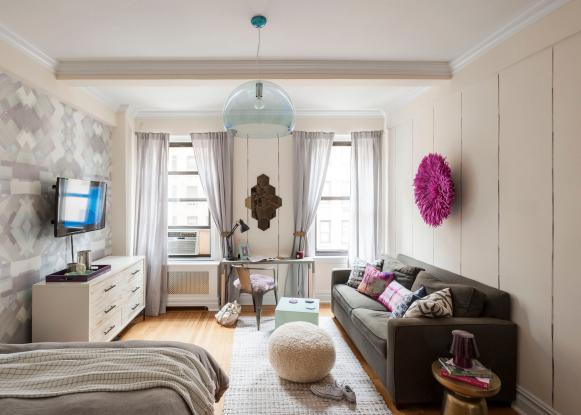 Studio Apartment Packs Big Style Punch
Hand-painted pinstripes and removable wallpaper on one accent wall add instant style to this small rented studio on Manhattan's Upper West Side. A West Elm Henry sofa comes alive with pillows that feature bold brushstrokes of magenta, and a feather Juju hangs above as a whimsical touch. A Blu Dot for Target console table does triple duty as a vanity, workspace and dining table.
The inspiration behind the space was to really create a calm, cool oasis for our client to come home to. We wanted a place that was super inviting, but that was also energizing and refreshing. We knew that we wanted to play with pattern and texture, and because the space was so small, we decided to keep the main color palette really soft and subtle. We knew our Gemma wallpaper would be the perfect starting point for the space, as it really conveyed that earthy, glam vibe. In shopping for the other pieces, we pulled colors from the wallpaper to tie it all together, while going bolder on the accent pieces, like the art and pillows.
Is there a specific aspect that brings the design together?
In our opinion, the piece that really brings the design together is the bright magenta feather Juju (traditional African headdress) above the sofa. It's funny how sometimes the smaller things, like the pillows, art and accessories, have the biggest impact on the overall vibe of a space. We searched high and low for a bold piece of art to tie everything together, but ultimately decided on the feather Juju for its simple form, rich texture and bold statement. Because the whole apartment is one room, and there were already so many other patterns, we loved the bold simplicity, the shape and the texture and depth that the Juju added to the space.
In addition to the Juju, lighting often has the biggest impact on the overall feel of a space. By changing out the typical glass, flush-mount fixture to a large, translucent pendant with a subtle blue color, the space was transformed immediately.
What is your favorite feature or element in the space?

Designing this apartment was a very organic process, so while we had an idea of how it would look in the end, some things changed along the way. We're most proud of the overall feel and vibe that the space give off. It's difficult to achieve a mix that is inviting yet soothing but also interesting and energizing. We are also really proud of our hand painted watercolor pinstripes!
How were you able to make the patterns and textures flow seamlessly in a small space?
The key to making so many different patterns and textures work all in the same room is by keeping the space balanced. We achieved this by playing with the different scales on the various patterns and by being very deliberate in the color palette. For example, the large scale of the wallpaper pattern is balanced by the varying smaller scales on the bedding and pillows adjacent to the wallpaper. Additionally, the colors seen in the wallpaper were used as the base color palette inspiration. Because the colors are all so soft and of similar hues and values, we were able to play with pattern and texture without making the space feel busy.
How did you use integrate your style into this project?
This space is uniquely LABLstudio in the attention to detail seen throughout the space. We pride ourselves on finishing every single project with the same thought and time that we did our very first project. We're of the school of thought that, "it's all in the details." We feel that the smaller details, like bedding, pillows and accessories, have equal, if not more, impact on the overall feel of a space as the main furniture pieces and design elements. The project is also uniquely LABLstudio in that it has a playful sensibility to it. We like to create spaces that make you feel good when you enter, because your environment should have a positive effect on you! We love to add the unexpected to our spaces and create something that you haven't seen before. In this space, we felt the watercolor pinstripes and LABLstudio wallpaper added this unexpected element.
What are the hidden gems that make a big difference?
Fun Colors and Accessories in Small Living Space
A feather Juju and painterly pillows add pops of color and big punches of style to this small studio apartment on Manhattan's Upper West Side. Hand-painted watercolor pinstripes adorn the walls and set the space's neutral palette. A small cube coffee table and nubby pouf are versatile and easily moveable accents.
The things that make the most impact in the space, and therefore the success of the design, are actually the accessory pieces, as opposed to the main furniture pieces, which were the investment pieces that serve as the backdrop for everything else. More specifically, we love the Juju artwork on the wall, the mix of bold, colorful pillows on the sofa and the bedding. In addition to those items, which add another layer of bold color and pattern to give the space some depth, the wallpaper and paint, as well as the lighting, made the biggest change in transforming the space.