Natural-Light-Filled City Flat
Designer Nathalie Milazzo used a mix of modern, contemporary and art deco styles to make this big-city apartment a showstopper. Large walls of windows fill the space with natural light while providing spectacular views.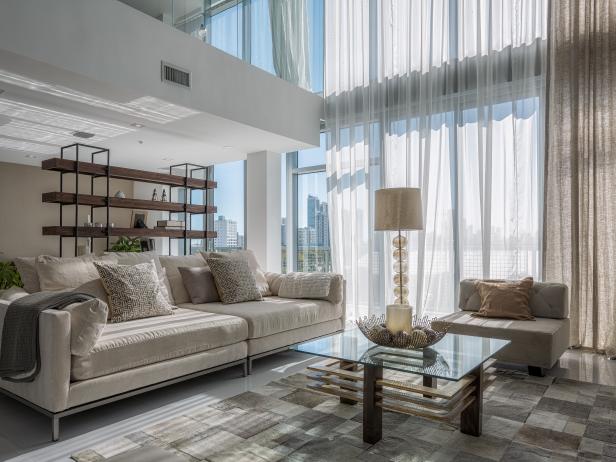 Metallic Art Deco Living Room With Skyline View
This sophisticated apartment capitalizes on its urban setting with floor-to-ceiling windows that call attention to the high ceilings and the incredible skyline views. Glittering metallics dominate the color palette to luxurious effect.
What did your client want for his apartment?
Since the client was a developer, he pretty much gave me a lot of freedom in the design process, but the budget was very challenging.
What was your biggest obstacle?
The biggest challenge was the budget as the unit was so big at 5,664 square feet. I had to pick and choose which rooms we were going to accentuate and which rooms we were not going to go too crazy with.
What inspired this design?
We wanted to keep it clean, modern, cozy and warm.
What tied the design together?
The dining table made out of a wood slab is one of the focal points.
What are you proudest of?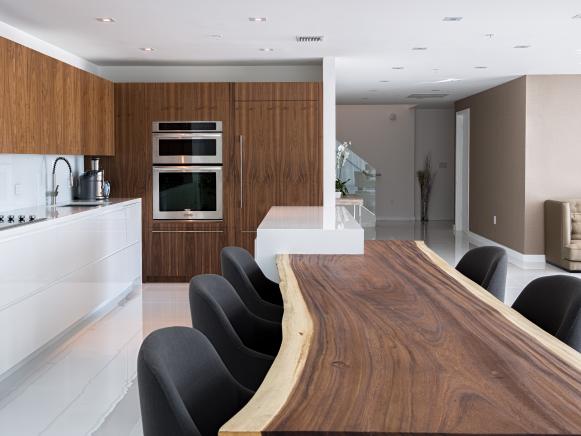 Brown and White Modern Kitchen With Dining Table
Crisp white countertops, drawers and floor serve as the ideal backdrop for this modern kitchen's beautiful wood cabinets and table. The natural grain of the wood is also a compelling contrast to the sleek finish of the other surfaces.
The features that I love the most are the (12-foot-long) kitchen dining table, a wood slab intersecting the white quartz island. I also love those beautiful chandeliers in the living room, and the accent gray/walnut wall behind the master bed which hides two secrets doors to the master custom walk-in closet.
Why did you pair rustic hardwood floors with the modern design?
This is one of my signatures. I love clean, modern lines, but I also love rustic, warm elements. I think the two styles go very well together. People have the wrong idea about modern style, believing it's cold, but it is not.
What does the glass wall in the master bedroom add to the space?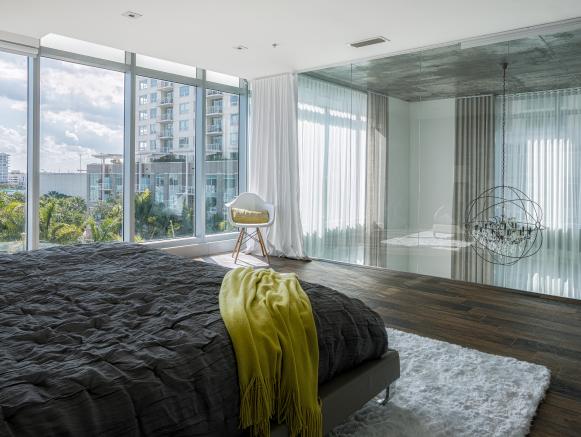 Contemporary Apartment Bedroom With Two Window Walls
One wall of this sleek contemporary bedroom frames in stunning city views. Another features floor-to-ceiling glass looking into the apartment's living room below.
The glass wall brings an openness, a sense of freedom, but also domination by looking over the living room.
How does natural light play a role in your design?
Natural light is always a plus. Most of the walls being windows brought a lot of light into the space.
What makes this design uniquely yours?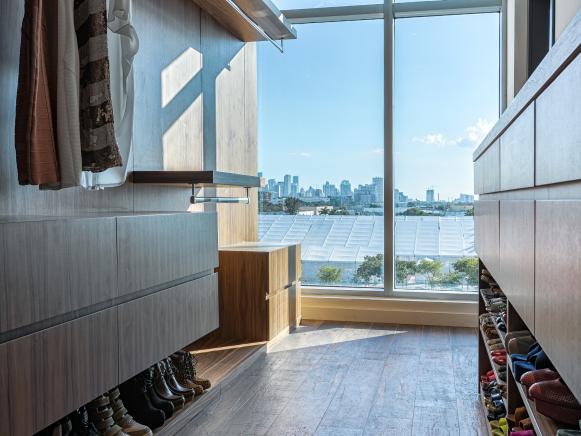 Rustic Walk-In Closet With Skyline View
Wood cabinets and textured hardwood floors add a rustic feel to this walk-in closet with a view. A mix of hanging rods on different levels, open shelves and large drawers make the storage options endless.
My style is modern yet cozy and warm. I love clean lines. I hate handles, which is why the kitchen doesn't have any, nor do the two secret doors for the master walk-in closet. I love white canvas, but am not a fan of bright colors on the walls. I think it is easier to incorporate artwork this way. I love to use lots of white but also lots of wood elements.
What "hidden gems" are in your design?
One of the things people can't see is the Lucite leg that gives the wood-slab dining table the appearance that it is floating, when in fact it is not.