Kid's Contemporary Bedroom Has Built-In Playspace
French and French Interiors went by the adage of "more is more" in designing this kid's contemporary bedroom. From locally sourced toys to metallic accents to the whimsical built-in playspace with slide, this is a dream room for any kid.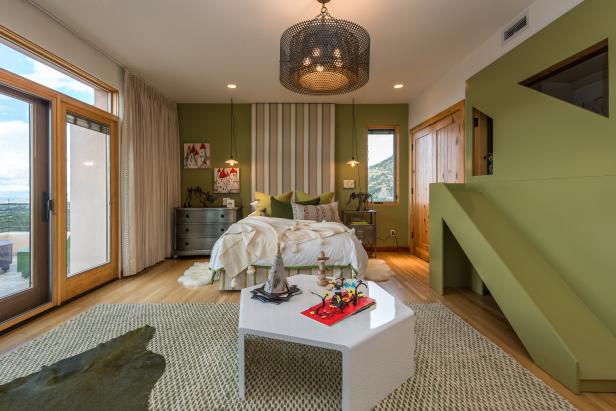 Kid's Green Bedroom Features Built-In Play Structure
A geometric play structure and modern table create an edgy vibe in this stylish kid's room. A calm color scheme of green and beige helps ground the space.
What did your clients want for their kids' room?
We had free range with this project. It was a large space with some quirks to it, so we wanted to make it as fun a space as possible, allowing the space to transition as the child grows.
How did you make this a room that would grow with the child?
We used sophisticated and fun, colorful fabrics and heirloom-quality toys and accessories to ground the space. The main items in the room, like the headboard, side tables and other furniture, are pieces that could be found anywhere in a home.
What was your biggest obstacle?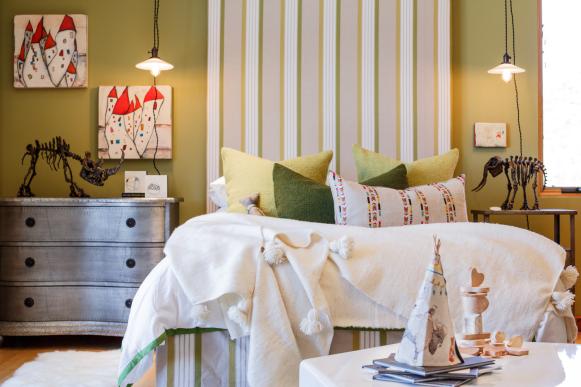 Kid's Green Bedroom With Dinosaur Skeleton Models Is Whimsically Chic
With deep green walls, crisp white bedding, playful artwork and kooky dinosaur skeleton models, this kid's bedroom is the perfect combination of whimsy and refinement. A metallic nightstand completes the tasteful design.
We had two obstacles to overcome in the space. On the wall where we placed the headboard, originally there was an off-center, narrow window (in addition to the one that is above the side table), which was really disrupting the flow of the room. We covered that window with a floor-to-ceiling upholstered headboard — dramatic for a kid's room — to make that awkward window disappear and create a focal point. The second obstacle was that we were not allowed to paint the wood. Being that the wood in the space was a very yellowed '90s pine, we felt the need to minimize the look and incorporate the tones as much as we could. We decided to use green and transformed one of the closets into a really fun playspace and slide. The child crawls through the opening below the slide and goes up a small set of stairs to a reading nook, and then can slide down. It was a total hit!
What do the metallic accents add to the design?
I think the metallic accents really add a polished level of design that is needed in a space. In this case, we wanted the accents to feel relaxed, so we used more industrial-toned metals.
What is your favorite feature?
The slide was our favorite. It was a creative, fun use of space that covered up a design issue that we had.
What advice do you have for decorating a kid's space?
In a kid's space, we think more is more. Have lots of storage, use lots of patterns and antiques and take design liberties you might not necessarily use throughout the rest of the house. Have fun, design from the heart and just go for it!
What "hidden gems" are in your design?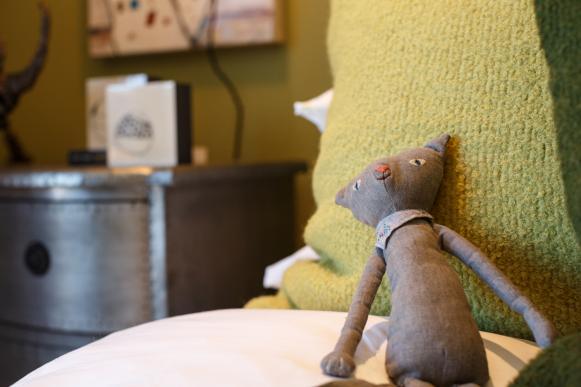 Stuffed Toy Cat Adds Kid-Friendly Spunk
Kid-friendly touches make all the difference in this tasteful yet fun kid's bedroom. Here, a playful cat stuffed animal adds a kid-approved accent to the chic lime green and white bedding.
We used local artists and artisans for as much as possible. Even the lighting and the toys in the room were all locally sourced. The building blocks are a fun balancing game created by a local woodworker, while the bronze dinosaurs are a great, fun addition to the space. And what kid doesn't love a fun colorful robot?