Florida Vacation Home Embraces 1920s Style of Thomas Edison Estate
A large Florida family wanted a home where they could vacation together without being cramped. Their 1920s-inspired beach home designed by architect Clifford Scholz turned out to be the perfect getaway.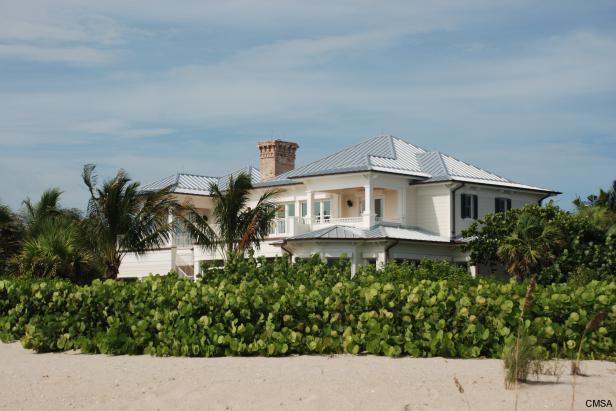 Beach Home Inspired by 1920s Florida Architecture
A metal roof stands up to the harsh sun and sand of Florida's Atlantic coast. Metal roofs have been popular for a century because of their weather resistance.
Tasked with designing a vacation home to accommodate a large family while maintaining the charm of a beach cottage, architect Clifford Scholz turned to a well-known south Florida home for inspiration: Thomas Edison's winter residence in Fort Myers.
Using elements featured in Thomas Edison's winter residence in Fort Myers, Fla., Scholz achieved the 1920s design aesthetic he wanted while creating a home that would stand up to the harsh realities of being located directly on the Atlantic Ocean.
"Every facet of this project was reviewed and re-reviewed to make sure that it was authentic to what would have happened in the 1920s on a beachfront property -- but used with modern materials," Scholz says.
Scholz researched everything from the sinks to the shutters to guarantee a genuine look and feel. He chose a simple, symetrical exterior with a deep-set porch and creamy paint tones that were common during Edison's day.
"The trick to picking the right color on any home or any building is actually trying to integrate the environment around the building with the color with the buildings.
Architect Clifford Scholz
He integrated metal roofing designed to be resistant to sun and sand, raised floors to prevent flooding and wide verandas on which to enjoy the views and breezes while out of the direct rays of the sun.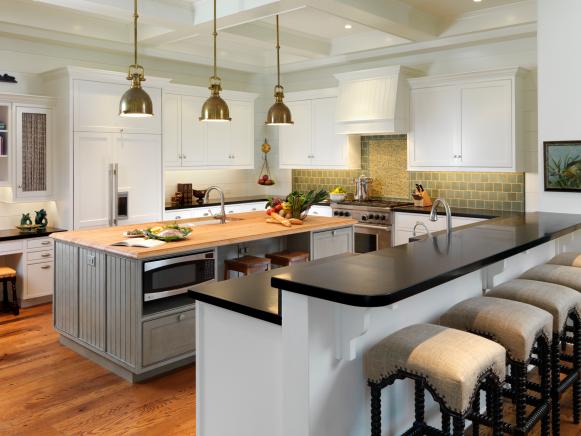 Cottage Kitchen With Island, Breakfast Bar
With two islands, lots of counter space and an elevated breakfast bar, this cottage kitchen is perfect for cooking and entertaining. Antique pendant lights illuminate the workspace and brings in an aged rustic look.
On the inside, Scholz used a white linen theme all over the house, with artwork and ceiling structure distinguishing each room. "The ceilings in each of the rooms were individualized, giving each of the spaces a little different scale and a different feel of formality or informality," Scholz says.
This idea of scale was especially important for such a large home. To keep the quaint and cozy cottage atmosphere in a vacation home large enough to accommodate a crowd, Scholz focused on keeping the rooms livable instead of grand.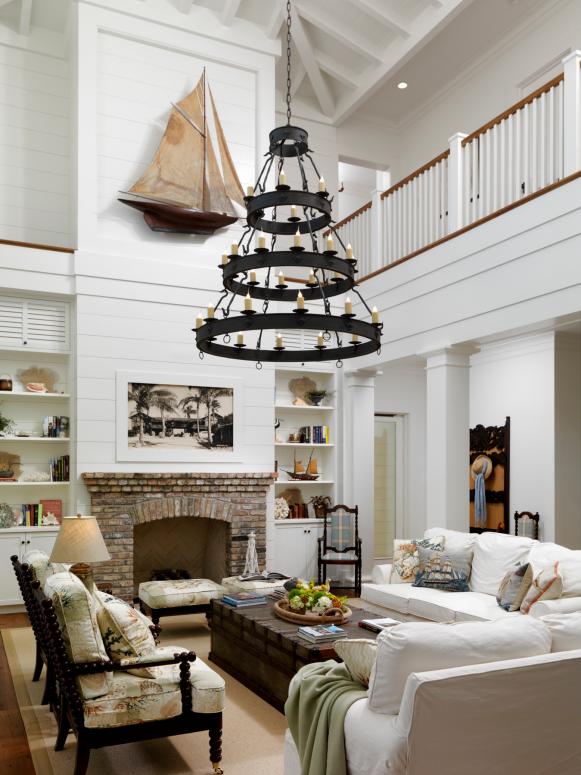 Traditional Great Room with Tropical Accessories
This beach house great room combines traditional design with nautical accessories for a cozy feel inspired by its location. An antique chandelier makes an easy focal point as it hangs low over the space.
A recurring seashell and sand motif also adds a coastal vibe to the traditional cottage-style interior. Ocean decor adorns the built-in bookshelves in the family room, while a constant color and texture are repeated to mimic the color of the shells.
"The sum of the design is in the details, but the details have to coincide with the broad brush as well," Scholz says.