How to Reclaim a Weedy Yard
Grow healthy grass and say 'goodbye' to those nasty weeds with these simple and easy-to-follow lawn and gardening tips.
What do you do when the greenest things in your lawn are weeds? Jerry Cunningham wonders the same thing, so Gardening by the Yard host Paul James comes to the rescue with answers. The overall approach: Choke the weeds out not with chemicals, but by creating a new lush lawn of healthy grass.
Jerry's yard is full of mature trees, which help shade his landscape. Fescue would be a great option for him, because it does well in partially shaded areas. The grass will require a bit more watering than Jerry's current lawn, but he'll get better results.
Paul suggests Jerry use a mixture of fescue — two types of tall fescue and also a creeping red fescue, which is extremely shade tolerant; in areas of complete shade, the red fescue will help fill in the bare spots.
Aerating the soil brings oxygen to the soil and helps water seep farther down, which encourages more growth. Although there are aerating machines on the market, they're noisy, smelly and a little too much for an average size lawn. Paul suggests a manual tool instead.
We're sorry, there seems to be an issue playing this video. Please refresh the page or try again in a moment. If you continue to have issues, please contact us here.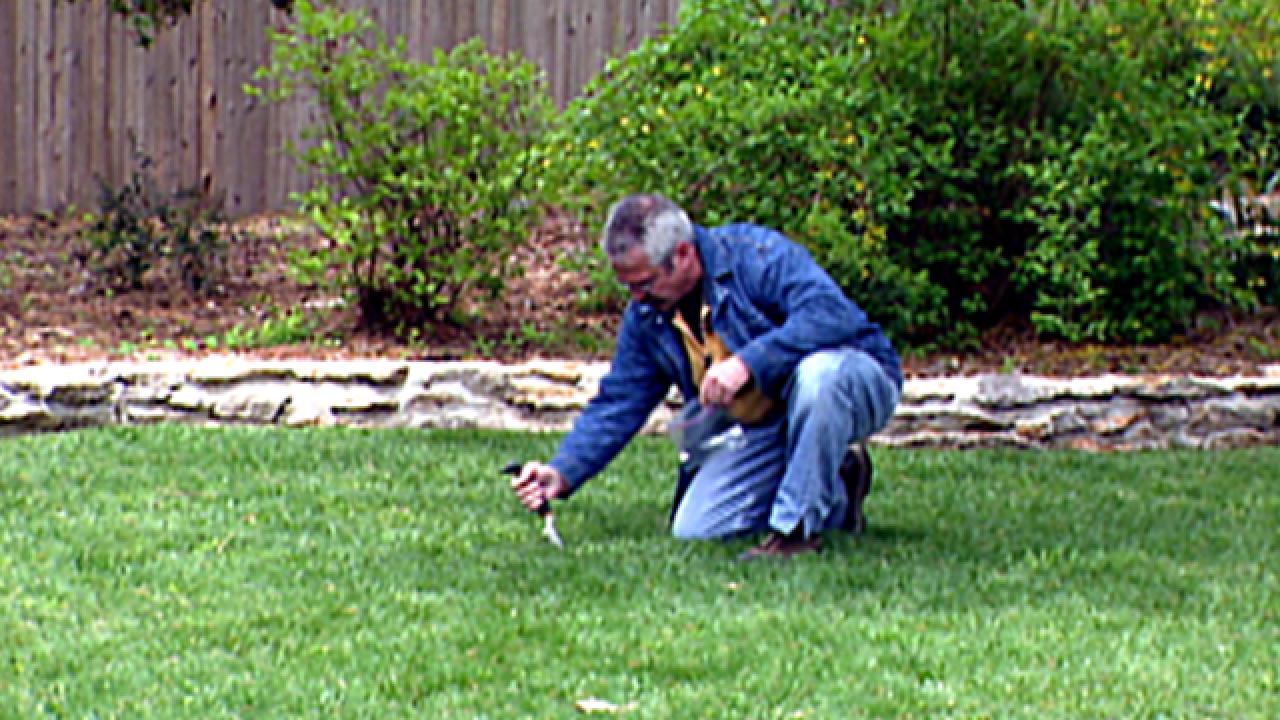 When spreading seeds, it's important to make sure you don't throw too much into adjacent beds. Work side to side, and then work back over the same area at right angles to the original. You can either throw the seed out by hand or use a tool that helps relieve strain on your wrist. You can have too much of a good thing. Applying too much seed can create competition for the moisture and nutrients that feel the lawn.
Top-dressings — such as a cow-manure/alfalfa mix — are underused in lawn care (such as after you've sown grass seed). Too bad, because they're full of organic matter that activates soil.
Note: Cow manure, like grass seed, can be overdone. A little will go a long way for the freshly laid seeds, so layer no more than 1/4 inch over the lawn. If you have any leftover, feed other trees and plants in your landscape.
Tip: Paul uses this handy perforated shovel to sift the compost over an area. The shovel is also good for working in water gardens.
Paul suggests an all-natural, bio-solid fertilizer for Jerry's new lawn. Because it's all-natural, he won't have to wait for the grass to germinate to use it. After a few weeks in the lawn, the fertilizer will break down and enter the root zone of the grass.
Learn how to indentify and control these common lawn invaders.
Another thing about bio-solid fertilizers is that they contain iron — an element that will help Jerry "green-up" his lawn. And it's very versatile, so he can use it to fertilize garden beds, trees, shrubs and flowers.
Repeat fertilization twice a year — once in the spring, once in the fall.
Last but not least, Jerry gets one of the most critical lessons, and that's in watering. As his fescue germinates over the next 10 days or so, Jerry will need to water the lawn lightly once or twice a day so the seeds stay moist. The best time is in the early morning or at night.
Once the grass is up and has been mowed, he'll need to switch to deep soaking. This encourages newly formed roots to reach down into the soil in search of moisture. One good option for deep soaking is an oscillating sprinkler — it does all the work.