Build a living wall with evergreens.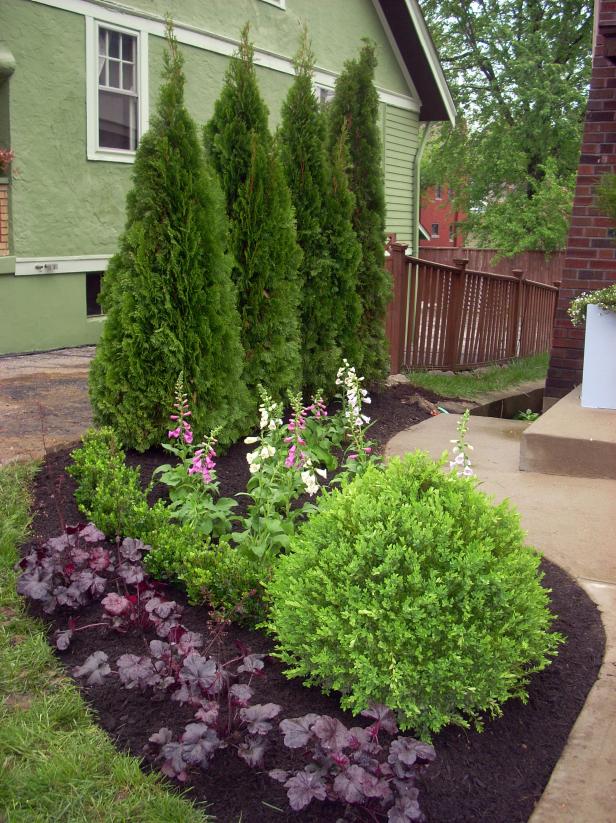 Year Round Screening Plants for Landscaping
Emerald Green arborvitae, which will eventually reach 12 to 15 feet tall, are a good choice for a four season privacy planting. In the foreground, a Green Mountain boxwood can be easily maintained at 3 to 6 feet.
Winter may not be your favorite season outdoors, but it does offer the opportunity to take a good hard look at your landscape while the trees are barren and the perennials down for a nap. During this time, you can usually pinpoint gaps where your garden needs the kind of structure that evergreens provide.
These "backbone" shrubs not only help paint a pretty picture but also can serve a function by screening your yard or patio for privacy. Like most things in the garden, there's both an art and a science to creating an effective screen from the neighbors, traffic or an eyesore.
When planning one of these "living walls," study the location for potential conflicts – overhead power lines, rights of way, obstructed views. You don't want to plant a screen that in two years may brush utility lines or block your neighbor's view when backing out of the driveway. One advantage to evergreen screens is that — unlike with fences — most cities don't impose height restrictions (But check anyway!).
Most evergreens prefer at least six hours of sunlight. That's not to say a screen won't survive in partial shade; just don't expect it to grow as quickly as one in sun.
And speaking of patience…while it's tempting to plant shrubs close together so the screen will fill in fast, that's not a good idea. Space them according to their size at maturity; otherwise, the close, dense proximity of one shrub to another may encourage the spread of disease as the plants grow. There are few sadder sights than a screen with a gaping hole caused by a shrub that suddenly bit the dust!
Finally, mix it up — in design and variety. Instead of planting a straight line of Leyland cypresses, for example, stagger several types of shrubs, such as a mix of conifers, hollies and magnolias. Their contrasting leaf texture, varying heights and alternating positions will give your screen more depth and variety.
Here are some good evergreen options to consider:
Japanese cedar, Cryptomeria, especially 'Yoshino' and 'Radicans.' Dense conifers with a pyramid or cone shape.
Deodar cedar. Bluish-gray, loosely shaped conifer. Talk about a Christmas tree!
Arborvitae (or Thuja). A dense, bright green cone-shaped conifer. 'Green Giant' and 'Emerald Green' are perfect cultivars for screens.
Leyland cypress. A bright green conifer widely used for screens because it is fast growing. It also can be disease prone, especially when planted too close together.
Besides conifers, other evergreens make great screens, especially when combined with other varieties. Consider tea olive, wax myrtle, ligustrum, cleyera, camellia, anise and sweetbay laurel.
And if space is at a premium in your garden, there are slender evergreens for tight spaces, such as Italian cypress, weeping yaupon, 'Sky Pencil' holly and upright junipers.