How to Make Your Own Seed-Starting Mix
Save money when you start seeds by making your own homemade seeding mix.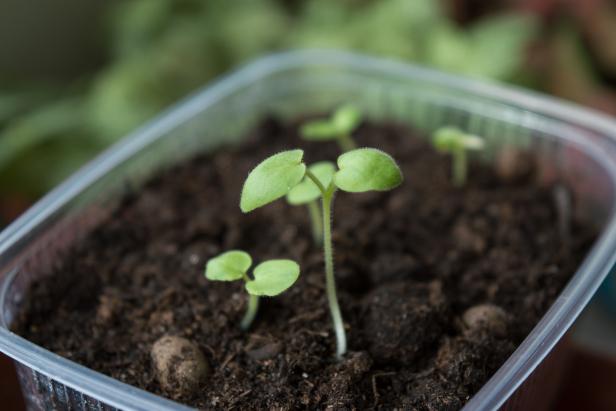 Seedlings Sprouting in Plastic Container
Get your hands dirty this winter by starting seeds outdoors using a practice called winter sowing. This method forgoes supplemental lighting and pricey seed-starting kits and lets nature's rhythms coax seeds to sprout. Winter sowing is simple and yields sturdy seedlings that are ready to grow.
Shutterstock/Alina Kuptsova
Seed-starting mix is a soil-less medium used for growing plants from seed. It's a far better choice for starting seeds than standard potting soil because it's finer and lighter, making it easier for tiny seedling roots to grow. A good seed starting mix should hold onto water without being soggy, too, because seedlings can rot if they stay too wet.
You're asking, "How can a plant grow without soil?" Good question. A seedling doesn't need soil because, for the first week or two of its life, it will get its nutrients from the seed. Compost, a key ingredient in a seed-starting mix, will take over once the seed is done and feed the seedlings as they grow.
Another reason seed-starting mix is so much better than soil: Your seedlings won't be exposed to mold or fungi. Soil can hold too much moisture and cause a condition called damping off, a fungal disease that makes seedlings wither where their stem meets the soil. When that happens, they die. You'll get better growth and happier seedlings with a soil-less mix.
You can buy seed-starting mix pre-made in bags, or you can make your own so you control the ingredients, important if you're want to keep your gardening organic. You can also save money by making your own mix. And if you're starting your own seeds, you're probably trying to keep your gardening costs low.
Get growing with these fun, inexpensive seed-starting projects.
Basic Recipe for Seed-Starting Mix
4 parts compost
1 part perlite
1 part vermiculite
2 parts peat moss
If using your own compost, break up clumps with your hands. Better yet, screen it to get a fine, even texture. Seedling roots can't handle big chunks of uncomposted anything. Moisten the ingredients with a fine mist of water from a spray bottle or a hose nozzle with a mister setting. This will make it easier to mix them together. Mix them in wheelbarrow or garden cart.
If you're starting succulent or cactus seeds or plants that need faster draining soil, add more perlite.
Seed-Starting Mix Recipe Without Peat Moss
Peat moss has become controversial. Nearly all of the peat moss sold in the United States comes from sphagnum moss bogs in Canada, which some conservationists say are ecosystems that should be protected, not mined. Peat's not very sustainable, either, because it grows just 1/16 of an inch a year, so we're potting plants and starting seeds in a resource that takes centuries to grow.
If you're one of those gardeners who would like to live peat-free, here's a recipe that substitutes coconut fiber, also known as coir. Coir is made of coconut husks, so it's a sustainable, earth-friendly alternative to peat.
2 parts compost
2 parts coir
1 part perlite
Coir comes in dehydrated, compressed blocks, so you'll need to soak it in water before using it. Mix all ingredients in a wheelbarrow or garden cart.
We're sorry, there seems to be an issue playing this video. Please refresh the page or try again in a moment. If you continue to have issues, please contact us here.