6 Best City Walking Tours
Our picks for top urban hikes will add wellness and adventure to your next trip.
A truly walkable city lets your feet be your "ride." So you don't burn through your travel budget. Or have to navigate a maze of transportation in a language not your own. Check out our list of top walker-friendly cities worldwide; each provides an intimate feel for the ultimate in wellness and renewal, so you can focus on your walking adventure — minus the headache of navigating logistics.


This city offers cosmopolitan flair with stunning views, both top prerequisites for walkability. Take in the scents at the Royal Botanic Gardens, the oldest botanic garden in Australia. Peel back the layers of the Sydney Opera House with its distinctive roof of "shells." Step back in time at The Rocks, Australia's first convict settlement that's now home to a liberated scene of cafes, bars and galleries. More of a beach buff? Walk the cliff tops between Bondi and Coogee beaches. For the 3-mile walk between both, apply sunscreen, wear a wide-brimmed hat and, above all, have a G'day.
Amsterdam offers a refreshing take on "live and let walk," thanks to its flat, clean streets. Start by touring Amsterdam's most prominent feature: its 17th-century concentric canals, more than 100 miles long, which make this city the "Venice of the North." If you live to shop, the Jordaan district, beckons you. Enjoy boutiques and open-air markets along the mile-long stretch. If you're drawn to art, amble on to Museum Square. Glimpse the largest collection of paintings and drawings in the world by van Gogh, known in his day as a formidable walker.
What separates and connects us is fodder for thought in Cape Town. Walk the cobblestone streets of Bo-Kaap, a township originally settled by Muslim descendants of slaves brought over by the Dutch. Take a cable car up Table Mountain, and walk along the 2-mile plateau from which you can see the entire city of Cape Town below. About 7 miles from Cape Town, explore Robben Island, a prison from the 17th to 20th centuries roughly 2 miles off the coast of Cape Town that includes the prison cell that former President and Nobel Laureate Nelson Mandela occupied for 18 years. Bear witness to a rock pile started by Mandela and added on to — one stone at a time — by other political prisoners.
You can walk to your own beat in San Francisco. Revisit one of the homes of the Beat culture at North Beach. At Haight-Ashbury, wax nostalgic for the 1967 Summer of Love, when as many as 100,000 youth converged here. Run for the Hippie Hills, where drum circles, jugglers and shiny happy people mingle. In the mood for a flat, more open expanse? Feel the breeze of the San Francisco Bay on a 2-mile walk along the waterfront, The Embarcadero, down to Fisherman's Wharf, where performance artists, sea lions and a panoply of fishing vessels make up the local scene. Top off your walk with a nearly 2 mile jaunt across the Golden Gate Bridge, the most photographed bridge in the world.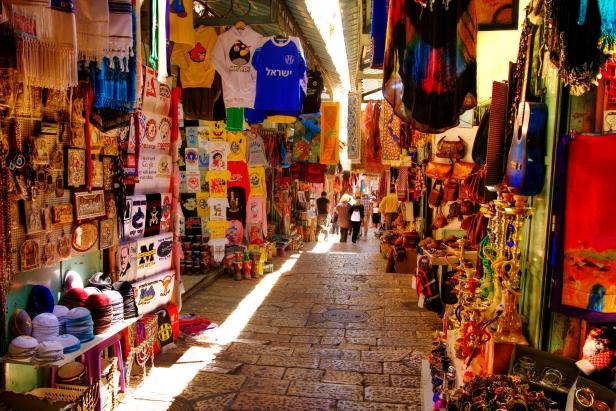 City Market, Old Jerusalem
Jerusalem's Mahane Yehuda Market isn't just a place to shop; it's a bustling place where you can soak up the rich colors, the smells of incense and spices, and the sounds of merchants bargaining with customers over the price for cashmere shawls, sequin-embellished skirts, hookahs, and toy camels. You'll be tempted to fill a bag with enormous pomegranates, fresh-baked bread dipped in za'atar (a blend of spices), Turkish coffee beans, date honey and much more. Shop thoughtfully, since there are some items you can't take home through Customs. Sellers can bag other things for you, such as dried teas, that you can take back as long as they remain unopened.
Noam Chen/Israel Ministry of Tourism
Take your pick from among 7 gates to enter this 3,000-year-old city; the most popular is Jaffa Gate for its close proximity to taxis. Imposing 16th-century Ottoman walls surround the city, which is divided into 4 quarters: Jewish, Armenian, Christian and Muslim. Once you enter the fray, your walking pilgrimage takes you through the relics of 3 ancient faiths: the Western Wall (Jewish), Dome of the Rock (Muslim) and the Church of the Holy Sepulchre (Christian). Wind down your journey with pizza or falafel in Jerusalem's Arab Market, accompanied by a spicy political opinion or two, if you ask for it.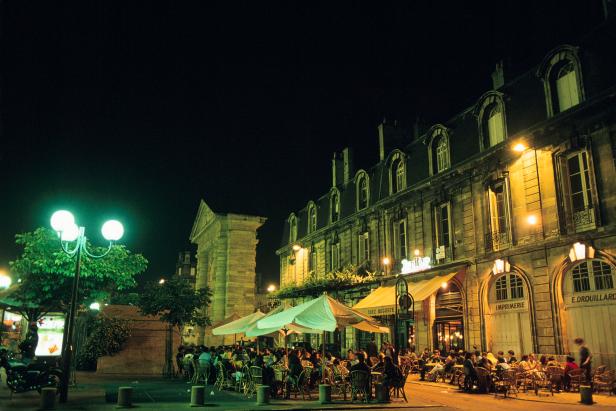 945790720
Rue Sainte-Catherine, Bordeaux France La place de la Victoire, avec ses nombreux bars, est un des hauts-lieux de la vie nocturne bordelaise. C'est aussi le point de d?part de la plus grande rue commer?ante de la ville : la rue Sainte-Catherine. La place de la Victoire, avec ses nombreux bars, est un des hauts-lieux de la vie nocturne bordelaise. C'est aussi le point de d?part de la plus grande rue commer?ante de la ville : la rue Sainte-Catherine. (Photo by Michel GARNIER/Gamma-Rapho via Getty Images)
Michel GARNIER; Getty Images
The narrow streets of this medieval French town may not be well suited for cars, but they are for your feet. A flat city by the banks of the Garonne River, Bordeaux is sometimes called "Little Paris." But this city has plenty of individuality all its own. For heavy duty walking (and shopping) head to Rue Sainte-Catherine; one of the longest shopping streets in Europe. Then kick back in Quai de Bacalan, a waterfront area with outdoor restaurants and cafes.Whichever city you pick, a welcome mat awaits, to everything worth seeing. No cab required. Just your feet.