Find out HGTV experts' top picks for iconic hikes to write home about.
When you think of once-in-a-lifetime adventure, a walk may not score very high — not like, say, swimming with sharks. But not all walks are created equal. Truth is, there are walks. And then there are walks. Grand walks, iconic walks, walks that allow you to take in the view without going into extreme overdrive (or jostling your joints). Check out these walking options for wellness and renewal — the ultimate bucket list of journeys for the mere mortal and hardcore adventurer alike.


The Appalachian Trail provides much more than nice views; people from nearby towns often invite hikers over for dinner after a long day. For the lucky few, these benefits unfold over a 6-month trek across 2,174 miles. But most walkers relish the rewards over shorter distances. The trail runs through 14 states, from Georgia to Maine; each state has easy, moderate and challenging trails. Whichever you take, revel in the scenery — and the road less traveled.
When it comes to green living, the 15th-century Incan city of Machu Picchu delivers a mountain of inspiration. Each stone is placed with purpose; shapes mimic surrounding mountains. The trek to Machu Picchu itself can take on the air of a brisk walk — if you pace yourself. Walking the 27- to 35-mile Inca Trail can take up to 4 days. You'll see more than 30 Inca sites along the way, passing through mountains and forests — more than 14,000 feet high. Talk about a walk in the clouds.
Walking the Sahara Desert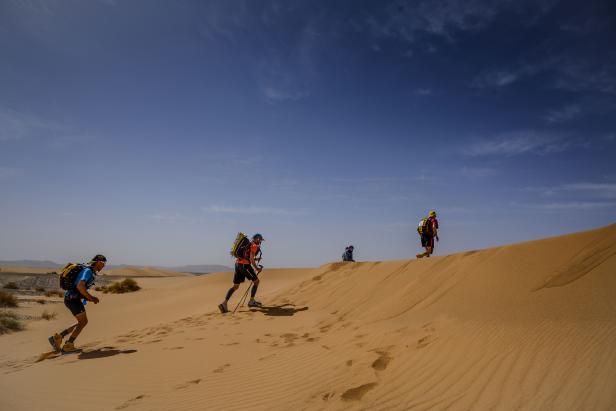 1135909631
People compete in the stage 3 of the 34th edition of the Marathon des Sables between Kourci Dial Zaid and Jebel El Mraïer in the southern Moroccan Sahara desert, on April 9, 2019. - The 34th edition of the marathon is a live stage 250 kilometres race through a formidable landscape in one of the world's most inhospitable climates. (Photo by JEAN-PHILIPPE KSIAZEK / AFP) (Photo credit should read JEAN-PHILIPPE KSIAZEK/AFP via Getty Images)
JEAN-PHILIPPE KSIAZEK; Getty Images
The world's largest desert — we're talking roughly the size of the US — offers plenty of room for reflection. Camp sites like Desert Camp Morocco provide indigenous Berber guides to accompany walkers on leisurely strolls. If you really want to walk, the annual Marathon de Sables holds the toughest foot race on Earth — more than 150 miles long. (Relax, about 10 percent of participants walk the race, averaging a maximum speed of 6.2 miles per day.) The course includes 100 all-terrain vehicles to get you back to civilization.
An engineering marvel, the Great Wall of China can also spark reflection about the walls we construct, both physical and metaphoric. Begun in the 7th century BC, the wall was expanded over successive dynasties to protect China from invaders. Today, the 4,000-mile stretch of stone is crumbling in many places, but many others, such as near Beijing, still beckon walkers. Following the contours of hills, some areas are strenuous climbs; others, a more relaxed stroll.
What does the "French Way" have to do with spiritual enlightenment? Everything. For centuries, pilgrims have trekked 500 miles from the foothills of the French Pyrenees to the town square in northwestern Spain, where, legend has it, a martyred St. James was carried by the wind to his final resting place at the Cathedral of Santiago de Compostela. Don't have a month to walk the entire distance? You can easily pick up the route in Pamplona, San Juan de Ortega, Portomarin and Arzua.
One of the most memorable walking experiences leads up Mount Kilimanjaro — 20,000 feet above sea level, in East Africa. Strong physical conditioning is essential; so is a Tanzanian guide. Of the 6 routes, Machame provides the best "walk high, sleep low" experience (climb more than 1,000 feet in a day; descend to sleep at lower altitude), while journeying through rainforest, bushlands and alpine desert.
Australia's Overland Track
The space we occupy is part of something larger. Few places drive home that perspective like the remnant of the last ice age, Australia's Overland Track. The 45-mile Tasmanian bush walk takes you from Cradle Mountain to Lake St. Clair, the Southern Hemisphere's deepest lake. The typical walkabout takes 6 days. Be on the lookout for Tasmanian devils, drink in the scent of eucalyptus and feel the freshness of waterfalls. So, who needs to swim with sharks, anyway? Lace up and get going; you'll have plenty of room to score major bragging rights. All you have to do is walk.