Best All-Inclusive Resorts for Families
We've selected our top picks for resorts that make time off with the kids as relaxing and rewarding as possible.
By:
Christina Breda Antoniades
Diapers? Check. Endless supply of Goldfish crackers and juice boxes? Check. Puzzles, Barbie dolls and tiny plastic dinosaurs? Check, check, check.
Any parent knows that traveling with kids is an exercise in logistical planning. The good news is that many all-inclusive vacation spots now strive to understand what families need — and provide it.
Tops on parents' wish list are activities to keep Junior occupied; a plentiful and always-available supply of kid-friendly food (think buffets); family-friendly sleeping arrangements; and even an extra set of hands to ensure that Mom and Dad get a break, too.
Catering to these needs — and offering the bonus of a vacation tab that's nailed down in advance — are family-oriented, all-inclusive resorts. These establishments often feature fantastic pools, water sports and supervised kiddie clubs for the young ones, plus spas, fine dining and adult entertainment for their parents.
Deals vary, but your bill at most all-inclusive resorts includes lodging, food and drink (including alcoholic beverages), transportation to and from the resort, taxes, gratuities, non-motorized water sports, organized games and activities, kiddie clubs (though some resorts add a fee for this) and evening entertainment.
Taking advantage of these resorts lets parents spend less time thinking about where to eat and what their kids will do and more time relaxing.
We've selected our top picks for resorts and resort companies that make time off with the kids as good as time off should feel.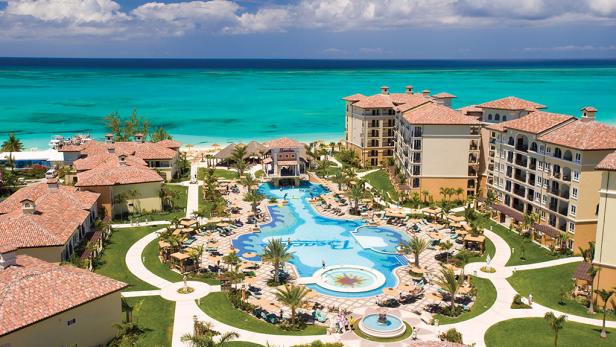 Beaches - Turks and Caicos
"The all-inclusive Beaches resort is the perfect destination for a fun-filled family beach vacation, with endless distractions for kids of all ages. Tots, tweens and teens can enjoy fun games with Sesame Street characters, 'Sizzlin' teen disco and the Pirates Island Waterpark. Adults can relax at Red Lane Spa and enjoy sumptuous meals at the resort's 19 restaurants." -- Anthony Melchiorri, Hotel Fixer, Hotel Impossible
With its 2 family-focused properties in Jamaica and 1 in Turks and Caicos, all-inclusive Beaches resorts cater to everyone in the family. An exclusive deal with Sesame Street means lots of opportunities to eat and play with the kids' favorite furry friends, from story time with Elmo to staged shows and weekly parades with other characters. Beaches properties also offer water parks, water sports, multiple swimming pools (including kids-only pools), kids' camps and luxury family suites that sleep up to 5 people — plus the usual sun, sand, surf and abundant food that you'd expect at a resort.
Boasting properties on every continent (except Antarctica, of course), the Club Med all-inclusive resort company caters to families with an assortment of features for kids and parents alike. The Baby Welcome program provides all the comforts of home — crib, changing table, baby bath, bottle warmer and more — in your room, plus microwaves, blenders, bottle warmers and kid seats in children's corners at resort dining spots. Select resorts also offer child care for kids 3 and younger, complete with face painting, games, puppet shows, arts and crafts, pajama parties and more. There are options for older kids, too: The Mini Club Med program for 4- to 10-year-olds includes trapeze lessons, soccer, sailing, in-line skating, science activities and other kid-centered fun. For 11- to 17-year-olds, Junior Club Med — offered at no extra cost — seeks to strike that balance between cool and safe, while Passworld, offered at select resorts, presents teen-tailored activities such as jewelry making, sound mixing and even graffiti work in exclusive areas built just for teens. There's also the Siesta Club, where you can leave your little ones in qualified hands to nap, listen to stories or cuddle up and watch a movie. And, of course, child-friendly Club Meds have kiddie meals; some even offer separate restaurants just for tiny diners.
The all-suite Franklyn D. Resort & Spa promises the usual appeal of sun, sand and sea, and the no-hassle attraction of an all-inclusive setup, but with a bonus: Every arriving family is assigned its own personal vacation nanny. The nanny is on duty all day to take over kid patrol in your suite or accompany your youngsters to the kids' club, where they'll have their pick of games, books and activities. Teens and preteens have their own activities, too, including supervised trips to an outdoor campsite, beach parties, fishing, sailing, windsurfing, hiking, all-terrain bicycle trips and other field trips. That leaves Mom and Dad plenty of time to get massages, read books, tackle an adventure of their own, or just enjoy a quiet meal — in an adults-only restaurant — without the constant chorus of little voices clamoring for attention. Be sure to check out the resort's specials, which include a "bring the grandparents for free" deal, a "family fly free" fall deal and a family reunion package.
With 8 resorts in Mexico — along with several others elsewhere in the Caribbean — Dreams offers a luxurious setting that appeals to couples and families alike. The company promises that "children are always welcome" at its Explorer's Clubs, supervised programs that keep kids ages 3 to 12 busy with science and nature projects, as well as the usual array of games and activities (including a once-weekly camping adventure on the beach). For grown-up fun, there resorts have first-rate spas (although you'll have to pay extra to use them), fine dining and a variety of land and water sports. Best of all is the newest attraction at Dreams Puerto Aventuras Resort & Spa in Mexico: the dolphinarium, a gleaming lagoon that's home to 5 dolphins. Book a room in one of the dolphin-view rooms and watch the animals frolic from your terrace. You can also take part in the Dolphin Experience, which offers a rare chance to swim with the dolphins.
Atlantis Paradise Island Resort, Bahamas
Atlantis is technically a full-service resort (meal plans are priced separately from room rates), though guests do have access to all Atlantis water features. When this lavish property opened in 1998, Atlantis Bahamas became an instant legend. Top celebrities such as Katy Perry and Jerry Seinfeld have performed at the outdoor amphitheater, several TV programs and movies have taped episodes on the property, and beauty pageants such as Miss Universe and Miss Teen USA have held competitions there. The complex includes a water park featuring the Leap of Faith waterslide, which shoots guests out of a faux Mayan temple, down a vertical drop and through a clear tunnel under a shark lagoon. The resort also has multiple pools, a white-sand beach and a lagoon for kayaking.
Another way to see the Caribbean with the kids is on a cruise ship. Disney ships' facilities, dining and activities are geared toward families with kids in the 4 years to preteen age range. The kids' clubs are divided into age categories spanning just a couple of years; there's a nursery for the babies, as well as Vibe, a club for teens to hang out together. Castaway Cay, Disney's private Bahamian island, is one of the nicest in the cruise industry. Parents who want to plan ahead can use an online service to preorder baby supplies and have them delivered to their stateroom. Other good ships for family cruising: Royal Caribbean's Voyager-class ships and Carnival's Conquest- and Splendor-class ships.