Maximum Value Outdoor Structure Projects: Pergola
How much real estate return can you expect from a pergola? Find out here.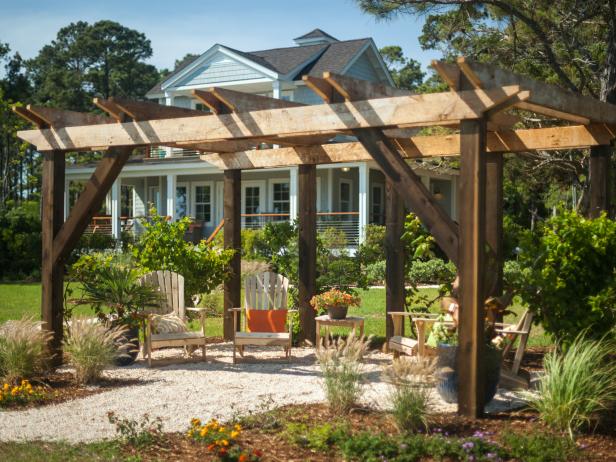 diy_bc13_pergola_01_view-toward-house-morning_h
DIY Network's Blog Cabin 2013 is a circa-1892 coastal cottage located along the Crystal Coast in North Carolina. The home has been remodeled, based on online voters' selections, and will be given away to one lucky winner in a home sweepstakes in Fall 2013. Pictured is the pergola.
A pergola is the perfect way to add character to an exterior space while serving a functional purpose. Sizes can vary, from a simple pergola that accents a growing garden to a larger scale one that covers a seating area to create a true outdoor room.
Pergolas also come in many different styles and colors, so you can design one that enhances your home's architectural style and landscaping.
Tie together outdoor living. Pergolas are growing larger, thanks to the expansion of the outdoor room. By using a pergola that covers or connects each element of your outdoor space, whether it be the outdoor kitchen, dining room or pool, you can create one cohesive outdoor area.
Depending on the size of your property, a pergola could tie the space together, or make it feel distorted and out of proportion. According to appraisal expert, Leslie Sellers, president of the Appraisal Institute, pergolas should always be constructed with aesthetic appeal in mind. If your yard is smaller, scale the pergola to a size that doesn't become the main focus of the space. For a larger yard with multiple amenities, such as a deck and pool space, a larger pergola can be used to highlight the different backyard features.
On a Budget: Keep it simple by using a basic pergola structure as an entrance to a garden, terrace or pool area. Allow vines and florals to grow and shape themselves around the pergola for added color and interest.
Mid-Range: Design a pergola to cover a comfy outdoor seating or dining area. This allows for the feel of a true outdoor room without closing off the sunlight and natural elements.
High-End: A large space with multiple outdoor living areas can be connected by a grouping of pergolas. This helps tie in different elements of the space and keep certain areas, such as the pool and the outdoor kitchen, connected. Pergolas help add flow to the outdoors, making entertaining easier and each space more enjoyable.