Finding a Family-Friendly Rental Home
Follow these tips if you're shopping for an apartment or rental home with kids in tow.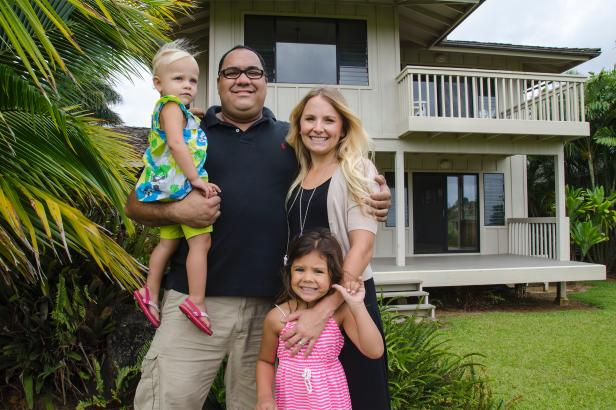 The Sokia Family on HGTV's Hawaii Life
Carl and Jenn Sokia, along with their two daughters, were looking to escape the Colorado winter for the tropic warmth of Kauai, Hawaii's oldest and fourth-largest island. The family was looking for a home that felt distinctly Hawaiian: "We want to make sure it has an open floor plan, open windows and lots of opportunities for the air to blow through," Carl said. Their budget was between $600,000 and $800,000.
2012, HGTV/Scripps Networks, LLC. All Rights Reserved
When you're renting with children, the priorities in looking for a new home tend to center around finding good school districts, nearby parks and recreation, and neighborhoods populated by other families. In today's economy, many families are opting to rent, rather than buy a home. The good news is that, due to foreclosures, there are more single-family houses for rent. The bad news is that owners who have lost their homes are increasing the rental applicant pool, which means more competition for the house or apartment you may want.
"I'm seeing larger families trying to get into smaller spaces because of the economy," says Rose Osman, a Realtor with John Aaroe Group in Sherman Oaks, Calif. "Their best option is finding a house, rather than an apartment. Here, if a house is a single story, it's usually at least 1,200 square feet. The more you can spend, the better the location and the schools."
Rose says many of the families she's placed into rental homes have two or three children, and families are opting for the kids to share rooms, rather than have their own rooms, to save on the budget. Rent for single-family houses in the Los Angeles area may run from $1,800 to upward of $5,000 a month, depending on location and amenities, she says.
"Sometimes, people will want to spend less a month on the home if their child is going to a private school," Rose says. "Most landlords won't rent for less than a year because of the wear-and-tear on the house. When tenants move out, the landlords paint, get the carpets cleaned and make repairs."
Starting Your Rental Search
Renters who are looking for less expensive rental homes may find what they want by perusing Craigslist or other online rental housing sites, but Rose says those who have median to high incomes will benefit by using a rental agent.
"If a place has been on the market for a while and the landlord can't rent it, an agent can negotiate a better deal for you," Rose says. "I had one family who wanted a two-year lease where the landlord was asking $6,300 a month. I was able to get it down to $6,000 a month for them."
Rose advises clients to remember that they're not making a long-term investment in a one- or two-year rental, so if they have a list of priorities and half of them are met in a property, don't pass the opportunity by.
Passing the Application Process
Joseph A. Amatangelo, vice president of residential management and the rental service center for Long & Foster Real Estate, Inc. in Chantilly, Va., says his company is seeing multiple applications for every rental unit now.
Long & Foster is the largest real estate brokerage in the Mid-Atlantic, and the company handles nearly 5,000 single-family rental houses and a few small apartment buildings in its portfolio. Most of its rental properties range from $1,200 to $3,000 a month, with homes in the Washington Metropolitan Area running as high as $6,000 a month.
To be an outstanding applicant, Joseph advises being as specific as possible on application forms. If you know your credit report is going to come back with a derogatory comment, tell the landlord that you were laid off, or whatever happened, so there's an explanation for anything negative found in the screening process.
Long & Foster requires that rental applicants have income 40 times the monthly rent, so if the rent is $1,000 a month, you must earn at least $40,000 a year. If your income is under what's required, include IRA and bank statements to show additional assets to the landlord, he says.
Renters who use a rental agent are shown properties and submit their application with a $40 fee to the agent. Long & Foster runs a credit check and screens for criminal background, evictions and past rental history. Applicant names are also checked against the Specially Designated Nationals List (of suspected terrorists and drug traffickers), and any match is sent to Homeland Security.
After an application is screened, the results are given to the landlord with the rental agent's recommendation. Landlords make the decision and pay a leasing commission to the rental agent.
The Fair Housing Act: Protecting Renters With Kids
While the rental application process is the same for those with families as those without children, Joseph notes that families are a protected class group under the federal Fair Housing Act.
"A landlord who uses our services won't know who's renting the house until the lease is signed," Joseph says. "The only folks we screen in the application process are adults, 18 and older. So if there's a family with one child over 18, and two under 18, the landlord won't even know the underage kids exist until after the screening is done and the lease is signed. We don't want the landlord, or Long & Foster, to be sued for discrimination."
Take these steps when you suddenly find yourself in need of a new home.
Sharpen your rental search strategy with these pointers.