Disclosure Law: Your Buyer Can Handle the Truth
If you're selling your home, it's important to fess up about its flaws. Here's why.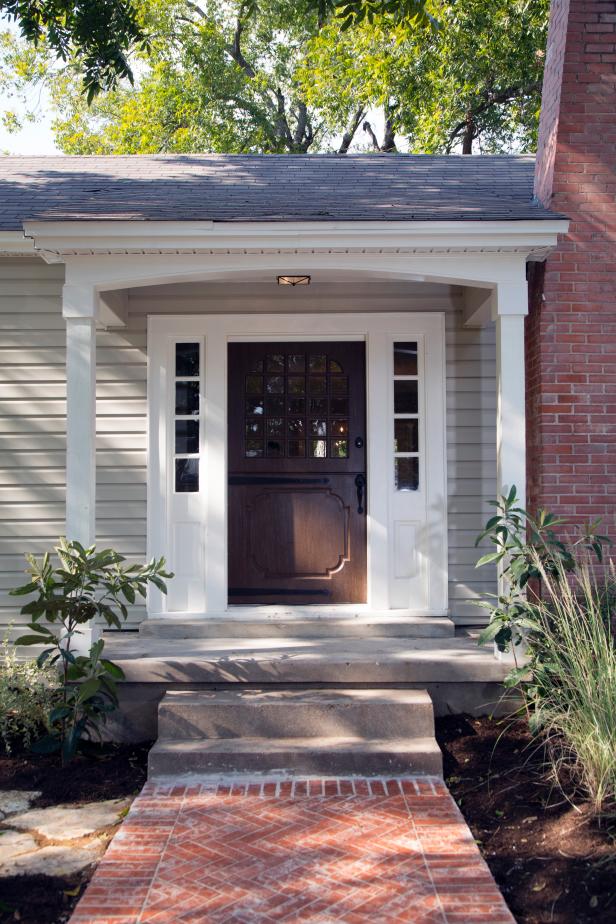 A Fixed Up Home With Dark Dutch Front Door
Fixer Upper hosts Chip and Joanna Gaines have repainted the siding of the home a modern gray/green and kept the original Dutch door but painted it with a faux finish to look like a dark stained wood grain. They also updated the landscaping as well as a new walkway that matches the brick of the chimney.
When selling your home, you will be required to disclose any and all material defects which could affect the buyer's enjoyment of the property. In short, if a condition exists or has existed in the past which could influence the decision to purchase, it must be disclosed. In the world of disclosure law, less is not more.
Each state has its own real estate disclosure laws. In California, we have many, and the Transfer Disclosure Statement, or TDS, is the "Big Kahuna" among statutory disclosure requirements. It is on this form that the seller has the opportunity to share historical information on the property -- what fixtures exist or don't, what works or doesn't, and what skeletons may be found in the walk-in closet. It is a three-page, check-box, fill-in-the-blanks kind of document with some bonus lines thrown in to allow elaboration. Few sellers ever elaborate, however, and this is a mistake.
We are often asked, "Do I have to disclose this or that?" And our reply is always, "If you have to ask, then yes, you do." In my experience, no buyer has ever canceled contract because a seller was too thorough. And I can all but guarantee you that if you don't disclose the time that the upstairs toilet decided to become a drip watering system for the downstairs living room, your buyer's future neighbor will. In fact, a TDS for an 18-year-old home that suggests everything is and has worked perfectly since the builder delivered the first set of keys will be eyed with suspicion.
Sellers often approach the disclosure process with fear and trepidation. "If I tell them about that thing that happened, they might not want the house anymore!" That may or may not be the case, but better to know now and not one day before the moving truck is scheduled to arrive.
More importantly, being thorough and honest during the disclosure process tends to earn the trust of the buyer, and trust between the parties is arguably the most important component of the successful real estate transaction. I once had a selling client who, for lack of a better term, we shall call "detail oriented," and this client was a stellar example of why you might want to go a little overboard in sharing your home's idiosyncrasies and flaws.
This seller, possessing an awe-inspiring attention to detail, delivered a TDS to the buyers in which he had taken full advantage of every inch of white space. If this wasn't enough, he included self-penned Addendums A, B, C, and D totaling, I believe, 10 pages (double-sided). If a light switch had been replaced during the Pleisotcene Era, he noted it. Busted faucets and dirty air filters of yore, leaning fence posts, and a closet door that hasn't always stayed dutifully in the track? Guilty as charged. The buyer's response, while predictable to me, served as a good refresher course on fair dealings. The buyer was appreciative -- dazzled in fact -- and as a consequence, was convinced that there would be no surprises after the mail had been forwarded.
In our case, the result was that the buyer asked for no repairs -- zip, nada, nothing. No home is perfect, but the buyer's agent attributed this to the trust that had been won when the seller threw the book at him, so to speak.
Honesty wields great power. No one wants to believe they are being taken advantage of or being played the fool. People respect those who treat them fairly, and openly disclosing all you know about your home is one way in which you can demonstrate this respect for the other party in the transaction. Your buyer can handle the truth.