Tiled Kitchen Countertops
Update your kitchen countertops for less: at as little as $10 per square foot installed, tiled kitchen countertops are a great solution for style-savvy, cost-conscious consumers.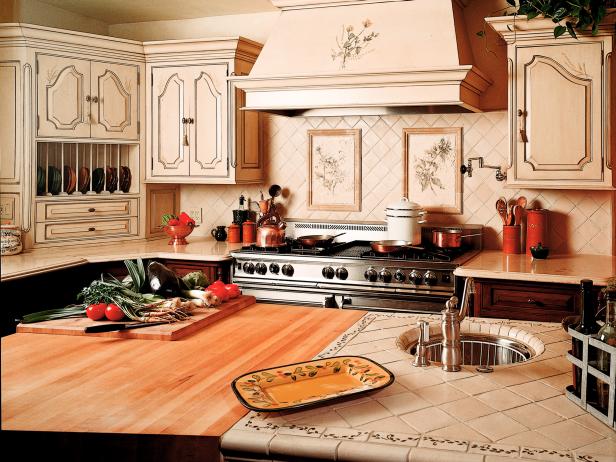 Tiled-Kitchen-Countertops_s4x3
If looking for versatile design, tile countertops are the way to go. Not only are they heat- and stain-resistant, but tiles can also be found in a variety of colors, materials and sizes. Tiles can scratch and chip, so keep a few extra tiles in case one needs to be replaced. Design by Didier Michot
For an inexpensive solution to replacing kitchen counters, tiled kitchen countertops make for an attractive and often artistic addition to the kitchen.
Kitchen Countertops
Set the tone of your kitchen design with the right countertop.

Cost-effective (ceramic and porcelain tiles start at as little as $10 per square foot installed) tile countertops are also a great way to get an updated look for less.
If you're particularly drawn to the look of granite, for instance, granite tiles offer a much cheaper alternative than a thick slab. Even ceramic and porcelain tiles, though, have designs that mimic the look of stone and metal finishes, or even the feel of leather and other textiles.
For style-savvy homeowners, tile kitchen countertops offer the opportunity to get creative. Consumers may want to work with a contractor, installer or even an artisan to create a pattern, mosaic or an interesting color or textural combination to make the look carry one-of-a-kind appeal.
Despite their low cost, tile countertops are quite durable—though if cracked, a tile must be completely removed to be replaced. Homeowners looking to forgo a complete countertop replacement might consider laying tiles on top of their existing laminate surfaces for a low-cost refresh.
More Ideas for Kitchen Countertops
Other Kitchen Countertop Ideas