Ideas for Updating Kitchen Countertops
Looking for easy ideas for updating your kitchen countertops? Whether you're looking to replace, refinish or resurface your kitchen counters, HGTV has ideas for you.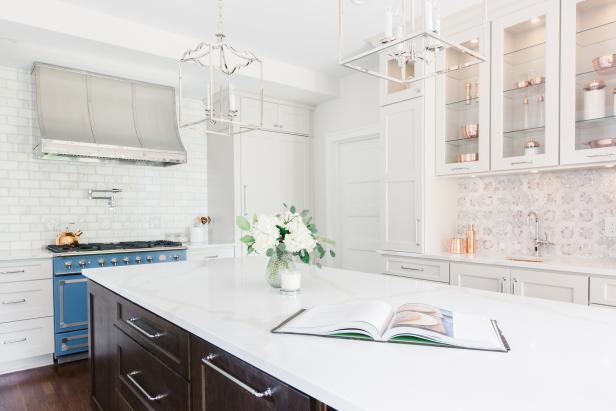 White Transitional Kitchen With Blue Range
The homeowners collect copper pots, so the designers used the shade to help inspire the kitchen's accent colors. Pretty tiles with a subtle pattern bring out the pots' warm hue.
Looking for easy ideas for updating your kitchen countertops? Know when it's time to replace, or when you can get away with refinishing or resurfacing your kitchen counters.
Have your tile or laminate countertops seen better days? If you're tired of cleaning crumbs from grout lines, or are numbed by the dull, matte look of your ages-old laminate counters, chances are your kitchen counters could benefit from a complete refresh.
Solid surfaces like Corian are a budget-friendly option, while granite or engineered quartz may be considered more of a splurge. You'll find an overwhelming amount of colors and patterns to choose from, whether you choose stone or stone-look, so you're bound to find the look that fits your style.
If replacing countertops all together isn't in the budget forecast, consider refinishing to extend the lifeline of your existing counters. While many nicks, scratches or dings can be sanded down by the homeowner (butcher blocks and solid surfaces), certain materials, like granite or stone, require help from the pros. All surfaces should be structurally sound before attempting to refinish.
New kitchen countertops can be an expensive upgrade. Transform your kitchen without breaking the bank by priming and painting your existing laminate counters.
For a cost-effective makeover of tired laminate countertops, consider covering up the existing material with a tiled surface, or transforming it to like-new with paint or a layer of Rust-Oleum countertop coating.
Choosing the right kitchen countertop can be tricky (and expensive!). Before splurging on such a big update, check out the pros and cons of the top kitchen countertop materials to help you select the right one for your space.