Ideas for Updating Kitchen Countertops
Looking for easy ideas for updating your kitchen countertops? Whether you're looking to replace, refinish or resurface your kitchen counters, HGTV has ideas for you.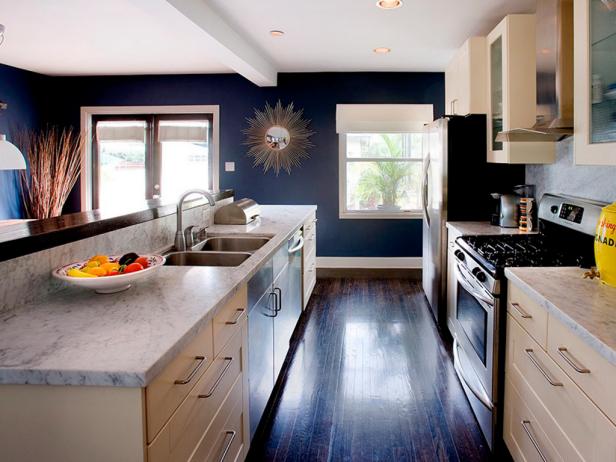 Ideas-for-Updating-Kitchen-Countertops_s4x3
Marble countertops add unmatched beauty to a kitchen. Although marble does stain and scratch more easily than granite, its smooth, cool surface is ideal for baking and rolling out dough. Marble is one of the most expensive options in kitchen countertops. Design by Erica Islas of EMI Interior Design
Looking for easy ideas for updating your kitchen countertops? Know when it's time to replace, or when you can get away with refinishing or resurfacing your kitchen counters.
Have your tile or laminate countertops seen better days? If you're tired of cleaning crumbs or from grout lines, or are numbed by the dull, matte look of your ages-old laminate counters, chances are your kitchen counters can benefit from a complete refresh.
Solid surfaces like Corian are a budget-friendly option, while granite or engineered quartz may be considered more of a splurge. You'll find an overwhelming amount of colors and patterns to choose from, whether you choose stone or stone-look, so you're bound to find the look that fits your style.
If replacing countertops all together isn't in the budget forecast, consider refinishing to extend the lifeline of your existing counters. While many nicks, scratches or dings can be sanded down by the homeowner (butcher blocks and solid surfaces), certain materials, like granite or stone, require help from the pros. All surfaces should be structurally sound before attempting to refinish.
For a cost-effective makeover of tired laminate countertops, consider covering up the existing material with a tiled surface, or transforming it to like-new with paint or a layer of Rust-Oleum countertop coating.

More Ideas for Kitchen Countertops