3 Basic Types of Lighting
Learn about ambient, accent and task lighting and how to use each in your home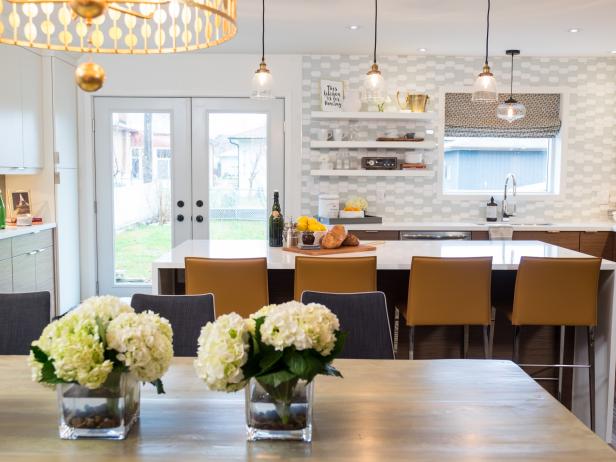 Bright Eat In Kitchen and Dining Room Featuring Gray and White Backsplash, Mustard Yellow Bar Chairs and Hydrangea Bouquets
Mustard yellow chairs lined at the kitchen island add dining space to the connected dining room. A dining room light fixture, kitchen pendants and recessed lighting combine for a bright finish. The gray and white backsplash extends the height of the wall for an accent to the room.
The single most important concept in creating a good lighting plan for the home is to use an array of different types of lighting. "My best advice whatever you're doing, whatever you want to achieve, is to create three layers of lighting—ambient, task and accent," says Patricia Rizzo of the Lighting Research Center. Too many people make the mistake of expecting one type of lighting to do it all. Each type meets a particular need.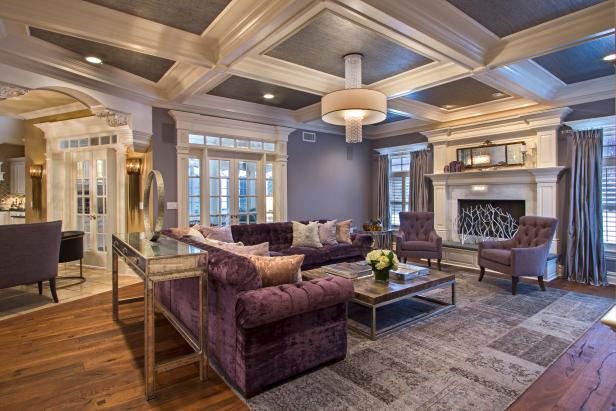 Beautiful Contemporary Living Room With Violet Velvet Sofa, Lavender Details and Coffered Ceiling
Also called general lighting, ambient lighting provides overall illumination for a room, and is intended to create a uniform light level throughout a space, independent of any special lighting that may be needed in targeted areas of a room. In most home settings, when a person steps into a room and flips on a switch, ambient lighting illuminates the space. Ambient lighting takes many forms, including: ceiling-mounted or recessed fixtures that direct light downwards; wall sconces or floor-lamp torchieres that wash the walls with light; cove, soffit and valance lighting that bounces light off ceilings and walls.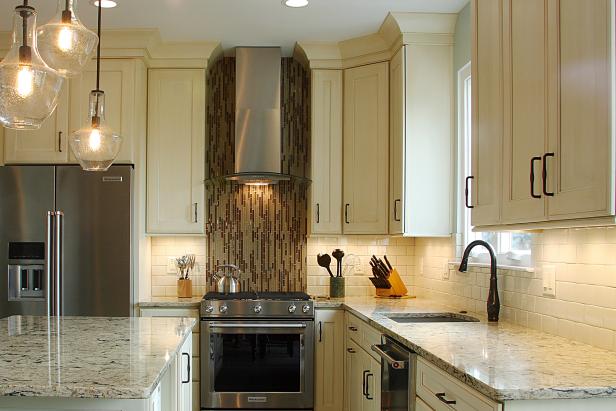 Transitional Kitchen With Eye-Catching Mosaic Tile Oven Backsplash
Charles Thomas Photography
Targeted to a particular area of a room, task lighting is intended to illuminate a specific function. Areas of a home that require task lighting include kitchen counters where food will be prepared; living room seating areas where reading will take place; and home office desk surfaces where paperwork will be done. In a kitchen, under-cabinet lighting provides task lighting for a countertop; in a living room, a table lamp is often used for task lighting to accommodate reading.
Also called highlighting, accent lighting draws attention to a particular object, such as artwork, sculpture, plants or bookcases. Accent lighting is often used outdoors, to highlight a beautiful tree, plant or water feature, or to draw the eye to a particular area of the landscape. Recessed or track lighting is often used for accent lighting, with adjustable fittings that allow light to be focused precisely even on a small object.
When planning the layers of light in a room, it usually makes sense to consider the ambient lighting first, then consider task and accent lighting. "I like to move from general to specific when planning the lighting for a room," says lighting designer Markus Earley of Providence, R.I. With rooms that are heavily task-oriented, however, such as home offices, some designers focus on task lighting first. And in a hallway that doubles as a photo or art gallery, accent lighting might be the first consideration.
"It's so important to think about how you really use a space, and what you do in specific rooms," says interior designer Bruce Fox, partner at Wells & Fox, which has offices in Chicago and Boston. "Only then you can start to identify where you need task lighting and accent lighting."
Whether you choose a valance or pendant, there's a fixture for every need in your home