Home Theater Audio Systems
Get expert tips and ideas for choosing receivers and speakers for your home theater.
What sets a home theater apart from a typical media room is the sound quality. A dedicated home theater gives guests the feeling that they are in a real movie theater, complete with crisp surround sound. That's achieved through the power of your audio equipment.
Audio/visual (AV) receivers take any combination of audio and video sources and routes the video source to your TV and amplifies the audio to connected speakers. One of the advantages of an AV receiver is that it acts as the central switcher for most all video sources. Even if your TV only has one HDMI input, you can route a number of different HDMI sources to the AV receiver which uses a single HDMI connection to the TV to display the chosen video source.
This configuration also means most all connections—audio and video—are connected to the receiver rather than the TV mounted on the ceiling or on the wall. This makes mixing and changing cables very easy since the receiver will be located in an easy-to-access location and you only need to make one video connection to the TV from the receiver.
Most all AV receivers designed to be a video switcher have one or more surround sound systems. The receivers use the same surround sound standards movies are made with. Dolby Digital, DTS, and Sony Dynamic Digital Sound (SDDS) are the major formats you will find in most AV receivers. These surround sound systems come in 5:1 and 7:1 formats which use 5 or 7 speakers.
Equally important to the receiver are speakers. Largely a matter of personal taste, you should visit an audio showroom where you can listen to a wide range of speakers connected to your chosen receiver.
You will need to start with a decision to use self standing/floor standing speakers or in-wall speakers. You can also combine them. Mixing and matching speakers and speaker locations is an art as well as a science, so also consider that what you hear in a show room may sound different from the acoustics of your home theater.
Surround sound is embedded in the content. A movie is created with surround sound using one of the formats, and when played through an AV receiver equipped with that format, it plays it back in true surround sound. When a conventional audio source (such as stereo) is played, the receiver simulates the sound field as surround sound.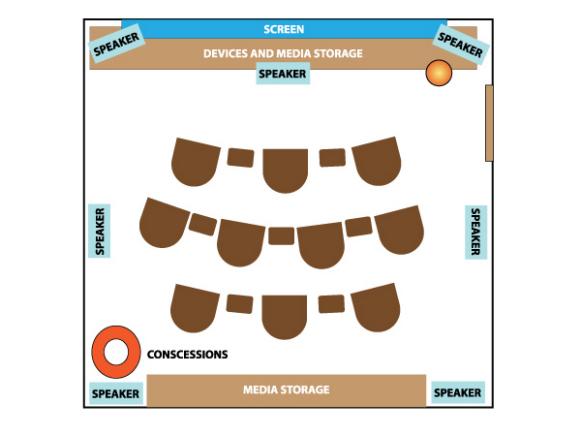 SP0946_speakers-diagram_s4x3
This room plan shows the placement of speakers so that they surround all the viewers. The speakers can be floor standing, wall mounted or in-wall, or a combination. The center speaker can be hidden from view or a sound bar under the screen. With a 7.1 surround sound system, you would position two more speakers on each side of the room.
This room plan shows the placement of speakers so that they surround all the viewers. The speakers can be floor standing, wall mounted or in-wall, or a combination. The center speaker can be hidden from view or a sound bar under the screen. With a 7.1 surround sound system, you would position two more speakers on each side of the room.
Most all surround sound is based on a 5.1 principle of a center speaker directly in front of you (usually located at, under or behind the screen), two front stereo speakers in the front corners of the room, and two back stereo speakers for the rear corners of the room. 7.1 surround sound adds two side speakers for more presence.
Features to look for in an A/V receiver include:
Certified DTS or Dolby Digital surround sound, or combination of both
As many AV connections as possible (at least 6 HDMI is desirable)
Optical or digital audio out/in connections
At least 100 watts per channel of sound
Easy to customize sound settings (sound fields)
Onscreen display of all settings (AV functions are viewed directly on the TV)
Support for portable devices such as iPad or iPod with direct control of the device
Bluetooth connectivity so you can answer your phone through the system
Easy-to-use menus and controls
Attractive appearance and finish as it may be visible in the room
Clear, easy to read front panel text display of function that can be dimmed or turned off
In-Wall Speakers: The most attractive option for home theater speakers is to mount them on or in the wall, and in some instances, the ceiling. Since speakers rely on their enclosure to help produce their unique sound quality, in-wall speakers are specially designed to use the wall itself as a speaker housing/baffle or come contained in a compact enclosure that controls the sound quality.
Installation of speakers in walls or the ceiling requires running speaker wires from the speaker to the AV receiver. This is best done early in the planning stage. In-wall speakers come with a template for the cutout, and mounting posts for anchoring to studs or anchors. Installed properly, they will be flush and attractive.
Some features to look for in in-wall speakers include:
Impedance and wattage ratings that match receiver speaker specifications
Depth that will fit your walls
Sound quality
Fit, finish and appearance
Paintable grills or neutral color cloth grills
Wall-Mounted Speakers: Mounting conventional box-enclosed speakers on wall or ceiling brackets provides the greatest range of speaker choices and sound quality. Standard speakers are contained in their own acoustic enclosure and by using mounting brackets, can be positioned at angles to create a custom sound field. The only drawback is the appearance. Ultimately they are boxes hung on walls and may be an aesthetic consideration.
Many home theater speakers are designed to be mounted on brackets, and come with brackets or have sockets for mounting on brackets. Such speakers also use the paired brackets to run the speaker wire through the bracket, keeping the wire hidden. For conventional speakers, standard brackets with mounting plate allow the bracket to be screwed onto the speaker.
Check any mounting hardware to make sure it is rated for the weight of the speaker. It is also good to look for speaker brackets that allow both tilt and swivel of the speaker for proper positioning.
Home Theater Speaker Systems: There are a large number of pre-packaged home theater systems from most major manufacturers (Sony, Phillips, Pioneer and Panasonic). The packages come with a center speaker and 4 or 6 front and rear speakers and most often come with a subwoofer for added bass. The advantage is that all speakers have been matched to each other and configured for surround sound systems. They often come with mounting brackets and speakers are designed to mount easily on walls.
Some features to look for in speaker systems include:
Wattage and impedance that match receiver specifications
Sound quality
Speaker size to not overwhelm room
Wall mountable speakers with built-in bracket sockets
When considering wiring, look for features that increase durability and convenience.