How to Organize Kids' Toys
Is your living room overflowing with toys? Try these ideas to keep your kids' favorites at hand for playtime and out of sight when company comes.
When you have children, it's only natural for toys to migrate from the playroom and bedrooms into the living room. But when your favorite family space starts to look like a preschool, it's time to consider clever toy storage solutions.
"It is extremely important to make your home work for your family," says Jennifer Ford Berry, best selling author of the Organize Now! series. "A perfect example of this is choosing furniture options that look great in open living spaces but also serve as storage. For example, toys can be stored inside coffee tables or ottomans [that] still serve as seating or a place to set drinks."
Consider these sophisticated yet practical toy storage options.
Bench: Either a freestanding or built-in window seat serves double duty for seating and storage. In the space beneath, you can stack puzzles and games or stash bins holding small toys.
Armoire: The loveliest armoire can conceal a vast toy collection. Large and unwieldy toys will fit in the generous spaces, while bins and baskets can hold smaller items. Stash frequently used toys on the bottom shelf for easy access. When you don't want to see toys anymore, simply close the door. The top serves as display space for your favorite (grown-up) accessories.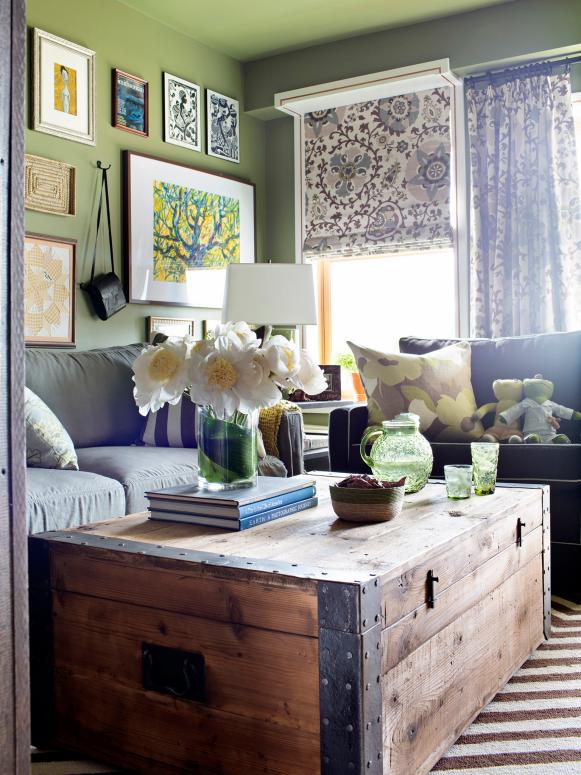 Shabby Chic Living Room with Wood Trunk Coffee Table
A wall of framed prints and a mix of floral shades and curtains make up this shabby chic living room. A wood trunk turned coffee table is a decorative way to add storage in a small space.
Trunk: Although vintage trunks and handsome chests are traditionally reserved for treasured quilts, linens and travel souvenirs, they're also the perfect spot for concealing colorful kids' gear. Fill them with bulky stuffed animals, games and puzzles or dress-up clothes.
Dresser: Relocate an unneeded dresser to the living room to hold kids' belongings. The drawers can hold small, flat items, such as board games, puzzles and mini cars or play figures.
Media center: The space beneath your television set, whether a cabinet, drawers or open storage, is a great place to stow game controllers, children's movies and even small toys.
Coffee table: The most useful coffee tables hold more than beverages and books. If you choose one with a hinged top or open space beneath for bins, you can turn unused space into storage for art supplies, puzzles, board games and more.

Ottoman: Along with serving as a landing spot for drinks, cushions and feet, a lidded storage ottoman or cube is a great place to conceal toys.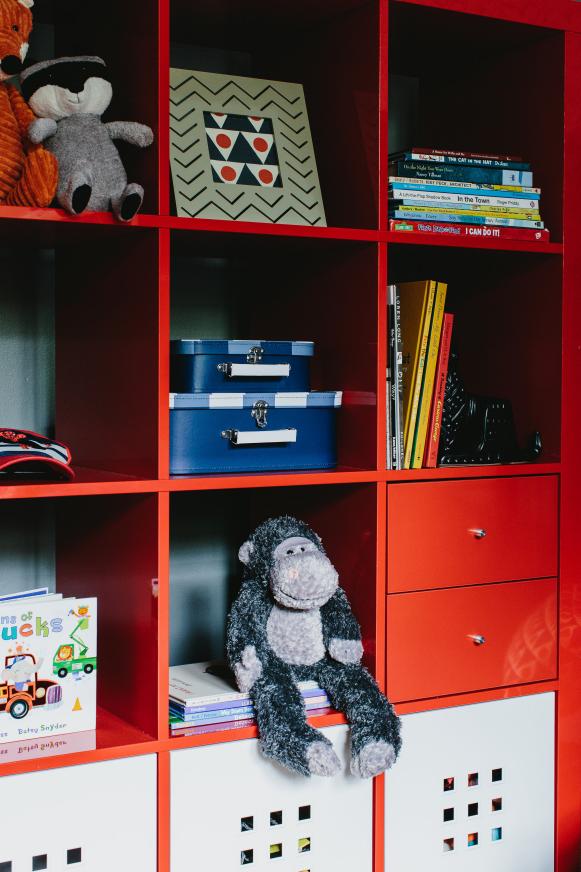 Kids' Room Features Fun, Colorful Storage
Red Kallax shelves from Ikea provide loads of storage for toys and books in this bedroom shared by brothers. The room is filled with color and pattern, forming a fun space that's designed to let kids' creativity soar.
Bookcase: A bookshelf is handy for more than your favorite first editions. Tuck attractive bins or baskets on the lower shelves to hold often-used toys. If you have a smaller bookshelf that will serve as dedicated toy storage, you can hang a pretty curtain panel and pull it closed when the toys aren't in use.
Closet: Consider the layout of your living room. An unused closet or a nook under the stairs can serve as walk-in toy storage. You can simply close the door (or curtain) when guests arrive.
Wheeled storage: A rolling crate, or even an old-school red wagon, makes it easy for a pile of toys to pull a disappearing act when company comes by.
Stylish containers: For a grown-up twist on typical toy storage, opt for sleek and sophisticated containers: metal buckets, woven baskets, vintage suitcases and so on.