Behind the Address: The Inspiring Story of the Robert Smalls Home
Congressman and Civil War hero Robert Smalls was born into slavery and lived in a shack behind this Beaufort, South Carolina, home. At the age of 24, he purchased it for his own family.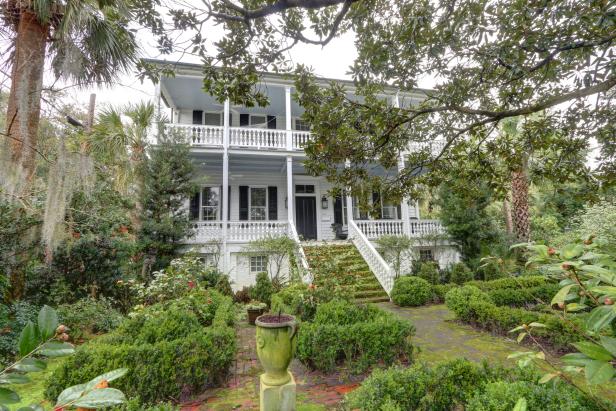 Formal Garden With Brick Walkways
Of course, a home this charming comes with a formal garden. Trimmed hedges and shrubs outline the different sitting areas, while brick walkways invite visitors to take a stroll and appreciate the prewar architecture.
Cora Bett Thomas Realty & Associates, a member of Luxury Portfolio International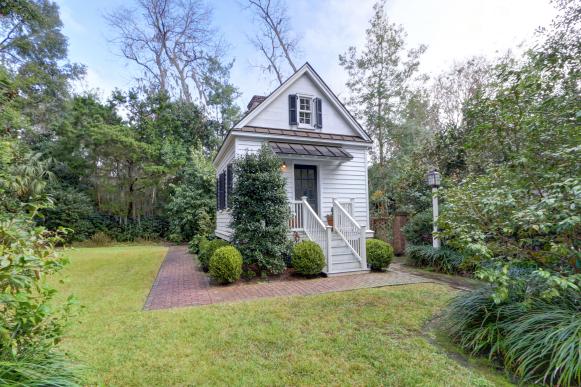 Guest Cottage Complements Main House
With its crisp white exterior and black shutters, the guest cottage complements the main house. A brick walkway and stairs help guide visitors to their quarters.
Cora Bett Thomas Realty & Associates, a member of Luxury Portfolio International
The stately, two story home at 511 Prince Street in Beaufort, South Carolina, was built in 1843 for the Sea Island plantation owner John McKee and his family. Lydia Polite, an enslaved woman who worked as a domestic servant for the McKee family, lived in an outbuilding behind the house. So did her young son Robert Smalls, who was born on the property — and was claimed as the McKees' property — in 1839.
When Smalls was 12, the McKees sent him to work in Charleston, where he earned money attending hotel guests, lighting lamps and, eventually, loading and unloading cargo ships. The majority of his wages went back to Beaufort, but he was permitted to keep a dollar a week for himself, which he used to buy and resell candy and tobacco for a small profit. Later, he met and married Hannah Jones at the age of 18 and those profits had a clear purpose: he wanted to purchase his family's freedom. Given how little of his earnings he was able to keep, the price of doing so seemed impossibly steep.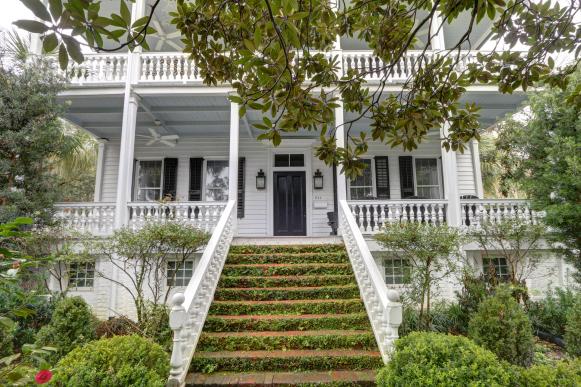 Moss-Covered Steps to Main Entrance
The Robert Smalls House is even more charming up close. Moss-covered steps lead to the front porch, where a large door opens to the heart of the home. Two lanterns provide maximum visibility at night.
Cora Bett Thomas Realty & Associates, a member of Luxury Portfolio International
Smalls eventually became a deck hand on the Planter, a 150-foot transport steamer. He was a valued wheelman on the vessel when the Civil War erupted in 1861, and Confederate forces called the Planter into service for armed transport. It was during this time that Smalls was formulating a plan to gain freedom for his family and a few other crew members.
In the months that followed, he gained the three white officers' trust — and when they left the Planter for the night on May 12, 1862, he and the other Black crew members sprang into action. Smalls donned the captain's straw hat and long coat, replicated the whistled codes he'd memorized to navigate safely past several Confederate forts, and ferried 16 passengers (nine men, five women and three children — including his family) to the Union blockade. As the Planter approached the USS Onward flying the white flag of surrender (a white bed sheet Hannah had brought along to replace its Confederate and South Carolina state flags), Smalls is said to have told its captain, "I'm delivering this war material, including these cannons, and I think Uncle Abraham Lincoln can put them to good use."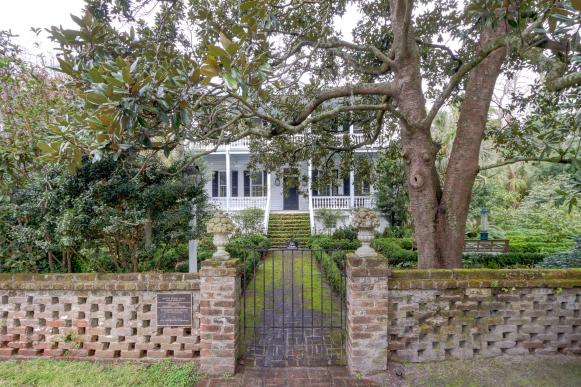 Pre-Civil War Home in Beaufort, S.C.
Welcome to Beaufort, S.C., the second-oldest city in the state behind Charleston. Founded by the British in 1711, Beaufort is home to magnolia trees, Spanish moss and prewar architecture, like the Robert Smalls House.
Cora Bett Thomas Realty & Associates, a member of Luxury Portfolio International
Smalls was much more than a war hero for the high-wire act he performed that night. Historians note that the commandeering of the Planter contributed to Lincoln's decision to let African Americans enlist in the Union Army — and Smalls did just that. He fought in 17 battles and recruited 5,000 Black soldiers to his cause.
The McKees, in turn, lost their lovely home at 511 Prince Street after failing to pay taxes during the war. The United States government put it up for sale, and Smalls used the $1,500 he received from Congress for delivering the Planter to the Union to claim it for himself. He also allowed Mrs. McKee — who returned to the house in the throes of dementia and didn't realize it was no longer hers — to stay.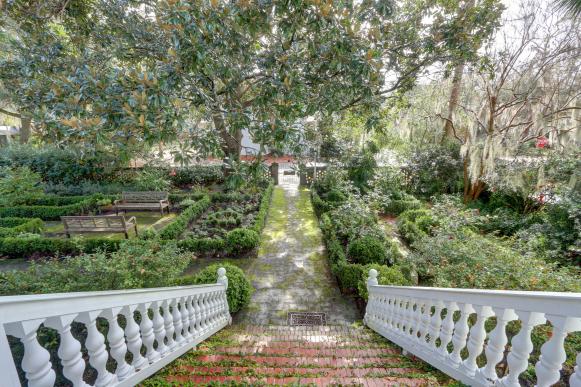 Porch Overlooks Formal Garden
The front porch is actually a lot higher than it looks! Crisp white railings make the entrance feel even more grand, as do the impressive views of the garden.
Cora Bett Thomas Realty & Associates, a member of Luxury Portfolio International
Over the next 50 years, Smalls was elected to South Carolina's House of Representatives and Senate, and he founded its Republican Party. He served five terms in the U.S. House of Representatives, and he authored state legislation creating the country's first free and compulsory public school system. In 1915, he passed away on the same property where he was born. His family lived at 511 Prince Street until 1953, and in 1974 it was declared a National Historic Landmark.
See More Homes Like This:
These homes have a story to tell. They capture the timeless charm of classic architectural and design styles.