Floral Bouquet Place Setting Tutorial
By: Haeley Biambalvo at Design Improvised for the Chinet® brand
Sponsored content courtesy of the Chinet® brand.
Flowers (stock and baby's breath)
Ribbon
Hot glue
Bamboo skewers
Pink card stock
Scissors
1. Cut a 2 ft. length of ribbon and tie to the cup by securing with a small dab of hot glue.
3. Add water and flowers.
4. To make a place card, freehand cut a small banner shape from pink card stock. Use letter stickers to add "mom" or a monogram.
5. Cut a few inches from a bamboo skewer to shorten it. Glue the banner to the skewer with hot glue and stick into the bouquet.
6. Place a bouquet at the top of each place setting!
For more spring entertaining ideas, click here. And be sure to share your spring entertaining tablescapes with us on Facebook, Twitter and Instagram with #MyChinetParty.

Chinet® and Cut Crystal® are registered trademarks of Huhtamaki, Inc. in the U.S. and other countries.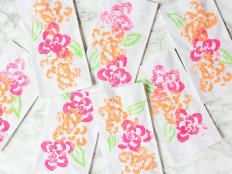 Haeley Giambalvo of Design Improvided shows us how to get creative with celery sticks to create flower-printed napkins for spring.By: Haeley Biambalvo at Design Improvised for the Chinet® brandSponsored content courtesy of the Chinet® brand.