10 Reasons Leanne Ford Will Be the Coolest Mom in Town
In just a few short weeks, she'll be meeting her little girl for the first time. Let the next-level style parenting predictions begin.
Leanne Ford is no stranger to adventurous, artistic family projects: she and her brother Steve took America by storm when Restored by the Fords brought their inimitable take on modern Pittsburgh living to televisions around the country.
Her newest premiere will be both a lot smaller and a very big deal: This past October, she and her husband, Erik Allen, announced that they were expecting their first child. "We found out we were pregnant very early into filming season 2 of our show," Leanne told us. "Talk about multi-tasking! We were totally surprised and totally thrilled. We are already so in love with this little babe."
"This baby," the stylish mama-to-be says, "is definitely my best and most important design job yet." The reveal with this one is, we must say, a bit of a foregone conclusion: it's pretty clear that she's going to knock parenting out of the park. How can we be so sure of ourselves? Glad you asked.
She and Erik leap into changes with both feet.
In November of 2017, Leanne and Erik decided to turn their two-year relationship and trip to New York City into an elopement… and with just four days to plan the party of their lives, they came up with this. We can only imagine what spur-of-the-moment magic lies ahead for their little girl — but we know it'll be fabulous.
She's already gotten her first thumbs-up.
Black and white just how Leanne likes it!
She's leaning into bumps (and kicks) along the way.
For a gal who's a little over a month away from meeting her daughter, Leanne is rocking some serious calm (and pregnancy chic, of course) — though her midsection isn't always so serene. "[The baby]'s all disco and dance party all the time," Leanne reports, "[j]ust like her momma." That's officially the most laid-back reaction to being walloped in the ribs and bladder all day long we've ever heard. Speaking of pregnancy chic…
She's way ahead of schedule on her epic mom uniform.
Appearing in GQ in dungarees: Been there, done that.
She's practiced on a rhino.
A stuffed rhino, sure, but new parents would undoubtedly agree that make-believe zookeeping is appropriate preparation for kid-wrangling.
She and Erik are ready for a mini-Leanne…
Young Restored by the Fords fans have already miniaturized her look (and we don't blame them), but Leanne reacted unexpectedly when she learned she was having a girl. "I always thought I'd have boys," she told People, "so when the sonogram woman told us [we're having] a little girl, we both got teary-eyed. I was like, 'Actually, that feels very right.' And Erik said one time, 'I hope we have a little mini-me of you.' He's like, 'I hope there's just two little Leannes running around.'"
…but they're all about surprises.
Parenthood wasn't always in the cards: "Before [I met Erik]," Leanne told People, "I was just trekking along in my little career, happy as could be and then [he] said one time… 'We have too much love not to share it.'…I was like, 'I hear that.' It's funny, somebody just changes your mind. You think you've got your whole life figured out, think you have your path figured out, and something comes and just changes your mind."
#TomFordTheDog is all in.
Like millions of canine elder-siblings-to-be before him, Tom Ford — Leanne's 16-year-old, three-legged pup — is ready to extend best friendship to his mistress's little one. Dogs: We don't deserve them, but boy, are we lucky to have them.
She knows a promising collaborator when she sees one.
When Leanne reimagined the Georgi family's Pennsylvania home, she tapped a budding young artist to create a centerpiece for the living room: she bought a SpinArt set and worked with Josefina, the couple's daughter, to craft pitch-perfect artwork. We're expecting an invite to her own daughter's first gallery show in, oh, a year or two.
She knows what matters most in the nursery.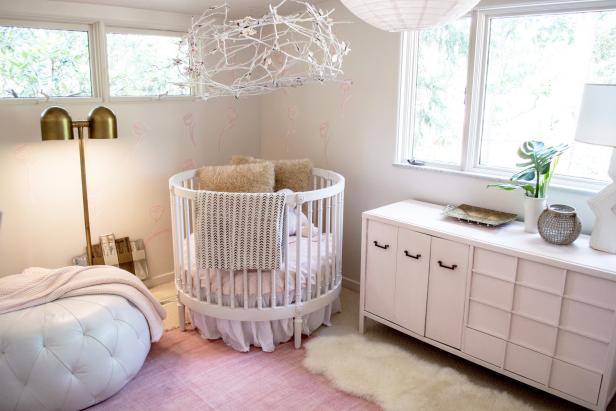 As seen on Restored by the Fords, the renovated interior bedroom of the Collins House featuring custom pink flower wall decorations and butterfly chandelier
Viewers got a glimpse of Leanne's nursery-designing chops when she pulled together this exquisite room for the Collins family in the first season of Restored by the Fords. She has a lot of ideas for her own daughter's space.
"Part of me thinks I'll go super girly and just the antithesis of my normal design life—some serious cottage wallpaper or like the downstairs of Downton Abbey," she told People. Then again, Leanne being Leanne, "most likely, the kid's room will probably be white."
Color choices aside, she's certain of the room's foundation: "Erik and I keep all our love letters and little notes that we've written each other," she explained. "I think I'm going to hang those over her crib. Like, 'This is why you're here, kid. This is the story of you.'"
This "wear black, paint white" mama-to-be has a heart of gold.
The all-new second season of Restored by the Fords premieres with back-to-back episodes on Tuesday, March 19th at 9|8c on HGTV.